Buying surround sound equipment may be costly. Thanks to the existence of virtual surround sound software, you will never spend much to experience immersive listening. What is the best virtual surround sound software? This post provides 4 options for you to choose from.
Whether you are gaming, listening to music, or watching a movie, having an immersive surround sound experience is amazing. The virtual surround sound software can be helpful to achieve that easily. Here we will guide you through some of the best virtual surround sound software that is certainly worth trying.
If you are looking for a free video editor to create short movies, MiniTool MovieMaker is the top recommendation.
Boom 3D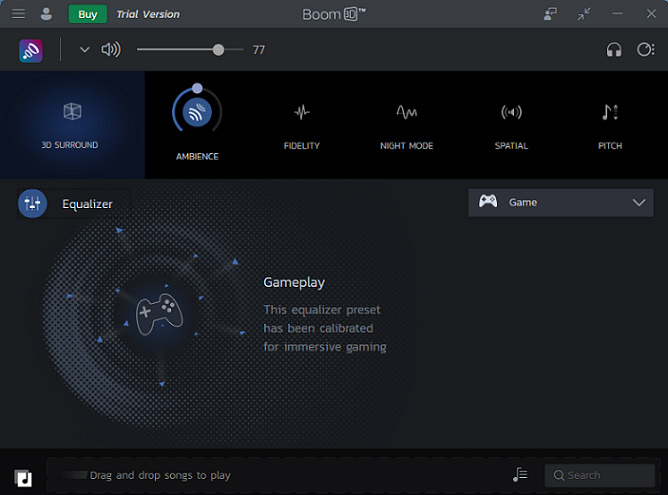 Boom 3D is one of the best virtual surround sound software designed for audio enhancement. You can play any audio on any headset with stunning virtual surround sound effects that will bring your listening experience to a new level. It offers adjustable features allowing you to adjust the intensity, boost bass, increase the volume, and more.
It works well with any media players or streaming applications. The 3D surround sound technology and equalizer presets enable you to tweak your audio output easily. The equalizer presets can be used for movies, vocals, and different music genres. It also allows you to create your own presets.
Razer Surround
Razer Surround is one of the best virtual surround sound software for gaming. It uses powerful surround sound algorithms to elevate the listening experience and deliver all-encompassing sound. It can work with different stereo headphones, which makes it perfect for gaming needs.
It will create a proper sound environment and provide the opportunity for accurate sound calibration. You can calibrate the sound to fit your ears and fully customize your audio experience as your needs. After that, your custom settings will be saved in the cloud for your immediate or future use.
You may also be interested in Top 7 Pieces of Video Game Music of All Time.
Dolby Atmos
Dolby Atmos is also a great virtual surround sound software that is capable of producing deep and immersive sound. It uses a channel-based approach to mix sounds and works with up to 128 channels of sound. And it will enhance audio quality with every detail coming alive in rich clarity and depth.
Moreover, it is compatible with various headphones, smart TVs, computers. It is a great choice for enjoying immersive audio while gaming, watching films, or listening to music.
SBX Pro Studio
As one of the best virtual surround sound software for gaming, SBX Pro Studio can achieve amazing gaming audio playing for complete immersion. To enjoy an excellent gaming experience, you need to set your surround sound speakers configuration to 5.1 or 7.1.
This software utilizes a special algorithm for enhancing any audio source by optimizing the listening experience for two-channel and multi-channel sources. It will automatically adjust its settings and provide the best surround sound experience to meet your personal needs.
What is worth mentioning is that apart from virtual surround sound capability, it provides other professional tools like crystallizer (enhances the dynamic range of compressed audio), bass (extends the low-end frequencies), and smart volume (measures volume across different programs and compensates automatically).
Conclusion
Using virtual surround sound software is a great way to experience high-quality and immersive sound on a budget without going out and purchasing additional equipment. Just pick your favorite one to elevate your listening experience!