A nice piece of video game music is an indispensable part of the enjoyment of an exciting video game. Luckily, this post is going to give you 7 best pieces of video game music. And if you want to edit your music, MiniTool MovieMaker is a good choice.
Music often plays a key role in the pursuit of a better game effect. Following are the 7 best pieces of video game music. Let's have a quick review.
Top 7 10 Best Video Game Music
Now, let's focus on the below 7 best pieces of video game music.
1. God of War (2018)
God of War, released by Sony in 2018, is one of the best video game music because of Bear McCreary's heroic soundtrack, and the atmospheric soundtrack from an Icelandic choir.
2. EarthBound (1994)
EarthBound's soundtrack, is a piece of music from the Mother series and is also regarded as one of the best video game soundtracks. This music mixes with pop. Rock, classic and folk tracks.
3. The Legend of Zelda: Ocarina of Time (1998)
It's often regarded as one of the greatest video games, and there's no doubt that its soundtrack is also a masterpiece.
4. Bastion (2011)
Bastion's soundtrack is another best video game music that was created by Darren Korb. What makes it outstanding is its unique acoustic hip hop sound with sampled beats and acoustic guitar.
5. Shadow of the Colossus (2005)
Shadow of the Colossus is an action-adventure game, telling a man destroying many bulky beasts. Its video game music, developed by Kow Otani, consists of acoustic guitar.
6. Rayman Legends (2013)
Rayman Legends's soundtrack is also one of the best video game soundtracks. The developers incorporate music directly into itheir game mechanics, so music changes in different stages.
Also read: 6 Must-Try Best Music Streaming Services of 2022
7. Super Mario Bros (1985)
It's one of the most memorable video game music. When you listen to it, you may desire to play this game again.
How to Edit Your Music
MiniTool MovieMaker is an excellent audio editor to edit your video game music. It allows users to merge, split, and trim audio. And with it, users can remove audio from video, and extract audio from MP4. More importantly, it's a great video editor without a watermark.
Here's a clear guide on how to edit music in MiniTool MovieMaker.
Step 1. Download, install, and launch MiniTool MovieMaker on your computer.
Step 2. Close the pop-up window and enter the interface.
Step 3. Click Import Media Files to import your video game music, and pictures or video clips.
Step 4. Drag and drop your files to the timeline.
Step 5. Right-click the clip and select Edit. Then, you can fade in, fade out the music, and change the volume. Click OK to save your settings.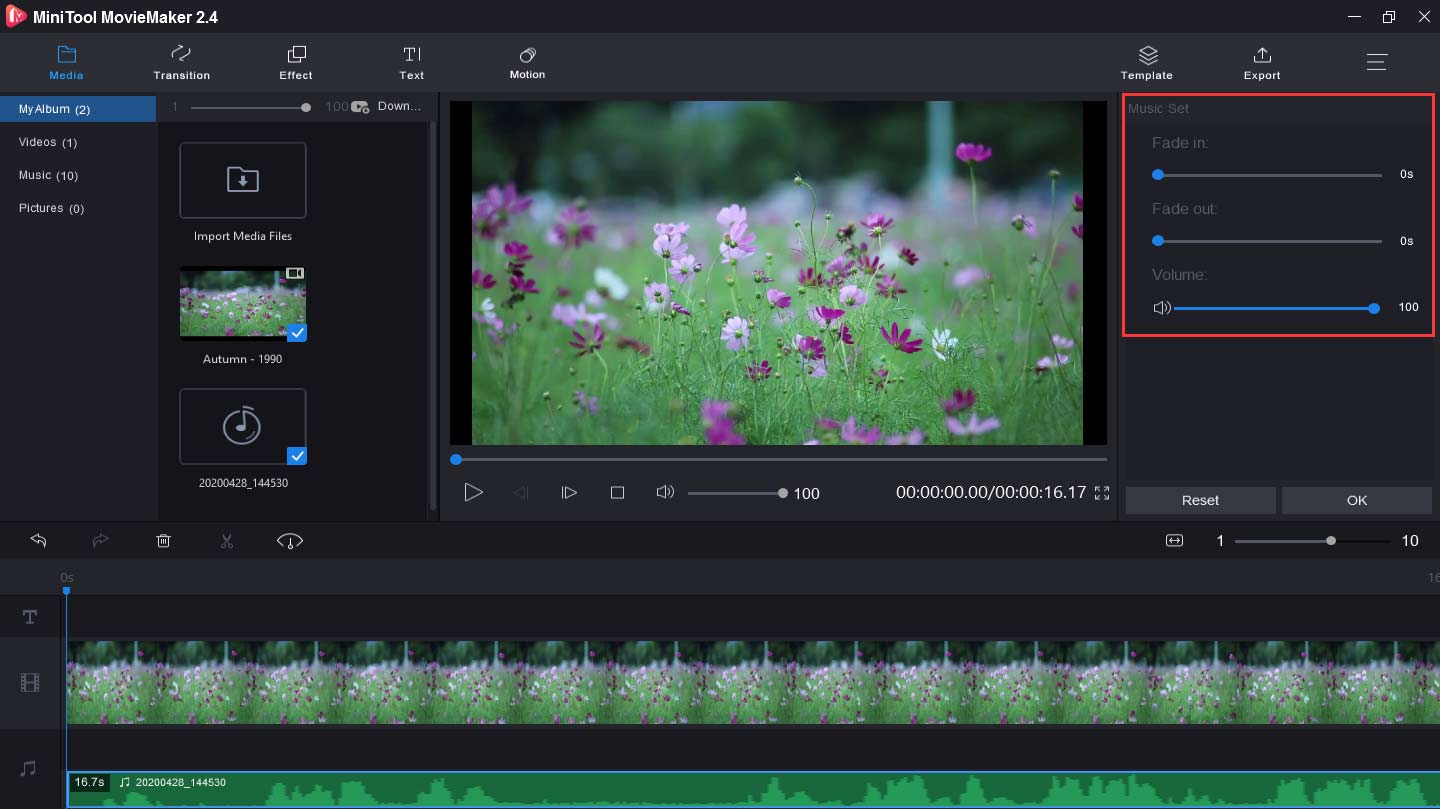 Step 6. Add multiple audio files into the timeline, split or trim audio files as you like, and merge these files into an MP3 file.
Step 7. Export and save your music file in MP3.
Bottom Line
What's your favorite video game music? You can share it in the below comments area.
Now, it's time for you to try to edit your music or other audio files with MiniTool MovieMaker. If you have any questions, please contact us via [email protected].