No matter who you work with, teammates, students, clients, or others, you need to collaborate. Having the digital whiteboard apps in hand brings much convenience in this special period. This post handpicks the 5 best whiteboard apps for you.
If you want to make videos or edit the video footage for your work, you can try the free video editor- MiniTool MovieMaker. Click the button below to download.
The technology brings much convenience for remote working or learning. Pitching in on digital whiteboard apps is the perfect way to develop ideas and build up a project. Let's read this post to find the best whiteboard apps for your next project.
Miro (Web, Windows, Mac, Android, iOS)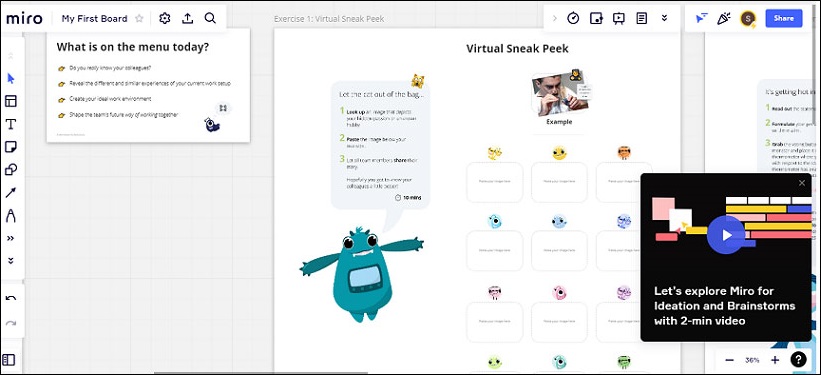 Miro is one of the best whiteboard apps for any device. It is a popular tool that enables communication and collaboration across formats, tools, channels, and time zones, without the limits of physical space.
As for learners or team members, it is an ideal tool for brainstorming and collaboration. The features like a zoomable whiteboard, templates, sticky notes, flow charts, and more are all accessible on this app. A bonus is that Miro integrates with many other apps that are commonly used in remote training such as Zoom, Dropbox, Google Suite, and even via Zapier.
Explain Everything (Web, Windows, Mac, Android, iOS)
Explain Everything is also one of the most popular whiteboard apps with a wealth of functionality available. Apart from allowing you to add text, upload files, and draw, it also has video recording capabilities, which means that you can record your whiteboard and your voice. This makes it an ideal tool for creating explainer videos.
Once you're done, you can tidy things up by editing or splitting elements of your video, then share it online as a link or a downloadable MP4 file.
MURAL (Web, Windows, Mac, Android, iOS)
Initially designed as a collaboration tool for remote workers, MURAL has developed its long list of features to extend the usage to many scenarios and many businesses. It comes with features like sticky notes, timer, voting, shapes, charts, wireframes, flowcharts, sketch pads, and more than 200 templates.
Microsoft Whiteboard (Windows, iOS)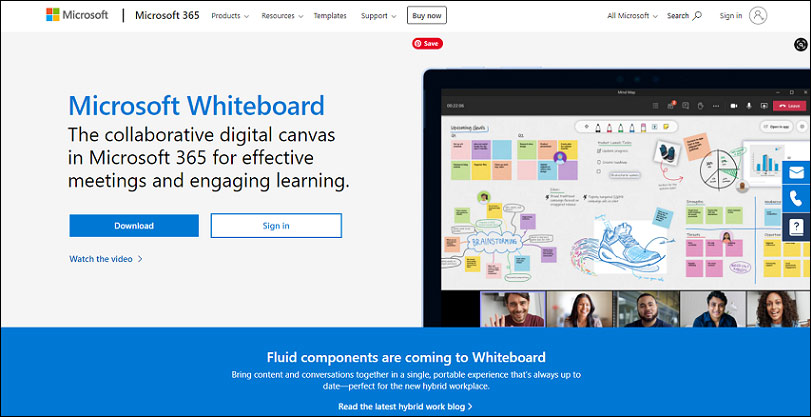 Microsoft Whiteboard is also one of the best free whiteboard apps in Microsoft 365. With it, you may find that everything is auto-saved to the cloud, and it integrates seamlessly with other Microsoft apps, such as Teams.
As a solid tool for collaboration and brainstorming in remote training sessions, it comes with all of the features you may need. Such as sticky notes, images or shapes, and the possibility for teachers to switch to present mode.
If you are not familiar with it, the extensive library of resources on how to make the most of Microsoft Whiteboard deserves your attention, ranging from a dedicated blog to YouTube videos, Teams groups, and an ultimate guide.
Limnu (Web, Android, iOS)
Last but not the least, Limnu is another great tool among the best whiteboard apps. If you want a digital whiteboard for your video presentations and brainstorming sessions, you might lean toward it.
It does a lot more than just give a realistic feel of marker drawings, it also includes collaboration features that make the jump to teaching online feel much easier. It also makes brainstorming simple, offering what you need when you're brainstorming your ideas, video conferencing, or meeting online.
Conclusion
To conclude this post, we've learned the 5 best whiteboard apps that can upgrade your team collaboration. Just try these tools and happy whiteboarding!