If you want to learn about how to reverse audio with the best audio reversers, you have come to the right place, since this article will detail how to reverse audio with different audio reversers. If you also need other audio-editing features, try MiniTool MovieMaker developed by MiniTool.
Why reverse audio?
Well, maybe you wonder what your favorite audio would sound like if you reverse it, or you just want to make some funny and weird audio.
How to Reverse Audio in Logic
Logic Pro X is a professional audio production software for Mac. Although there is a function to reverse MIDI in Logic's Transform window, reversing audio is different from it.
The specific steps of reversing audio are as follows:
You can choose any audio to reverse.
Select the audio clip and choose Region Bounce in Place. Note: It is recommended that you copy the original audio file or bounce it to a new audio file, because reversing audio in Logic is a destructive process that will permanently change the audio file.
Double-click the new audio clip to open it in Logic's Sample Editor.
Select Features > Reverse from the Sample Editor's local menu.
Logic will calculate the samples of the audio clip and immediately reverse the contents of the original file permanently.
You might be interested in: How to Remove Audio from Video.
How to Reverse Audio in Audacity
Audacity is an easy-to-use, open-source and multi-track audio editor and recorder. The software is compatible with Mac, Linux, and Windows operating systems, and it offers a quick and easy way to reverse audio.
The specific steps of reversing audio are as follows:
Download, install and launch this audio reverser on your PC.
Go to File > Import > Audio to add the audio file into the program. Alternatively, you can use the Ctrl + Shift + I keyboard shortcut to select the file you'd like to import into the software.
The audio file will be displayed as a waveform and placed on the software's timeline. Use the Ctrl + A shortcut to select the entire file or head over to the Edit menu, click on the Select option and choose All. Or you can select a certain part of the audio file to reverse.
Once you've made sure that you properly selected the portion of the file you'd like to reverse, go to the Effects menu and click on the Reverse.
The software will reverse the portion your chosen and you can listen to the results by clicking on the Play.
If you want to save the reversed audio, go to File > Export Audio to choose a destination folder on your hard drive.
Related article: 6 Best Audio Mergers – Merge Multiple Audio Files into One
#2 Best Online Audio Reversers
Let's have a look at some of the best online audio reversers if you're looking for a way to reverse audio quickly.
1. 3pm – Online MP3 Reverser
3pm – Online MP3 Reverser is a free web service that lets you reverse audio online in a matter of minutes. You just have to click on the Choose file button and select the audio file you'd like to play backward. As soon as the audio file uploads to the platform, click the Go button. And you can just tap on the Download button to save the reversed audio file.
The maximum size of the audio file you can upload to this online audio reverser is limited to 20 MB. The only downside is that you won't be able to adjust the audio reverse settings because the process is fully automated.
2. Online MP3 Reverser
Online MP3 Reverser is a free online tool that lets you reverse your audio files and download them to your device without using complicated programs. The platform supports almost all popular audio file formats. Besides, it offers some powerful audio tools, such as MP3 Cutter, MP3 Converter and Tempo Changer.
To reverse audio, you just need to click the Select File button to select the audio file and then tap on the Reverse It button to start reversing the audio file. After the process is complete, you can save the reversed audio file to a destination location on your hard drive by clicking the Download button.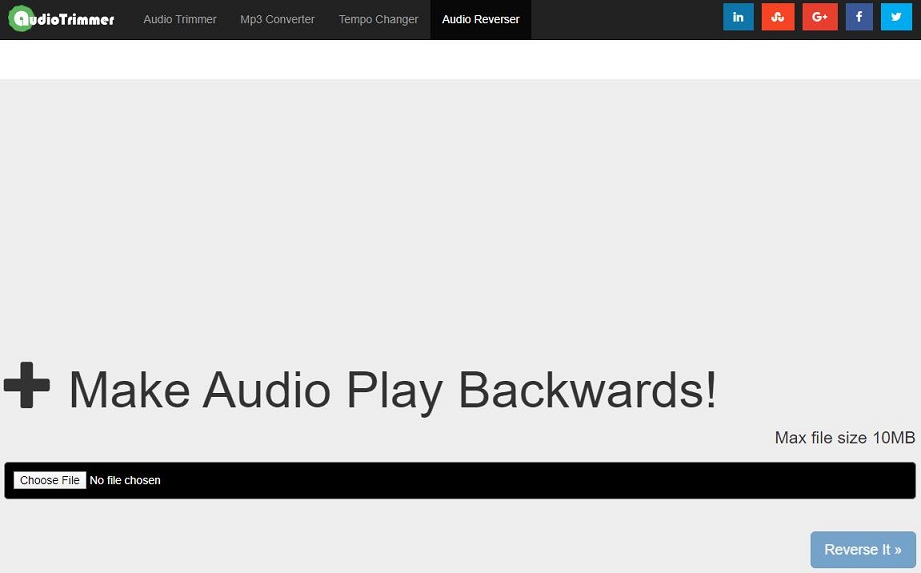 Related article: Top 8 Best & Free FLAC to MP3 Converters
Bottom Line
How to reverse audio? Have you got it after reading this post? If you have any questions or suggestions about it, please let us know via [email protected] or share them in the comments section below.