If you are searching for the best online synthesizer to play electronic musical instruments, you've come to the right place. In this post, I will share the 5 best online synthesizers with you. Just dive in and find which one works for you!
A synthesizer is an electronic musical instrument that can be used as any traditional musical instrument like guitar, piano, drum, and more. Also, it can help you to control and change the basic aspect of sounds like the bpm, pitch, vocal, and more.
Now, with the online synthesizers, you can play hundreds of synth sounds without installing any program on your PC. Read this post to find the best online synthesizers!
If you also like to make music videos with a free video editor, MiniTool MovieMaker is the top recommendation here.
MIDI.city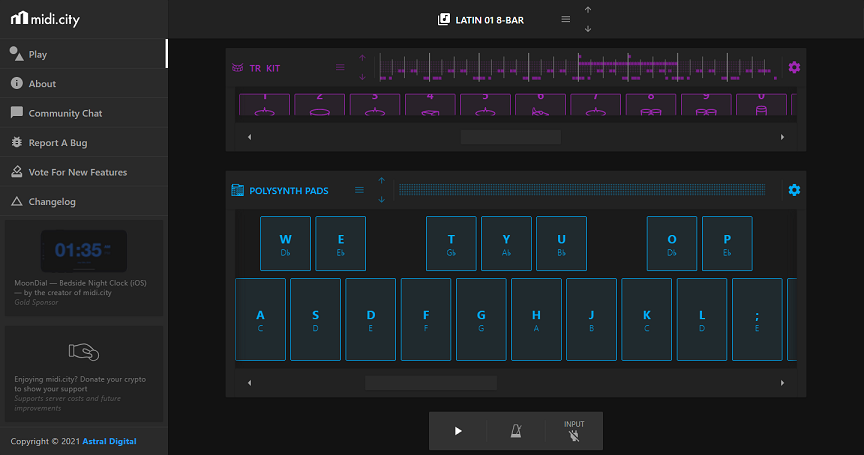 MIDI.city is one of the best free online synthesizers that is simple yet powerful. This free synthesizer has a very neat interface. You can choose more than 120 online musical instruments like organ, piano, guitar, chromatic percussion, strings, and more. You can play the respective music with the keyboard or a MIDI controller.
Apart from offering various musical instruments, it also allows you to change a series of bases and patterns depending on the music you want to create. You have sound effect presets as well. You can choose the pre-defined configuration or create a custom configuration.
WebSynths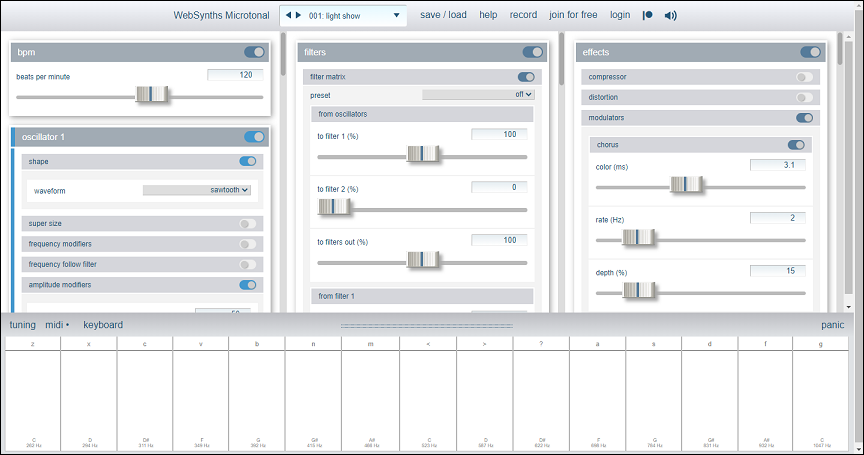 WebSynths is one of the best online synthesizers that is comprehensive and professional. It packs a lot of options and resources to create music and adjust the sound as you like. In this online synthesizer, you will find many supported instruments and sounds at the top.
With more than 130 synth sounds, BPM, filters, oscillator, EQ, and a wide variety of professional settings, you can tweak the sounds to achieve perfect creation easily. By tapping on the active mode, you can access all modes and choose the desired one to play. You can also cycle through these modes and arrange the model in the desired order for a fluent transition.
You may also like 5 Best EQ Apps for iPhone to Modify the Music to Suit Your Taste
Webx0x
Webx0x is also among the best free online synthesizer that you can use to create music. It offers many controls over your creation and useful functions that you can adjust the sounds based on your needs.
There are four slots with the same features and options. You can change each slot with the tone, noise, mix, sequencer, tempo, and MIDI. In that way, you can create four configurations and switch between them to achieve a smooth transition and great mixing.
It has no support for playing with a keyboard. Instead, it provides a sequencer where you can create a sequence of keys. You will find that this method can be efficient if you are not good with the keyboard. It enables you to create a sequence and customize it as your needs. After that, you can play the sequence and save it to your Webx0x account.
Viktor NV-1 Synthesizer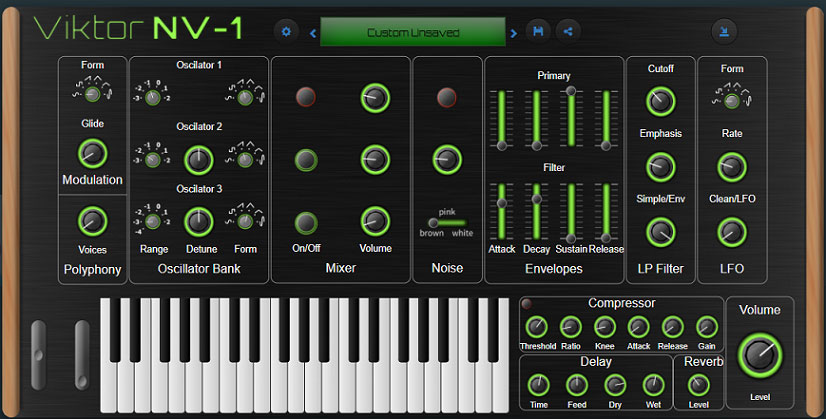 Viktor NV-1 Synthesizer is another online synthesizer that includes over 60 synthesizers presets. It offers many sounds and musical instruments. You can play them using a MIDI keyboard.
What's more, it lets you configure the modulation, polyphony, oscillator, mixer, noise, envelopes, filters, and more. With these options, you can create custom configurations and export the library as a JSON file. Furthermore, you can import a saved library anytime and use it in this synthesizer.
Conclusion
With these online synthesizers, you will never encounter the problem that does not have the right musical instrument at hand. If you have other useful synthesizers that we missed in this list, welcome to share your ideas in the comments area!