This post lists the top 4 free BPM analyzers for you. With these BPM analyzers, you can analyze the speed of a song and tell how many beats per minute it has got. If you need a free video editor to add music to the video,  MiniTool MovieMaker is recommended for you.
Have you ever heard of BPM? If not, here is the explanation. BPM stands for Beats Per Minute, which is the value depicting the tempo of songs. Try these free BPM analyzers below, and you will find it easy to know the tempo of songs anymore!
BPM Counter
BPM Counter is one of the best free BPM analyzers boasting fast and accurate features for detecting. It allows you to calculate BPM for a batch of songs. You can navigate and import the music folder and then it will automatically analyze and show you the BPM of each song. It supports MP3 and WAV audio files as input.
There is a built-in file manager. You can select the source music directory and import all the songs. When you do this, the BPM for each song will start to be recognized and the corresponding BPM value will be displayed in the BPM column. Optionally, you can also save the recognized BPM value in the ID3 tag of the MP3 file.
You may also like: How to Convert WAV to MP3 for Free - Top 3 Ways
PistonSoft BPM Detector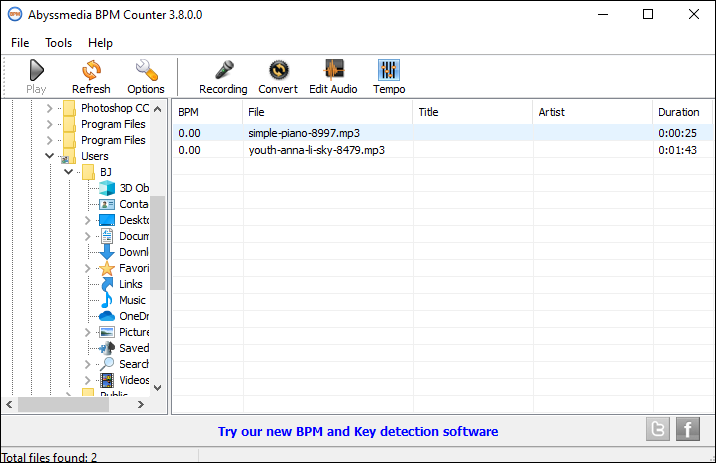 PistonSoft BPM Detector is a dedicated free BPM analyzer software. It will calculate the respective BPM values of the song and also display the BPM that the song is tagged in.
The highlight of this BPM analyzer software lies in its ability to add audio metadata to the BPM. You can display the BPM value by setting the digits after the decimal point. With the built-in music player, you can also listen to imported songs. You can also update the analyzed BPM value.
Related post: 13 Best Audio Editing Software for Windows, Mac, and Android
Mp3Tools
Mp3Tools is also among the best free BPM analyzers. It provides you with a set of audio processing tools to find BPMs of a large collection of audio tracks. So, you can find the BPM of one or multiple songs.
Additionally, it allows you to tag BPM values to the metadata of songs and export the result tables. You can play songs on its audio player. It works well with common audio formats like MP3, APE, OGG, FLAC, and so on.
You can find some other tools provided by this software including Mixer, Tag Manager, Wave Recorder, MP3GainAnalysis, File Cutter, Parametric Equalizer, and so on.
BPMinus
BPMinus is also a popular free BPM analyzer for Windows as it quickly displays the BPM of all added songs. You just need to add songs to this music player, start playing the song, and then view the BPM value.
With its inbuilt file explorer, it will fetch BPM of songs in real-time and display them on its interface. It also allows you to set up track settings such as tempo, pitch, stereo mix, and more. You can even change the pitch and tempo of songs and play them.
Conclusion
With these free BPM analyzers, you won't need to manually tap to tell the tempo of a song. If you have other great BPM analyzer software we missed in this post, let us know in the comments below!