Are you looking for the best LiveLeak alternatives to watch shocking content? Luckily, this post will provide 5 alternatives to LiveLeak for you to access more videos. And this post will introduce the LiveLeak briefly. If you want to create awesome videos, try the best free video editor – MiniTool MovieMaker.
What Is LiveLeak?
Before looking at the best LiveLeak alternative, firstly let's learn what LiveLeak is.
Liveleak was a video sharing website founded in 2006. This site is conducted to freely host real footage of world events like war, politics, etc. It allows users to upload videos, but this kind of content is more political and contentious. When you open the website, select the Recent items, you can get all available news videos about recent threads. Or choose Must See, then you can watch some hot and shocking videos. 
However, this site was shut down on 7 May 2021. Thus, we've compiled a list of the 6 LiveLeak alternatives for you to watch shocking videos. 
Top 6 LiveLeak Alternatives
1. Xfinity Video
Xfinity is the best LiveLeak alternative to watch news videos. On this site, you can watch news videos from MSNBC, ABC News, CNN, Newsy, Time, and The Weather Channel. Besides, you can watch other news videos about sports, entertainment, lifestyle, business, etc.
Also read: Free Sports Streaming Sites
2. Leaked Reality
Leaked Reality is also one of the best sites like LiveLeak. On the home page, it gives a list of must-see videos, latest news videos, and featured videos. This site offers a News column, and you can filter these videos by the Most Recent, Most Commented, Added This Week, Added Today, Public, Private, etc. This website includes many categories of videos like accidents, cops, crime, entertainment, latest news, military, nature, politics, religion, and more.
3. Daily Mail Online
Daily Mail Online is another alternative to LiveLeak. After selecting Video, you'll get many news videos, trending videos, TV and Showbiz videos, sports videos, family videos, and science videos. Apart from these videos, you can also watch many other news reports including political events, celebrities, etc.
4. Dtube
Dtube is another LiveLeak alternative and it has a YouTube-like interface. On this website, you can watch various hot videos, trending videos, and new videos and also you can search for other contents. And you can upload and share videos to this site.
5. Ebaum's World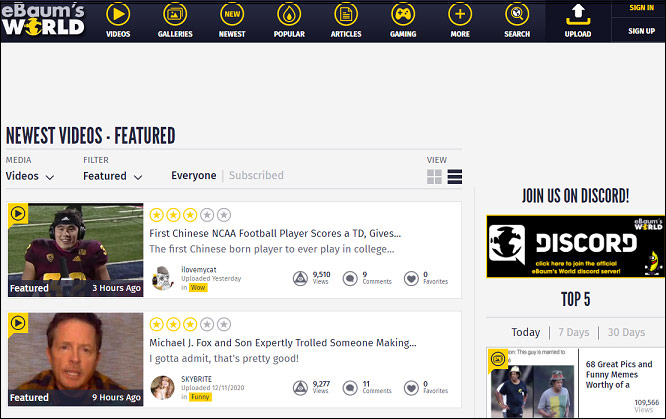 Ebaum's World is an entertainment site and features funny videos and pictures. If you want a LiveLeak alternative to get more shocking content, the video section of Ebaum's World can meet your needs and it also includes other content from news events and viral videos, etc. Besides, this site offers memes.
Related article: Video Meme Maker
6. Veoh
Veoh is another LiveLeak alternative to watch news videos. After opening this site, select Videos and then choose News, you can get hundreds of thousands of news videos. Next, you can sort these videos by language, subtitle, length, popularity, etc. Except for news videos, this website provides other categories of content, such as the cartoon, anime, comedy, travel, culture, and more.
Conclusion
With these LiveLeak alternatives, you can find and watch unlimited videos. Among these websites, which one do you prefer? And if you'd like to share other sites like LiveLeak, you can leave your comments and recommendations below.