How can I create a ringtone for my iPhone? Don't worry. Here we bring you 5 best iPhone ringtone maker apps with which you can cut the desired part of your favorite song and save it as your iPhone ringtone. If you want to make a ringtone on PC, MiniTool MovieMaker is a nice choice.
Tired of iPhone's default ringtone? If so, why not try to make your favorite song a ringtone?
The following will detail 5 best iPhone ringtone makers and specific steps on how to make ringtones for iPhone online.
Top 5 Best iPhone Ringtone Makers
1. Ringtones for iPhone!
Rating: 4.5/5
Ringtones for iPhone! is an extremely flexible yet free iPhone ringtone maker app. You can browse and select popular ringtones from multiple categories, create one ringtone using any song from your library, or even record ringtones for iPhone.
2. Ringtone Maker
Rating: 4.4/5
Ringtone Maker is one of the best free iPhone ringtone apps. The app not only provides various alarm sounds and ringtones for free but also allows you to create your own custom ringtones based on your favorite music, including trimming music tracks and viewing music waveforms.
3. Cool Ringtones: Ringtone Maker
Rating: 4.3/5
With the help of Cool Ringtones, you will find rich ringtone collection, which you can easily customize. It is possible to create ringtones using your songs. Moreover, the app comes with personalized tune collections with the ability to adjust the volume and pitch.
4. Ringtones HD
Rating: 4.3/5
Ringtones HD is another best iPhone ringtone maker, which enables you to create ringtones from your local iTunes track or customize the existing options according to your needs. Furthermore, it provides hundreds of free ringtones and all tones on this app have HD quality.
5. Ringtone for iPhone! (music)
Rating: 4.2/5
Ringtone for iPhone! (music) includes unlimited free ringtone options. If you want to make your own ringtone, the app provides you with the ability to adjust the start/end time, pitch, as well as volume of ringtones. It also offers the fade-in and fade-out options.
Related article: Top 10 Free Music Ringtones Review & Download
How to Make Ringtones for iPhone
The above has introduced 5 excellent iPhone ringtone makers. Utilizing them to make an iPhone ringtone is pretty easy. Therefore, here we will show you how to make ringtones for iPhone without these apps. The answer is Audio Cutter of 123APP.
Step 1. Open mp3cut.net on your browser.
Step 2. Click Open file to upload the song that you want to make into a ringtone.
Step 3. Select the interval you'd like to use by moving the blue markers. Please remember that iPhone supports ringtones of up to 40 seconds long.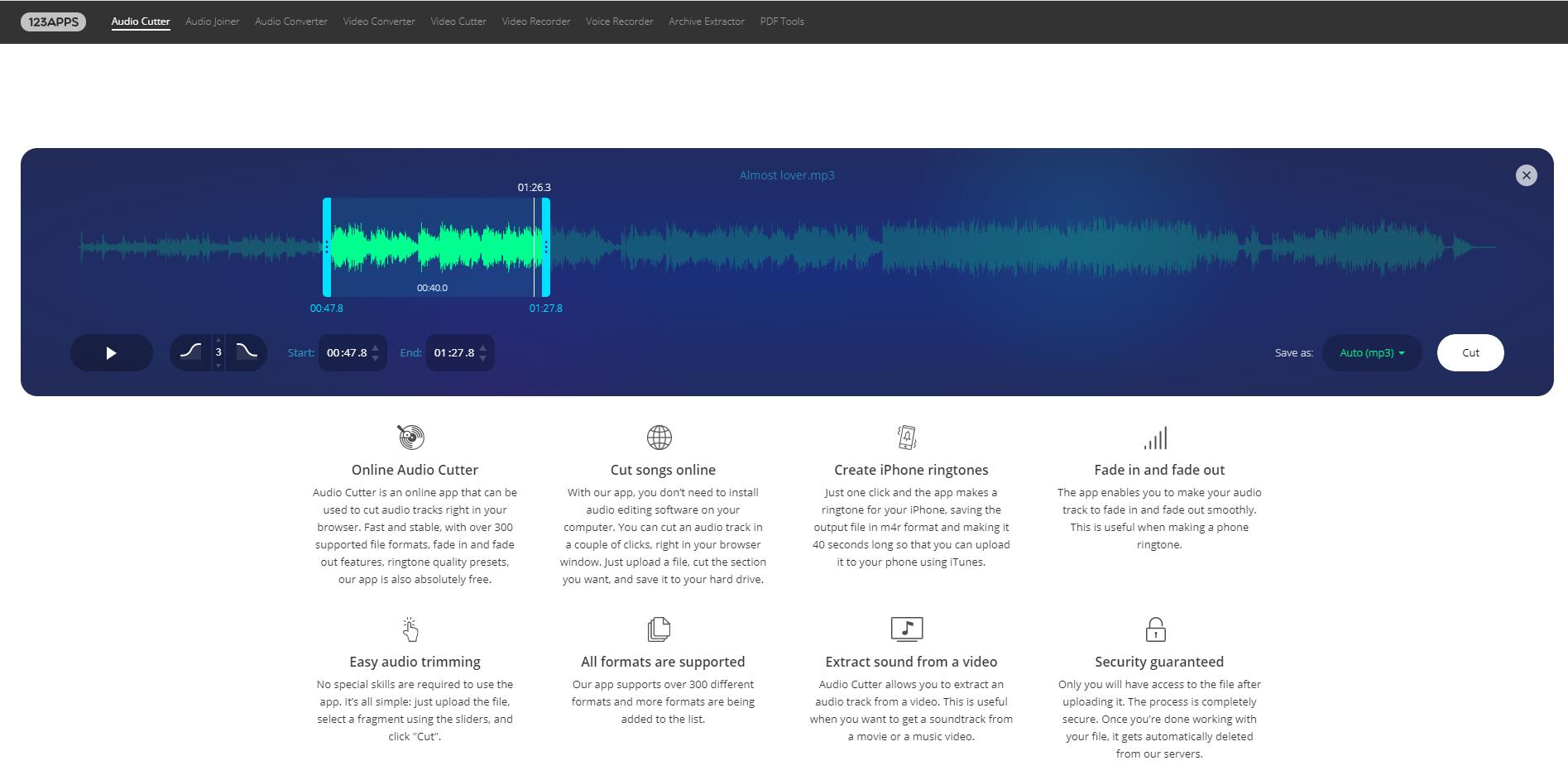 Step 4. Now, you can fade in or fade out the audio clip.
Step 5. Select m4r (iPhone ringtone) as the output format.
Step 6. Click the Cut button to start the process.
Step 7. Tap on the Download button and choose a destination folder on your computer to store the ringtone you just created.
Step 8. Upload the ringtone to your iPhone via iTunes software.
Bottom Line
Among these 5 best iPhone ringtones makers, which one do you prefer? Of course, if you have any other great software to recommend, please let us know via [email protected] or share them in the comments section below.