These Instagram filters online allow you to apply the Instagram filters to your photos or videos without installing the Instagram app and directly save the photos locally. You can use them to preview all available filters in real-time and add them to your photos or videos. The whole process is quite easy and only takes a few minutes.
The reason Instagram filters online are so popular is that they really bring convenience and interest to your life. Let us take a look at the magical functions of these photo filters.
If you want to make the photos you add the filters into a video or slideshow, MiniTool MovieMaker is a great choice.
MiniTool MovieMakerClick to Download100%Clean & Safe
10015.io
10015.io is a free Instagram filters tool that allows you to apply filters with the same effects as the Instagram app on your photos.
It provides you with a variety of styles of filters, including Normal, Clarendon, Moon, Lark, Juno, Perpetua, Gingham, Reyes& Aden, and Slumber, Crema& Ludwig. You can either choose to upload photos from a local file or add images from a URL.
Additionally, this website has many other useful tools, including text tools, image tools, CSS tools, coding tools, color tools, social media tools, and miscellaneous tools.
PhotoRetrica
PhotoRetrica is a free website with many online image tools. You can use it to edit pictures, make collages, convert image formats, apply major social media effects and templates, edit videos, make GIFs, and more.
It supplies you with three Instagram filters that are free to use online, including Pixelixe, CSSFilters and PhotoFilters. They give you all kinds of photo filters, you can try to find the one you are satisfied with. After you finish applying the filter, you can also download and save the photo on your device.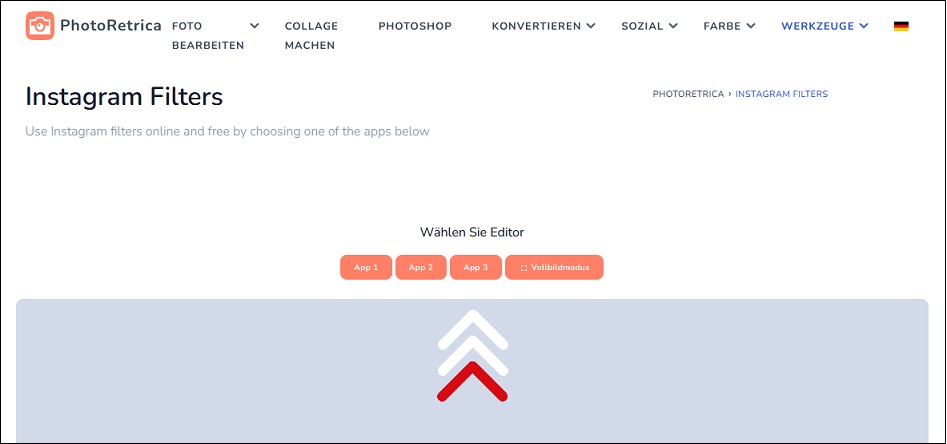 VEED.io
VEED.io is a free online video filter. It provides you with a large number of amazing filters and effects, and you can choose a new theme, mood and atmosphere for your videos. These popular filters are VHS filters, sepia, glitch, strobe, black and white, etc.
You can use its easy-to-use video editor to adjust the resolution, frame rate, lighting, size, audio quality, add background music, voice commentary, automatically generated subtitles, and remove background noise in the video to make high-quality videos. You can also decorate your videos with stickers, logos and emojis.
It supports all file formats, such as MP4, AVI, MOV, WEBM, WMV, etc.
InstaEditor
InstaEditor is a free Instagram filter online that can add filters, stickers and masks to your photos.
Its interface is very simple and intuitive, you only need to spend a few seconds to complete the addition of photo filters.
It has many photo filters, including Juno, Aden, Lark, Ludwig, Clarendon, Gingham, Valencia, etc. And you can also adjust the brightness, contrast, blur, vignette, and more of the photo. Moreover, it has some basic photo editing functions, such as rotate, flip, crop, tilt and shift, etc.

BestIGFilters
BestIGFilters is a free website that provides you with hundreds of Instagram filters.
You can either browse the filter list in turn to find the filter you like or use the search tool to find the specific type of filter. If you want to use your favorite filter, you can directly click and access the tools it mentions.
Furthermore, it supports you to upload filters and rank them according to their popularity.
Conclusion
The advantage of using these Instagram filters online is that you can get the same filters without downloading Instagram and any filter apps. This is undoubtedly the perfect choice for you.