Sometimes, you may need to mirror an image for a better viewing experience. So how to flip an image horizontally or vertically? In this post, I'll give you a list of the top 5 image flippers. As to video flipping, you can try MiniTool MovieMaker.
Need to flip selfie before posting it to social networks? Try the following 5 best image flippers.
The Top 5 Image Flippers You Should Try
Photoshop
GIMP
PineTools
Img2go
FlipAPicture
#1. Photoshop
Photoshop is a well-known photo editor. It also can be used as an image flipper that allows you to mirror image and rotate image. Only in just a few steps, you can get the flipped image without quality loss and even utilize it to improve the original image quality.
Key Features
Come with all the needed photo editing features, such as mirror image, resize image, make image transparent, pixelate image, watermark image and so on.
Can compress image before exporting images.
Able to convert video to GIF like AVI to GIF, WebM to GIF, etc.
Available for Windows and macOS.
#2. GIMP
Another image flipper is GIMP, which supports the most common image formats like JPEG, JIFF, GIF, PNG, TIFF, etc. It allows you to flip an image horizontally or vertically. In addition to flipping image, plenty of editing options are available for photo manipulation including enhance photo, retouch photo, and more.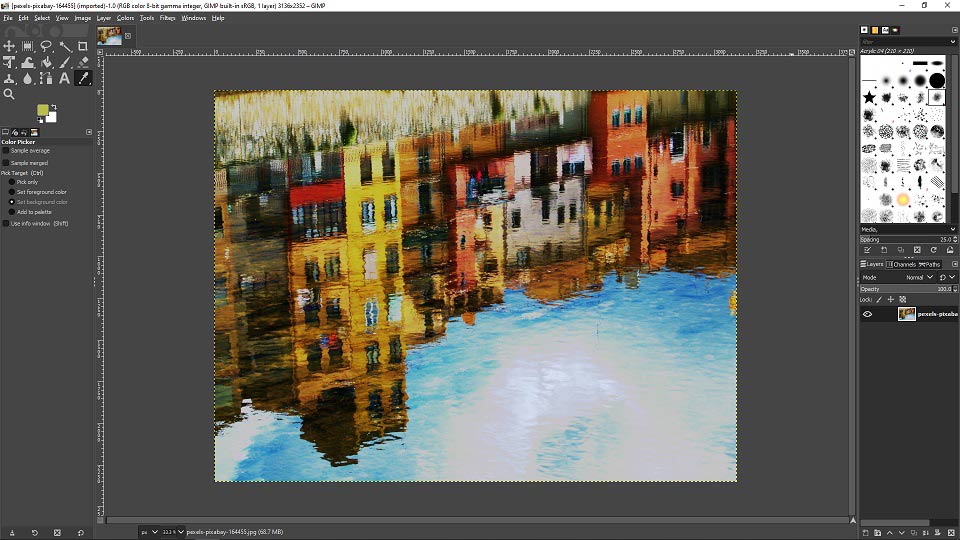 Key Features
Free and open-source.
Support a variety of common formats and special use formats like TIFF, JPEG, PNG, GIF, PSD, BMP, PIX, MNG, etc.
Can be used as an image flipper as well as an image editor.
Can work on FNU/Linux, Windows, macOS, Sun OpenSolaris, and FreeBSD.
#3. PineTools
PineTools is an online image flipper. By using it, you can mirror an image online horizontally/vertically or both horizontally and vertically. Besides that, some other editing tools on this website are also useful, which helps you make your image more professional.
Key Features
Free and web-based.
Allow you to mirror image, merge image, split image, resize image, blur image, etc.
Can convert SVG to JPG, BMP and PNG.
The flipped image can be saved in PNG, JPG, and WEBP.
#4. Img2go
This is an online image flipper tool. It offers four options: Flip vertically, Flip horizontally, Rotate 90° clockwise, and Rotate 90° counter-clockwise. You can upload the wanted image from multiple sources: Local, URL, Dropbox, and Google Drive.

Key Features
Free to use with zero quality loss.
Various image editing options are offered here.
The supported image formats are JPG, PNG, SVG, BMP, TIFF, WebP, ICO, GIF, and more.
Compatible with all operating systems.
#5. FlipAPicture
This online service has a simple and ease-of-use interface. To flip an image horizontally or vertically, just choose the desired option and upload the image that needs to be flipped from your device. Then FlipAPicture will get the task done.
Key Features
Free online service for flipping image.
Simple and easy to use interface.
Conclusion
There are the top 5 image flippers in this post. Whether you'd like to mirror image online or not, the above-mentioned tools always satisfy your needs. Which one do you like? Try it now!