In a chat on Facebook Messenger, you can easily send text messages, images, videos, GIFs, stickers, and emojis. Recently, some users say they can't find the GIF icon next to the texting box after the latest updates on Messenger.
In fact, you can still use GIFs on Messenger. The following parts explain how to send GIFs on Messenger via the mobile app and the website on the desktop.
How to Send GIFs on Messenger Mobile App
People always love sending GIFs to friends. If you want to know how to send GIFs on Messenger, you've come to the right place. Check the steps below.
Step 1. Open the Messenger app on your Android or iPhone.
Step 2. Open a conversion.
Step 3. Tap the smiley icon in the text field and click the GIF tab.
Step 4. Browser for GIF and click on it to send it. Alternatively, type a keyword in the search box to search for specific GIFs. Tap on a GIF to send it immediately.
How to Send GIFs on Messenger on Desktop
Also, it's easy to send a GIF on messenger.com on your computer. Here're two ways for you.
Option 1: Via the GIF button
Step 1. Open the messenger.com website in your browser. Alternatively, click the Messenger icon in the upper right of the facebook.com page.
Step 2. Open a chat where you want to send a GIF.
Step 3. Tap the GIF button and click on a GIF to send immediately. Or, you can search for a GIF to send.
Once you've sent a GIF, you'll see a Reply (arrow) and a More (three dots) button on the left side of the GIF. You can click the More button and select Remove to remove this message from you or unsend it from both sides.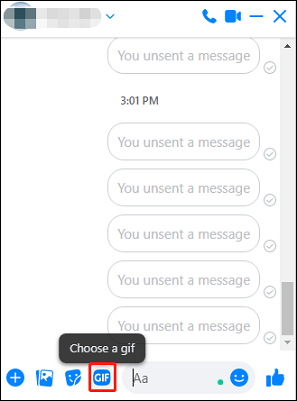 Option 2: Send GIFs as an attachment
You might have downloaded many GIFs from sites like Gfycat, Imgur, GIPHY, Tenor, and more. Can you send a saved GIF to Messenger on your PC?
Yes, you can send a downloaded GIF file or multiple ones as an attachment on Messenger. Please note that the selected GIFs cannot exceed 25 MB.
Click the Attach a file button to open the folder that contains your saved GIFs on your PC. Select a GIF or multiple ones and click Open, and click the Send icon to send the GIF.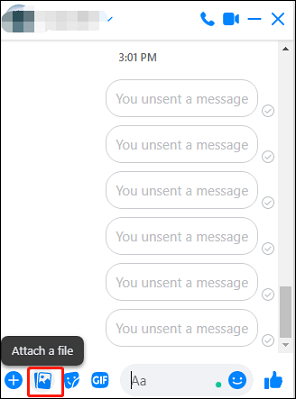 MiniTool MovieMakerClick to Download100%Clean & Safe
Why Can't I Send GIFs on Facebook Messenger
Sometimes, you fail to send a GIF on Facebook Messenger for some reason. It must be frustrating when a GIF is not working on Messenger.
This issue may be caused by the following reasons:
1. Your Internet connection
If you have a poor Internet connection, Messenger may fail to load your GIF or it will take a long time.
2. The file size of your GIF
If your GIF is bigger than 25MB, Messenger won't allow you to send it. You have to use a GIF compressor to reduce its file size.
Besides, the Facebook Messenger gifs not working problem may be caused by in-app bugs or temporary glitches on your device.
You can try the methods below to fix the issue when you can't send gifs on Messenger
Way 1: Disconnect and reconnect your Internet connection.
Way 2: Log out of your Facebook account and then register again.
Way 3: Restart the Messenger app.
Way 4: Update the Messenger app.
Way 5: Uninstall and reinstall the Messenger app.
Way 6: Restart your device.
Conclusion
People love sending GIFs to show their feelings or just for fun. Facebook Messenger has a larger GIF library supported by Tenor and GIPHY. Thus, you can explore various GIFs in Messenger and send them to friends.