IGTV is the home of longer-form video content on Instagram. It's an incredible channel to showcase styling tips or step-by-step tutorials. How to make an IGTV video? This post is going to tell you almost everything about it. Just read this post and start creating!
Making and posting videos on IGTV is a great way to resonate with your audiences and build long-term relationships with them. In this post, we will share almost everything you need to know about IGTV video. You can even create binge-worthy IGTV videos with the best movie maker- MiniTool MovieMaker.
MiniTool MovieMakerClick to Download100%Clean & Safe
What Is IGTV?
Launched in June 2018, IGTV (Instagram TV) is a long-form video channel available on Instagram (the standalone IGTV app is shut down now). Unlike Instagram Stories is designed for spontaneous short-form videos, IGTV offers content creators the opportunity to create and share longer video content. It's Instagram's answer to YouTube, which provides an enticing option for both creators and viewers.
In 2019, Instagram launched a new feature that enabled creators to post a one-minute teaser or preview of the IGTV video on their feeds, which makes the content more accessible and inclusive to the audience. Meanwhile, the IGTV series feature was also introduced – a regular series of videos creators can release on a schedule each week, month, or day.
What Are IGTV Video Specs?
Before making videos and posting on IGTV, you need to know about the IGTV video specs: how long can an IGTV video be (IGTV video length), IGTV video ratio, IGTV video resolution, or IGTV video format. If you want to get more information about Instagram video length, you can read Instagram Video Length: How Long Can Instagram Videos Be.
IGTV videos can be viewed on your smartphone or tablet. But if you do not want to use the Instagram app to edit your video and want to produce a video using third-party tools (more on this below), you can refer to the next part.
For the best results, follow these technical specifications:
IGTV video format: MP4.
IGTV video length: Videos must be at least one minute long. The maximum length can be 15 minutes when uploading from a mobile device and 60 minutes when uploading from the web.
IGTV video size: 650MB for videos less than 10 minutes; 3.6GB for videos up to 60 minutes.
IGTV video orientation: vertical (portrait) or horizontal (landscape)
Aspect ratio: Instagram recommends that vertical IGTV videos should have an aspect ratio of 9:16, while horizontal videos should be 16:9
IGTV video resolution: 1080px by 1920px is recommended
Tips:
While cover images are not required, it can help attract more viewers. The recommended cover image size is 420px by 654px (1:1.55 aspect ratio).
How to Make an IGTV Video?
If your video's specs don't meet Instagram's requirements, you can use a video editor. You can upload a high-resolution video without suffering the loss of quality as Instagram compresses the file. A wisely-chosen video editing software for PC can help you resize and edit your videos. MiniTool MovieMaker is highly recommended.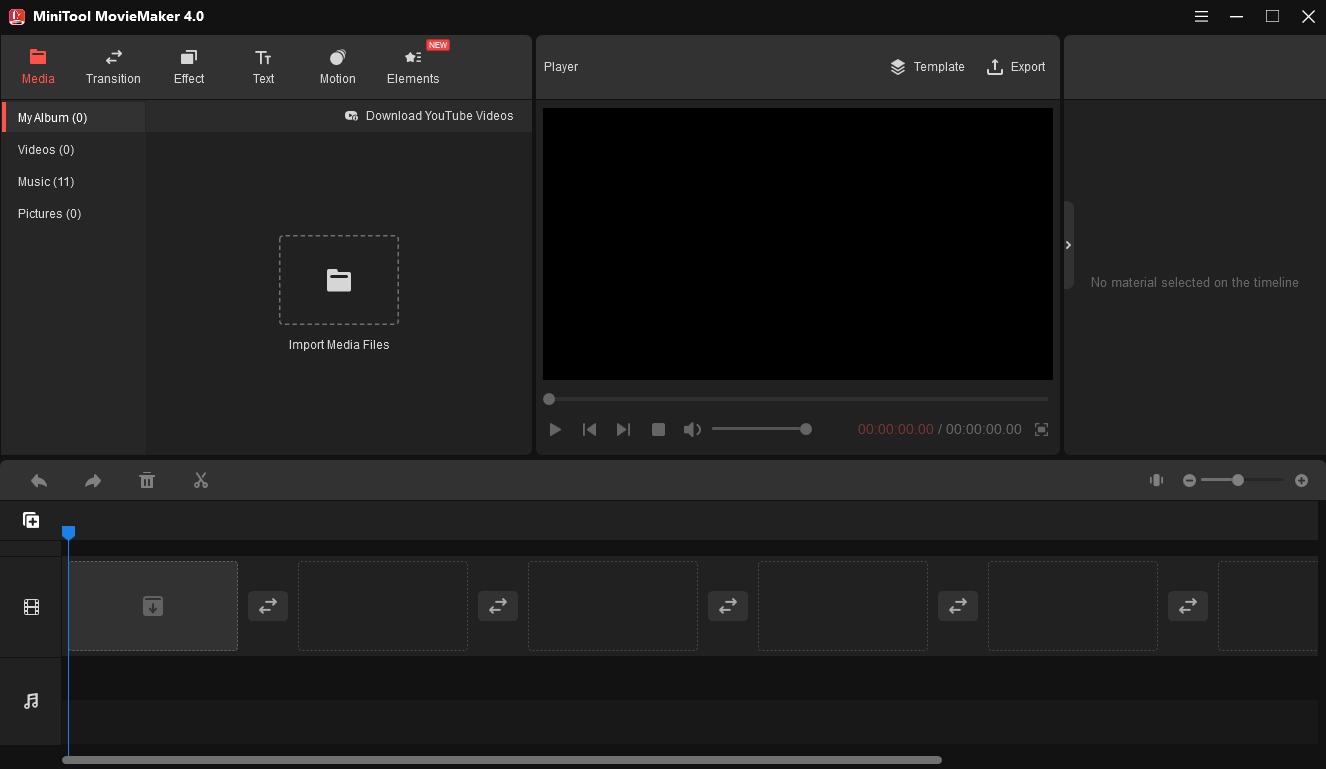 It is a completely free and safe video-making and editing program with no ads, watermark, or bundle. With a clean and simple interface, you can learn about all the editing features and familiarize yourself with this software easily and quickly.
It comes with many useful features to make your IGTV video stylish and professional. Pretty transitions, effects, filters, animated elements, and more are all accessible. You can also add music to IGTV videos. In addition, you can merge, rotate, flip, reverse videos, adjust the contrast, brightness, saturation of the videos.
The following part will introduce how to make an IGTV video with the amazing video editing software MiniTool MovieMaker. You will get how to make an IGTV video with pictures and how to make an IGTV video with music.
How to make IGTV video with MiniTool MovieMaker:
1. Install and launch the free MiniTool MovieMaker.
MiniTool MovieMakerClick to Download100%Clean & Safe
You can download the free software by clicking the button and installing it on your PC. Launch the program and close the popup window to enter the main interface.
2. Import the media files.
Once you've gotten the main user interface, click Import Media Files to import the video and image files. And then drag and drop them onto the timeline.
3. Edit the IGTV video.
Arrange videos: Drag and drop the media files to adjust the position on the timeline.
Split video: Select the target video clip on the timeline, drag the playhead to the place you want and click the scissor icon to split, or click the scissor icon and choose Quick Split. Right-click the clip you want to remove and select Delete.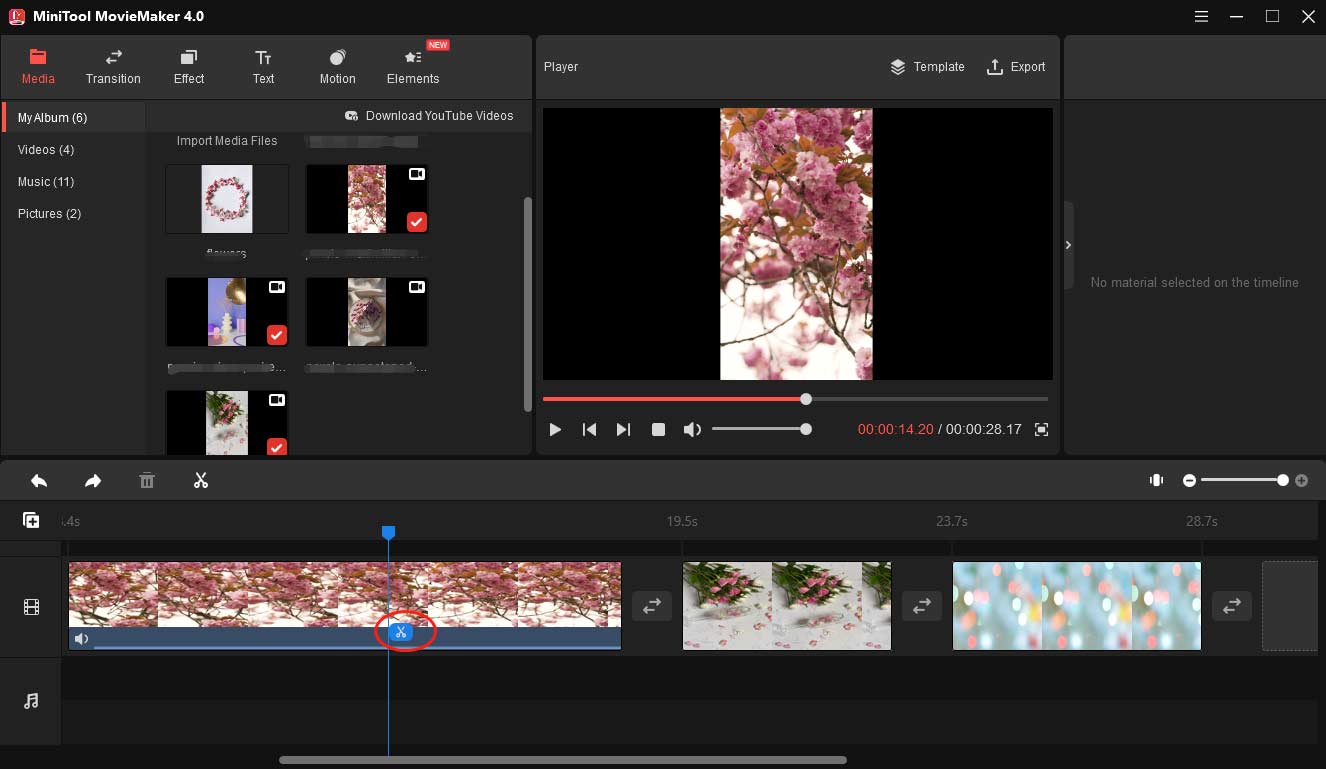 Add effect: Locate the clip on the timeline where you want to apply an effect. Click Effect, choose the desired effect. Click the + icon to add the effect to the video. Or drag and drop the desired effect to the target clip.
Apply transition: Select the clip where you want to add a transition next to it. Go to Transition. Drag and drop the desired transition to the location between two clips. Or right-click the transition, select Apply to All to add the same transition to all clips on the timeline.
Add texts: Head to Text, find a suitable title/captions/credits, then drag the texts from the text library to the timeline, or click the + button to put the texts in the right place.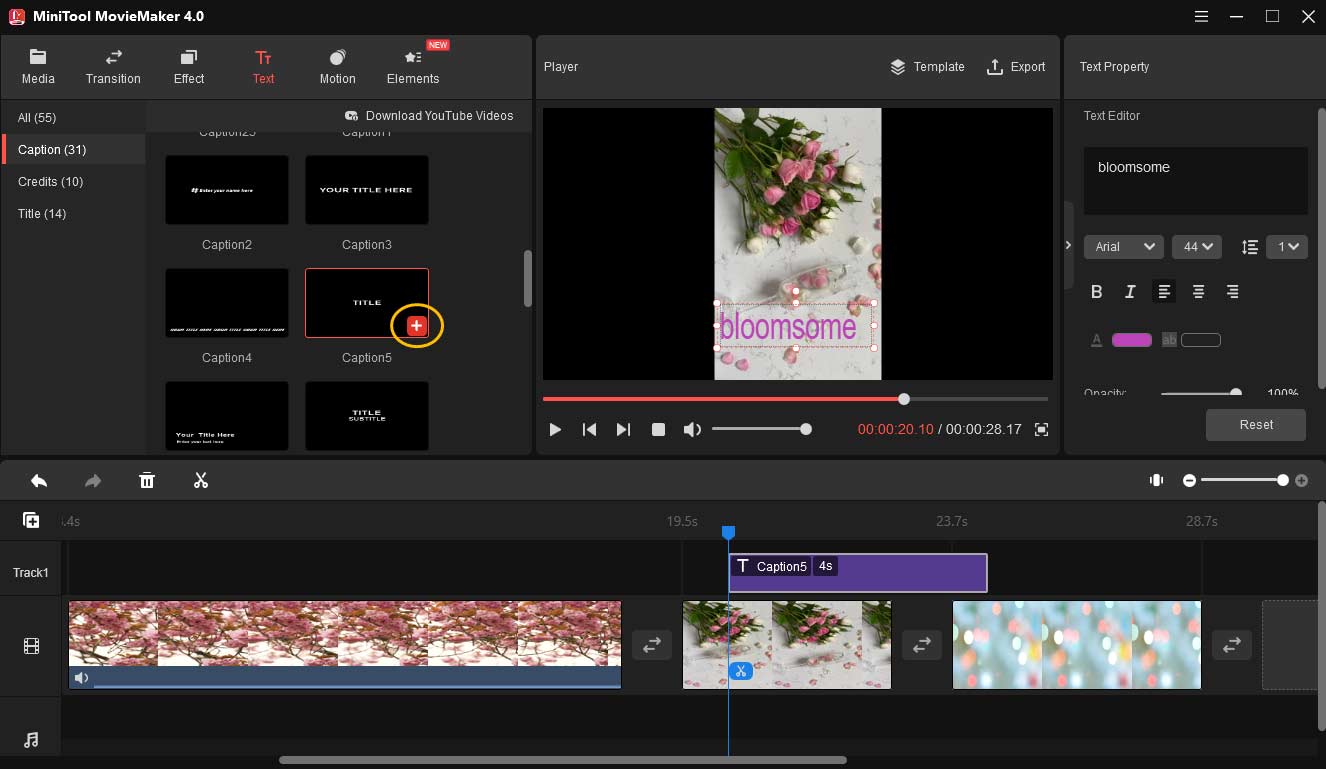 Add animated elements: Head to Elements. Click the download button to download the online source of elements. Or right-click on an element and then select Download All to get all the elements. Locate the place where you want to add elements on the timeline, select the desired element. Click the + button or drag the desired element to the track above the target clip.
Add music: Go to Music under Media, and then use the built-in music tracks. Tap on the + icon to add the music to the video, or drag and drop the music to the video on the timeline. Or click Import Media Files to import local music files. Find the music file and click Open to import the music. Then, drag the imported music into the timeline.
4. Export the video.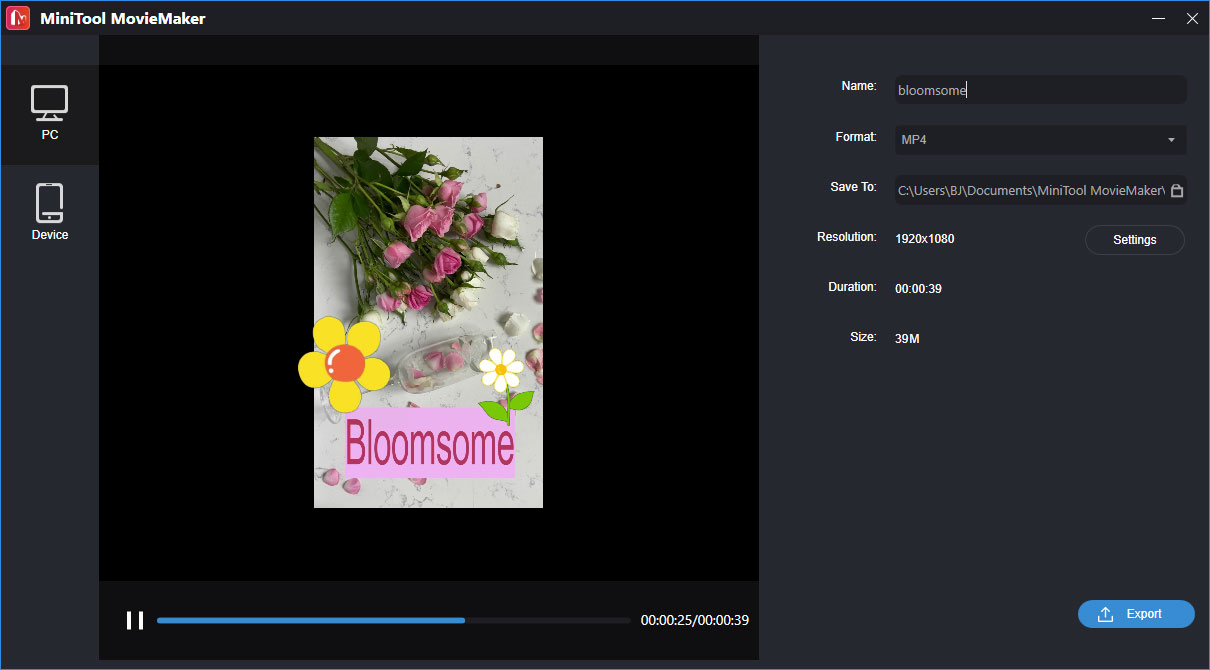 After editing, click Export in the upper-right corner to open the export window. Here you can rename the video file, change the video format to MP4, specify the destination folder, and adjust the video resolution. Once you're done, tap on Export to save the final video.
MiniTool MovieMaker is an amazing video editing software for Windows. With the help of it, I can make an attractive IGTV video for Instagram easily.Click to Tweet
How to Post IGTV Videos?
Congratulations! You've made an attractive IGTV video. The next step is to post the video on IGTV. You can upload the video from your phone or desktop. Let's take a look at the procedures on different platforms.
Upload video to IGTV via the Instagram app:
Step 1. Launch Instagram and tap on the plus sign in the top right corner of your profile page. Choose the IGTV Video option.
Step 2. Choose the video you want to post from your gallery. You'll see the video displayed on your screen. Then hit Next.
Step 3. Select a cover image. Tap and slide the image at the bottom of the screen or tap Add from Camera Roll (iPhone) or Add from Gallery (Android). Then tap Next.
Step 4. Add a title and description. You can choose to post a preview of your video to the Instagram feed. Once done, tap Post to IGTV button.
Upload IGTV video from your desktop:
Step 1. Log in to your Instagram account from your desktop.
Step 2. Click the IGTV tab, then click Upload.
Step 3. Drag and drop your video onto the + icon.
Step 4. Select a cover image from your desktop, add a title and a description. Then, click Post.
Tip: A great way to make sure you post fresh content consistently on Instagram is by scheduling your posts in advance. If you want to schedule your Instagram post, you check out How to Schedule Instagram Posts? Solved! [Step-by-Step Guide].
How to Create an IGTV Series?
IGTV series feature provides a big opportunity for increasing engagement and follower count. You release videos regularly, and the signed-up followers will be notified each time you'll post a new video.
Let's see how to create an IGTV series:
Launch your Instagram app.
Go to your profile, tap on the plus sign in the top right corner of your profile page and then choose IGTV Video.
Select the video you like to upload from your gallery and click Next.
Click on the Add to Series button then tap on the Create your first Series button.
Fill up the name and the description for the series, then click Create. You'll see your series name displayed on the screen. Tap Done.
You are taken back to your original video IGTV post screen and you'll see the name of your series displayed on the screen. Next, you just need to tap Post to Screen and your first episode in a new series is set up!
Best IGTV Practices to Follow
Here are some of the best IGTV practices you can apply to maximize your content performance and increase engagement.
Always choose an attractive cover image.
When viewers scroll through your IGTV channel, the cover image is the first thing to draw their attention and entice them to click on your video. Make it easy for people to read, click, and watch your IGTV videos. You can resort to editing tools like Canva to create attention-grabbing images for your content.
Post consistently.
Posting quality content consistently on Instagram is crucial to your IGTV success. Your consistency will always draw viewers in. The more consistent you are with your IGTV videos, the more viewers will look out for your content to watch, share, and engage with it regularly.
Track the IGTV video performance.
You can view the details on an IGTV video such as comments, likes, profile visits, interactions, retention rate, and more. These metrics will tell you the performance of the video.
Create content followers want to see.
Your IGTV channel, just like your YouTube channel, will show you what topics and content your followers want to see from you. It also pushes you to experiment with ideas, layouts, and structures to increase your views. At the end of the day, it doesn't matter how good your IGTV videos are if no one is watching.
Use the on-screen text on IGTV videos.
To add context to your video and maximize viewership, you can add on-screen text or subtitle text to your videos. It is a great way to make the spoken words clear to viewers.
Also read: Top 5 Caption Generators to Gain More Likes on Instagram
Use hashtags in IGTV videos.
Hashtags are one of the best ways to increase your discoverability on Instagram, especially for IGTV videos. Before you choose the relevant hashtags for your IGTV description, you may need to do proper research to find which hashtags are the most popular for that type of video.
Conclusion
In a nutshell, this post introduces how to make an IGTV video, IGTV video specs, how to post IGTV videos, some of the best practices of IGTV video.
If you have any questions or encounter any problems while using MiniTool MovieMaker, you can connect us via [email protected].