Scheduling your Instagram posts in advance is one of the most effective ways to save time and post incredible content consistently. How to schedule Instagram posts? This post is going to share everything you need to know about it.
If you want to create amazing video content or make slideshows for your Instagram posts, try the free video editor MiniTool MovieMaker!
Why You Should Schedule Instagram Posts?
Before we go through the guide on how to schedule Instagram posts, let's figure out why you should schedule Instagram posts. Why is it important to schedule Instagram posts? Well, there are 3 main reasons:
1. Scheduling Instagram post saves you time and mental energy.
Crafting and posting the perfect Instagram post can be time-consuming if you post one-by-one on the day. Scheduling Instagram posts allows you to schedule posts in batches with captions and hashtags.
2. Scheduling Instagram posts gives you more control over your Instagram feed.
You can easily plan and manage your entire feed in advance and have more control over your Instagram schedule. It will help you keep your feed organized and keep track of how your feed looks and performs.
3. Scheduling Instagram posts is an organized social media strategy.
Organizing your content on social media can be a big task, especially if you manage multiple accounts. Scheduling posts can free up precious time for polishing your social media  content. You don't have to rush, and you have time to gather the various assets you need to create high-quality, fresh, and compelling content.
How to Schedule Instagram Posts?
Here, we will use a tool - Facebook Creator Studio, which is a native solution provided by Facebook Inc to content creators and social media managers. It is an effective way to manage scheduling on Facebook and Instagram. You can do it on the website through your desktop browser.
Before following the instructions below, make sure your Facebook and Instagram accounts are linked.
You can do this within the Instagram app itself:
Open the Instagram app.
Go to your profile by clicking the profile icon at the bottom-right of the page.
Tap on the three horizontal lines at the top-right of the page.
Select Settings > Account > Linked Accounts > Facebook.
Enter your Facebook login info.
Alternatively, on the desktop browser, you can go to Creator Studio(https://business.facebook.com/creatorstudio) to log in to your Facebook account.  Then click the Instagram logo at the top of the homepage screen and hit Connect Your Account to link your Instagram account.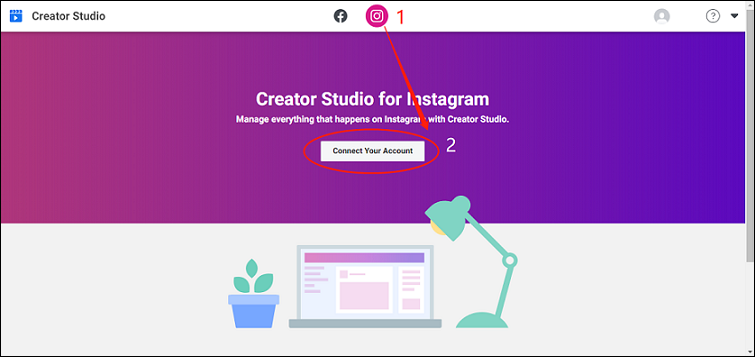 Now that you're connected, let's take a closer look at how to schedule Instagram posts with Facebook creator studio:
Step 1. Select Create Post in the left sidebar in Creator Studio. Then choose either Instagram Feed or IGTV.
Step 2. Add your photo or upload video to your post by pressing the Add Content button. Upload and create your post including your desired caption, hashtags, and mentions.
Step 3. Click the arrow button, located next to the blue Publish button.
Step 4. Select Schedule in the pop-up window.
Step 5. Enter your desired schedule details and then click Schedule.
Congratulations! You have scheduled your Instagram post.
Also read: Solved – How to Fix Instagram Couldn't Refresh Feed
Conclusion
To sum up, this post introduces how to schedule Instagram posts and why should we schedule Instagram posts. Now, it is your turn to schedule your post on prime time. Happy scheduling!