Whether you're new to social media or struggling to increase the popularity of your videos, paying attention to TikTok views is worth the effort. This post from MiniTool MovieMaker will lead you to learn about how to increase views on TikTok.
What Is a TikTok View?
Before learning how to increase views on TikTok, you first need to know what a TikTok view is so you can use the suggestions listed below.
On TikTok, each time your video begins to play, it counts as a view. In this case, the TikTok algorithm determines whether to show your videos to other viewers in terms of the user's watch time and engagement.
When a video automatically starts playing, replays or a viewer comes back to watch it more than once, it counts as a new view. However, when you watch your videos, the views are not counted.
Low Views on TikTok: Why They Happen
There are three factors why your TikTok videos are not getting any or very few views:
Recent Accounts: It's normal for your views to be low when you first create an account; even so, you can get more views by making good-quality videos and following the latest hot topics.
Not much participation: TikTok will not display your video if viewers do not enjoy it or do not share it since it has been classified as an unfavorable one.
Posting When It Shouldn't: If you post when nobody is actively using the app, you will certainly not receive the desired number of views. Therefore, you'd better know when your followers are active and arrange your account in time to gain higher popularity.
7 Basic Suggestions: How to Increase More Views on TikTok
Give Your Videos Hashtags
How to increase your views on TikTok? You can do this by using hashtags linked to your keywords. Hashtags are a helpful tool in your TikTok toolbox. It will attract people who are interested in what you post and what you are writing. Also, hashtags are crucial for visitors to find your content when they are searching.
You may also like: A Detailed Guide on Using YouTube Hashtags to Get More Views?
Know Your Target Audience
The following are the essential TikTok statistics for you:
TikTok is used by 1 billion people in the world.
The average age of TikTok users is aged from18 to 24.
57 percent of users of TikTok are female.
The majority of TikTok users (226.8 million) live in Southeast Asia.
Make Outstanding Video Content
When you produce some excellent TikTok videos, it will be a terrific way for you to gain a lot of likes and views. You can use MiniTool Moviemaker to improve your videos here. It contains a variety of great transitions, effects, text, motions, and elements that can make your videos more attractive and interesting. Here's how to increase views on TikTok and improve your TikTok videos with MiniTool MovieMaker.
MiniTool MovieMakerClick to Download100%Clean & Safe
1. Download and install MiniTool MovieMaker on your PC.
2. Launch it and close the Project library window to go to its interface.
3. Click the Import Media Files option under the Media tab to import the videos you want to edit.
4. Drag video clips to add to the timeline below, or click the + icon to add.
5. Select the desired transitions, effects, text, motions, and elements as needed.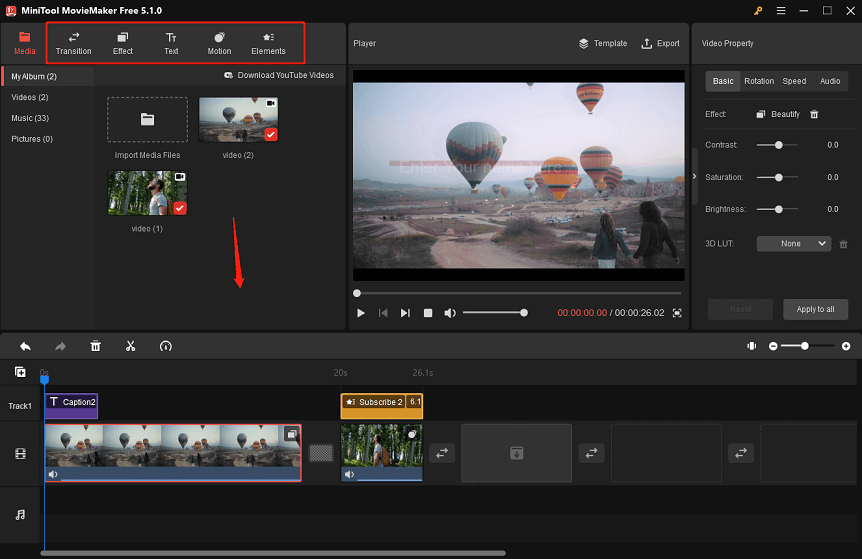 6. Preview the edited video in the Player window and make any changes according to your ideas.
7. Click Export in the upper right corner of the Player window to export the edited video to your PC.
Keep It Short and Cheerful
For casual viewing, TikTok videos are an excellent choice. Videos ranging from 15 seconds to 5 minutes in length can provide customers with a better visual experience than text and images. In addition, it is more expressive to help producers convey their ideas vividly to the audience. The majority of the fundamental material is presented in short videos that are appropriate for users' fragmented reading patterns and demand less time from participants.
Use Popular Music in Your Videos
Similar to hashtags, this way can also lead you to know how to increase views on TikTok. A popular song or sound effect might draw in viewers who have recently viewed or loved a song's music video. So, if you pick a piece of popular music, your videos can become popular!
Promote Your TikTok Videos
Undoubtedly, TikTok is one of your social media platforms. You can promote your TikTok videos on other social networking sites like Facebook, WhatsApp, or Instagram. Also, you can use its in-feed ads to attract more audiences and increase your TikTok views.
Upload Several Times Every Day
If you post several videos every day, it will attract more followers to your homepage to view your updated posts. That said, the more videos you have, the more likely you are to appear on someone's For You page.
Bottom Line
Now that you know how to increase views on TikTok, read the advice above to encourage more users to watch your videos. Imagine what an amazing thing this would be!