How to apply transition effects to videos and photo slideshows on TikTok? How to do transitions on TikTok? Don't worry, this post will give you a step-by-step guide on how to do TikTok transitions. (Try MiniTool MovieMaker to apply a transition between video clips.)
As a popular video-sharing service, TikTok provides many amazing video editing features and tools to help users to create wonderful videos. Transition is one of them, and other functions include trimming video, adding text, special effects, filters, stickers to the video, video speed adjustment, etc.
But how to do transitions on TikTok for a video and a photo slideshow? Let's continue to look through this post.
How to Do Transitions on TikTok?
Step 1. Open the TikTok app on your device and click the + symbol at the bottom center of the screen.
Step 2. Click the Upload button to add a video from your gallery or tap on the Record button to record a video. Or you can add multiple pictures and combine them into a photo slideshow.
Step 3. Once finished, click the Next. Then click on Effects > Transition at the bottom of your screen.
Step 4. On the timeline, click and drag the slider tool to the point you want the transition to happen. Then select a transition to inset it, and the video will automatically play from the beginning of the transition. While the video playing, you can tap the selected transition again to repeat it in different places of the video.
Or click another transition to add it to the video. You can repeat this step to add multiple transitions to a video.
Step 5. After the editing, preview the video from the beginning to the end. When you're finished, click the Save button.
Step 6. Continue to edit the video, like adding music. Click the Next after the editing and post the video to TikTok.
This part describes how to add a transition to a video in TikTok directly. Also, you can try some professional video editors that provide more transitions.
InShot is one of the best video editors available on Android and iOS. It has more than 60 transitions like Fade in/out, Glitch, Light, Slice, and it's simple to merge two clips by adding a transition. And InShot even allows you to apply the transition to the text.
Also, you can try VMix Video Editor, one of the best video editors for TikTok and YouTube. This video effect editor provides 100+ transition effects. Besides, you can try other popular video editors, like Funimate Video Editor, KineMaster, Quik, VivaVideo. All of them are equipped with multiple video transitions.
How to Apply Video Transition on Windows?
MiniTool MovieMaker is a free and easy-to-use video editor and it has many video editing tools. This video editor allows users to split, trim, merge, flip, rotate videos, change video speed, add text to the video, add music to the video, and more. Here's how to add transitions to video using MiniTool MovieMaker.
Step 1. Download and install MiniTool MovieMaker on your computer.
Step 2. Click on Import Media Files to browse for the desired video clips, select them and click Open.
Step 3. Select a video clip, press Shift, then select the last clip, and click any + on the bottom right corner of a clip to add all clips to the timeline simultaneously
Step 4. On the timeline, select the clip where you want to add a transition next to it, go to Transition, select the desired transition and click the + button. To add a transition to all clips, right-click the desired transition and select Apply to All. Or you can select multiple clips that you want to add the transition to, right-click the desired transition and click the Apply to Selected Clips.
Step 5. To edit the transition, double-click on the transition icon on the timeline to change the duration, transition mode, and click OK.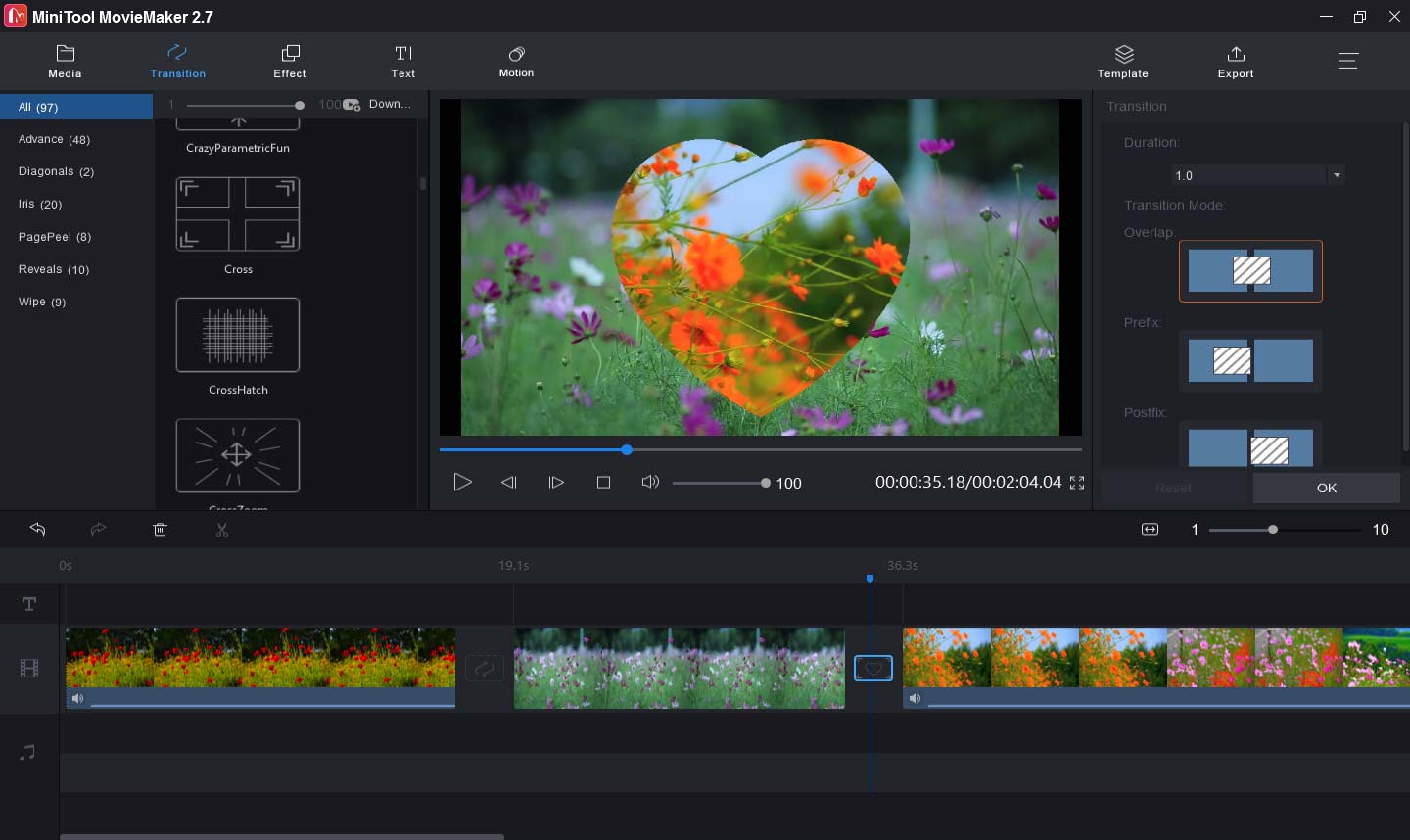 Step 6. Tap on Export to export and save the video.
Conclusion
Now, you've learned how to do transitions on TikTok and how to apply a transition between video clips with MiniTool MovieMaker. Follow the above steps and have a try.