Image resolution refers to the level of detail in an image. Higher resolution offers more details. So how to increase resolution of image? Here're two ways to improve image quality and 5 online photo enhancers. If you need to change video resolution, MiniTool MovieMaker released by MiniTool is a good choice.
Have you ever been in a situation you want to print a photo or use a lovely image as your profile picture, but the image resolution is too slow? If yes, then you can't miss this post.
How to Increase Resolution of Image
Now, let's take a look at how to increase photo resolution in Photoshop or GIMP.
Method 1. Enhance Image in Photoshop
Photoshop, as the powerful post-production software, can increase resolution of image (also means increasing pixel count).
Here's how to improve image quality in Photoshop.
Step 1. Launch the Photoshop app if you've installed it on the computer.
Step 2. Click on File> Open… to import the image that needs to be enhanced. Or drag and drop the image to Photoshop.
Step 3. Tap on the Image button in the menu bar and choose Image Size… from the drop-down list.
Step 4. Check the Resample box if it is unchecked and choose the Bicubic Smoother (Enlargement) option from the drop-down list. Then enter the suitable number in the Resolution box and apply the change by pressing the OK button.
Step 5. Now, you can export the image by clicking on File> Save for Web.
Method 2. Enhance Image in GIMP
Actually, some graphic design software also can do the same thing. Thus, here highly recommend the free photo enhancer – GIMP.
Takes the following steps to learn how to increase resolution of image.
Step 1. After installing GIMP on your PC, run this program and open the low-resolution image that you intend to improve its quality.
Step 2. Go to Image in the menu bar and select the Scale Image option from the drop-down menu.
Step 3. Once the Scale Image window pops up, you need to choose the upsampling option – Sinc (Lanczos3) and click on Scale to apply the change.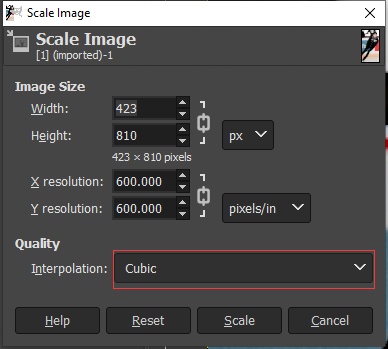 Step 4. Then sharpen the image by clicking on Filters> Enhance> Sharpen.
Step 5. Finally, export the image to your PC.
5 Best Online Photo Enhancers
If you prefer to improve photo quality online, there are 5 best online photo enhancers available for you.
#1. Fotor
Fotor is a handy tool for photo editing. It offers thousands of preset templates for Facebook cover, YouTube banner and many more. With it, you can enhance your image or remove the background of the image.
You may also like: 4 Tips on How to Make Image Transparent.
#2. Deep-image
Powered by AI technology, this photo enhancer helps enlarge photo resolution and upscale animation's frames without quality loss. In addition, Deep-image supports enhancing multiple photos at once.
#3. Photojet
Photojet comes with a set of image editing tools. Here you can crop, flip, resize and auto-enhance an image. What's more, this image enhancer provides you with a variety of stunning effects, overlays, and frames.
#4. Let's Enhance
Let's Enhance lets you improve image resolution for printing, e-commerce, and real-estate. After uploading the image, this online photo enhancer will automatically upscale it quickly.
#5. Enhance.Pho.to
Enhance.Pho.to is an online photo enhancer that allows you to increase photo resolution online, remove digital noise and more. Also, this tool lets you upload a photo from Facebook or by entering the URL.
Conclusion
Now you must know how to increase resolution of image. Choose a photo enhancer you like in the above list and try it now! If you like this post, don't forget to share it with your friends!