Funimation and Crunchyroll are two of the best anime streaming services for anime fans. Funimation vs Crunchyroll, which one is better? Is Crunchyroll or Funimation better?
This post from MiniTool will make a brief comparison between the two platforms to help you choose the anime streaming site you prefer.
Some anime fans always wonder whether to choose Crunchyroll or Funimation, although both of them are mainstream and resource-rich anime libraries.
Crunchyroll vs Funimation, which one is better for anime streaming? Is Crunchyroll or Funimation better?
To help you choose your favorite anime streaming platform, this post will compare Funimation and Crunchyroll in the following aspects.
Tips:
To make an animated GIF from your favorite anime, try MiniTool MovieMaker to convert anime clips to GIFs.
MiniTool MovieMakerClick to Download100%Clean & Safe
Funimation vs Crunchyroll: Anime Content
When it comes to Funimation vs Crunchyroll, the most important part is the anime on these platforms.
Now, Funimation is a Sony-owned anime streaming platform focusing on dubbing and distribution of East Asian media and it has a long history of cooperation with Japanese anime.
Currently, it claims that users can watch over 15,000 hours of anime without ads, including fans favorites and all-time classic anime.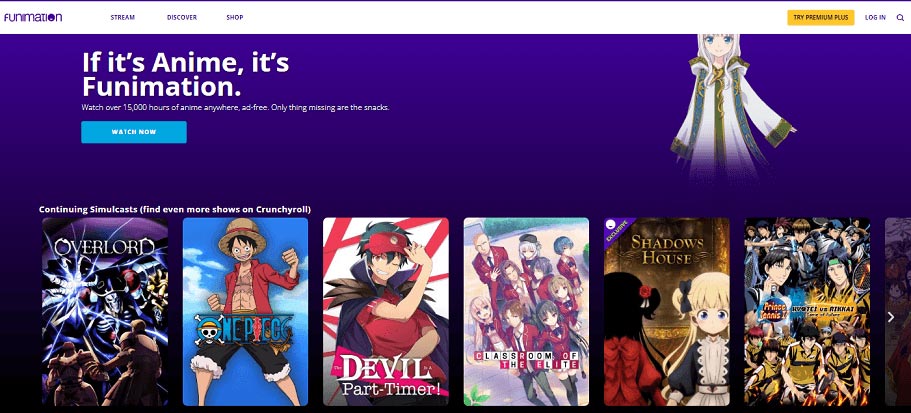 In 2019, Funimation announced that it had cooperated with the Chinese streaming service BiliBili. It means Funimation users have the opportunity to watch Chinese anime. On Funimation, users can browse through all anime content by genre, language, version, rating, etc.
Crunchyroll also has a large collection of anime, and users can also watch manga on this platform. In 2021, Sony's Funimation Global Group bought Crunchyroll, and all anime content and tons of shows and movies on Funimation start to adding to Crunchyroll.
As regards anime content, Crunchyroll is the winner because of its extensive anime library.
Also read: What Are the Best Manga Sites? Here're 10 Sites for You
Funimation vs Crunchyroll: Pricing Plans
When we want to buy something, price is also an important factor. Funimation and Crunchyroll are not free but they both have a 14-day free trial. Now, let's look at their subscription plans.
Funimation:
Premium: $59.99/year
Premium Plus: 79.99/year
Premium Plus Ultra: $99.99/year
Crunchyroll:
FAN: $7.99/month
MEGA FAN: 9.99/month
ULTIMATE FAN: $14.99/month
No matter which plans you choose, you can access the entire anime library on Funimation and Crunchyroll.
Users with Premium Plus and Premium Plus Ultra plans of Funimation can download anime for offline watching on supported devices. Crunchyroll's MEGA FAN ULTIMATE FAN plans also support offline viewing.
Also read: Where to Find the Best Anime Wallpaper? Here're 6 Websites
Funimation vs Crunchyroll: Device Compatibility
Users can enjoy anime on Funimation and Crunchyroll on Windows, Mac, and Linux computers using a modern web browser. Apart from that, how about the compatible devices? Now, let's talk about the device compatibility of Funimation and Crunchyroll.
The two anime streaming services are compatible with the most popular devices. Here's the list.
Android devices
iOS devices
Apple TV
Android TV
Amazon Fire TV
Roku
Google Chromecast
Xbox Series One
Xbox Series S/X
PlayStation 4
Moreover, Funimation also works on Samsung, and Sony LG Smart TVs, and Crunchyroll is also supported on Windows Phone, Xbox 360, PlayStation 3, etc.
Conclusion
Funimation vs Crunchyroll, what's your answer? With the Funimation anime moving to Crunchyroll, it will have more and more anime resources. If you need a large anime content library, Crunchyroll is the right choice.