Sometimes, you may want to set a picture from your favorite anime as the desktop background. Do you know any anime wallpaper websites? Where can you get the best anime wallpaper? To help you personalize your desktop easily, this post will provide 6 sites for anime desktop backgrounds.
Anime has always been popular around the world. Want to personalize your desktop using the best anime wallpaper? If yes, you've come to the right place. This post will share 6 anime desktop wallpaper websites with you. Want to create an anime wallpaper slideshow? MiniTool MovieMaker is recommended here.
The 6 Best Anime Wallpaper Websites for You!
Wallhere
Wallhaven
theOtaku
WallpapersCraft
Desktop Nexus
DeviantArt
1. Wallhere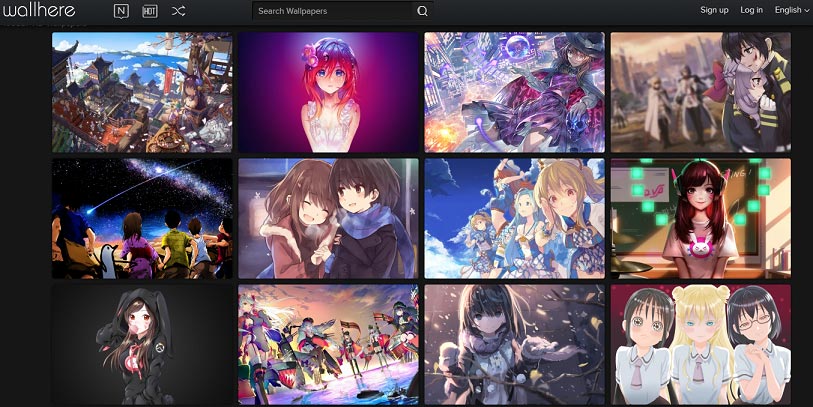 It's one of the best anime wallpaper sites, offering free and high-quality- anime wallpapers. When you open its website, enter the anime in the search box, and then you can get all content. Then you can filter these wallpapers by orientation, size, and color. If you want to download its wallpaper, you need to log in. And this website supports 26 languages. All images on Wallhere remain the property of their original owners.
2. Wallhaven
Wallhaven is a popular wallpaper-sharing place and it lets you search for wallpapers by the Latest, Hot, Top List, and Radom, and then you can filter these anime wallpapers by resolution, ratio, color, and date added. This site allows you to upload your images to search for similar ones. When you download a wallpaper, this site allows you to select a resolution or make a custom resolution. And on this site, all pictures remain property of their original owners.
Also read: 6 Best Websites to Download Free Christmas Wallpaper
3. theOtaku
theOtaku is a good place for anime fans to get anime wallpapers. This place offers a huge number of anime desktop wallpapers and enables you to sort them by freshness/most active with size and time. If you want to download anime wallpapers without ads, you need to register. What's more, this website provides fan arts, comics, and quizzes. And it's also a community for anime fans to express creativity and meet new people.
Related article: Top 10 Wallpaper Makers That You Can Try
4. WallpapersCraft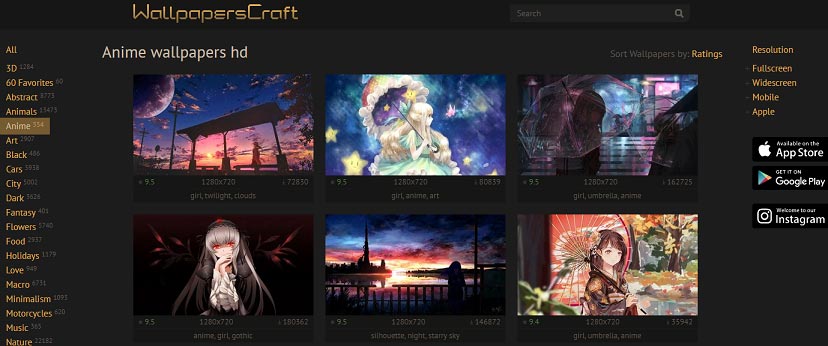 It's a brilliant wallpaper site offering HD backgrounds for the computer, laptop, tablet, and mobile phone. Apart from anime wallpapers, this site provides other types of backgrounds, such as the holiday, nature, music, animals, flowers, etc. You can sort these wallpapers by ratings, downloads, and date.
5. Desktop Nexus
Desktop Nexus is a wonderful place for desktop backgrounds, offering more than 1.6 million wallpapers and 640 million downloads. Undoubtedly, it's another best anime wallpaper site. It offers a huge collection of different categories of anime desktop wallpapers. Besides, it gives other wallpapers about abstract, aircraft, animal, entertainment, video games, nature, sports, architecture, etc.
6. DeviantArt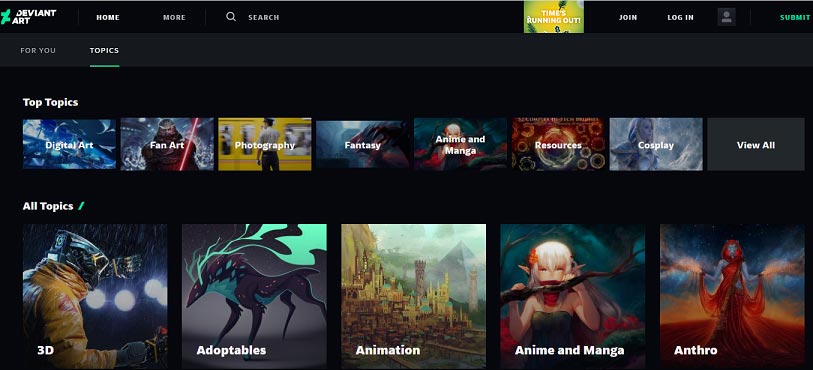 It's another site for anime desktop background, including unique categories of free wallpapers. You can sort these images by topics, popularity, and the new. After you register and log in, you can download some of the wallpapers for free.
Also read: 7 Best Free Anime Avatar Makers in 2020
Conclusion
This post offers the 6 best anime wallpaper sites, and I hope you can find any anime desktop backgrounds you want. If you'd like to share other sites to search for anime wallpapers, you can leave them in the below comments section.