With the Facebook font generator, you can make your Facebook page stand out easily. There are many options available. What is the best Facebook font generator? To help you find the most suitable one, this post handpicks the top 6 Facebook font generators for you.
Using the Facebook font generators, you can change the font style of your Facebook page. Just keep on reading to find which works for you most.
If you want to add text to your videos, MiniTool MovieMaker is a free video editor and offers many useful text editing tools!
LingoJam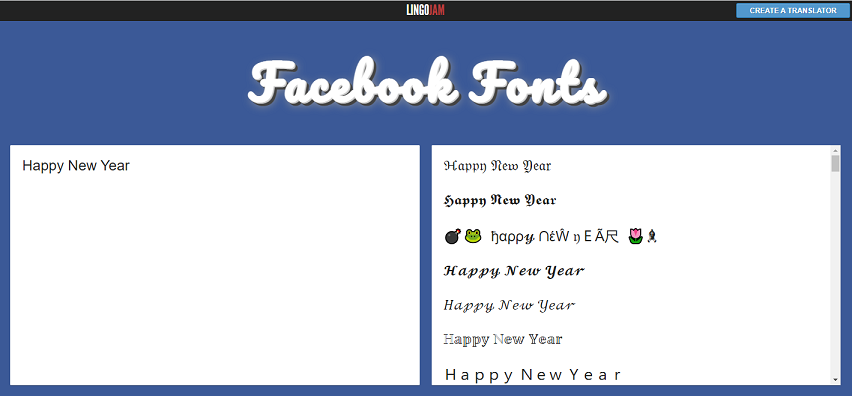 LingoJam is one of the best Facebook font generators that can change your Facebook fonts right away. It is a 100% free and straightforward website.
To change your Facebook fonts, you just need to head over to the website, type in your text into the blank box, and this cool Facebook font generator will then change the text font into different font styles. You can select a font and then copy and paste it to Facebook to decorate your content.
If you want to identify the font in an image, you can take a look at this post: Best Free Font Identifiers to Find a Font from an Image.
Fsymbols
Fsymbols is also a cool Facebook stylish font generator. With it, you can customize the font and create different symbols and emoticons for your Facebook page. There are a large collection of fonts and styles for you to choose from.
You just need to copy and paste the stylish fonts, cool symbols, cute emoticons, and more in your Facebook posts, Instagram bio, and messages on any messenger platform. It is helpful to beautify your statuses, comments, messages, and your general texting life.
Fancy Fonts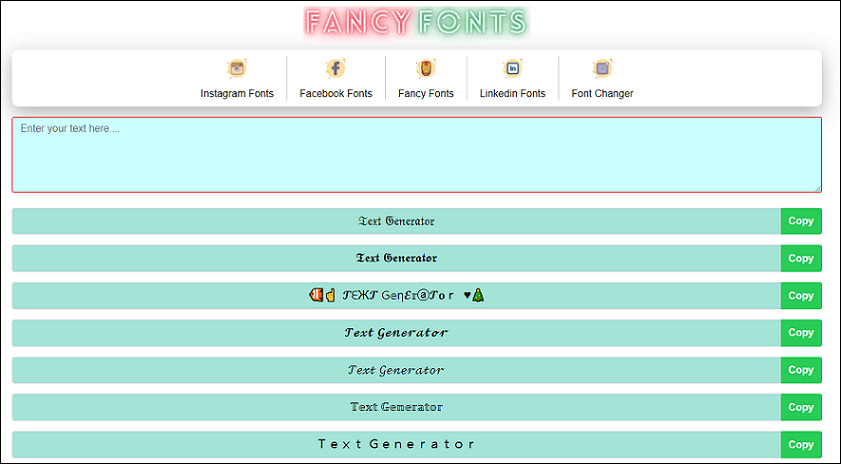 Fancy Fonts, as one of the best Facebook font generators, boasts of more than 80 different stylish Facebook fonts and that is free of charge.  It has an easy-to-use font generator for you to copy and paste for all of your Facebook-related texts. With the preview feature of fancy fonts, you can see how the front looks on your page.
Fontspace
Fontspace is another cool Facebook font generator that enables you to change the fonts of your Facebook. It offers more than 80000 free stylish fonts and over 16000 fonts for commercial use.
You just need to type out the text, select the font, and then copy it to paste it on your website. You can use this stylish font generator to spruce up your Facebook page and customize the headings and quotes on your other web pages as well.
You may also like Where to Get Halloween Fonts Free & How to Use Them.
Fontvilla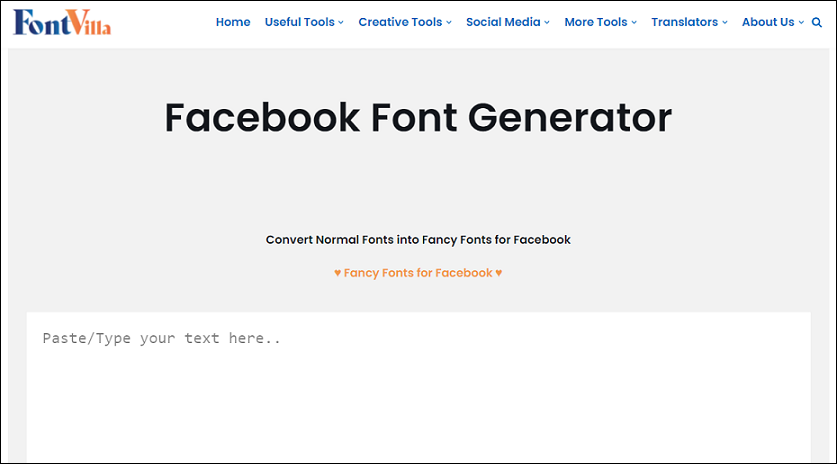 With Fontvilla, you will have access to almost all kinds of tools that are related to fonts and texts. Some of these amazing tools include Facebook font generator, Instagram font generator, cursive text generator, fancy text generator, and more.
To convert simple text into a fancy Facebook font, you will need to type or paste your text in the given dialog box. The different versions of the text will be shown in another dialog box, from which you can choose the one you like. After selecting, right-click on it, and then paste it to your Facebook page.
Cool text
Cool text is also a free online Facebook font generator that can make brand new and awesome-looking fonts for your Facebook page. You just need to type in the text and look at the results of the font you selected and download the one that you like.
There are many options such as selecting the color of the text, adding shadow effect, adding an image, and more to create a suitable logo for your brand. This text generator doesn't function only for text, it can be used to design or make banners and logos for free as well.
Conclusion
With these Facebook font generators, you can create a custom font style and Facebook page to build your online presence. I hope this post is helpful to you. Have fun designing!