The EXIF editor can help you change or delete the device information, time, date, and geo-data of your images. In some cases, you may need it to maintain privacy or make changes to date and time information. What is the best EXIF editor? This post offers you the top 4 recommendations.
Chances are that the date and time of the camera are not correctly set while capturing the photo. It will store incorrect image EXIF data. In this case, you need to correct the date and time information on the EXIF editor. Here comes the 4 best EXIF editors. Let's explore them now!
If you also need a free video editor that helps you make a short movie with photos, you can try MiniTool MovieMaker.
MiniTool MovieMakerClick to Download100%Clean & Safe
ExifTool (Windows and macOS)
ExifTool is one of the best EXIF editors that lets you read, write and edit metadata in a wide variety of file formats. It can handle many different metadata formats including EXIF, GPS, XMP, JFIF, GeoTIFF, and more. It supports dealing with image formats like JPEG, DNG, TIFF, PNG, etc.
What is worth noting that is it can be a useful tool to open obscure digital file types for viewing and reading. This includes many camera file types like Canon, Casio, FLIR, FujiFilm, and so on. Moreover, it also supports processing outside metadata editing such as backing up images automatically and allowing you to input your own keywords.
Quick EXIF Editor (Windows)
Quick EXIF Editor is a free EXIF editor with many useful features to edit EXIF data. With it, you can preview the image, toggle the display of EXIF information, import EXIF, or export EXIF from a file.
You can also create a queue, change the date and time, and access advanced features like saving EXIF data in text form, adjusting JPEG picture quality, and more. Besides, it is a lightweight EXIF editor which will not consume much of the computer's resources.
You may also like: How to Increase Resolution of Image + 5 Online Photo Enhancers
EXIF Date Changer (Windows)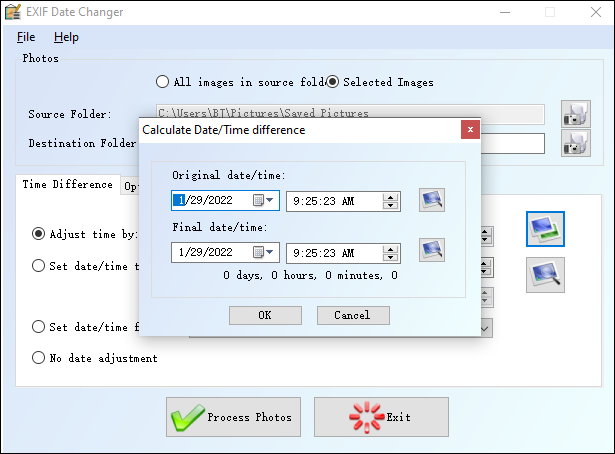 EXIF Date Changer is another free photo EXIF editor. It lets you adjust large quantities of image files to coincide with certain dates and times. If you are shooting in a different time zone, the digital data tagged in the images may differ from the actual time the picture was taken. This program will correct all this simply and quickly.
You can remove all EXIF data or only camera make and model. It also has many other options to edit image properties, like rename, add watermarks, add additional information to images, and more. More amazingly, you can perform batch image editing.
Exif Pilot (Windows)
Exif Pilot is also a free EXIF editor that allows you to manipulate metadata within image files. With a well-designed and simple user interface, you can view and edit EXIF, EXIF GPS, IPTC, and XMP data of your photos. It lets you make changes on the digital camera settings, scene information, date, or time of photos.
It supports most of the common image formats like JPEG, TIFF, PNG, DNG, NEF, PEF, CR2, CRW, and even RAW formats. What's more, it provides a paid version for batch processing plug-ins. You can import or export metadata to a single file or several separate files. It also enables you to remove EXIF, IPTC tags and clean up all metadata of the images.
Conclusion
Now, you have four amazing EXIF editors to choose from. You can pick one of them to make changes to the metadata of your photos.