When you are dealing with a large number of photos that require the same adjustments, you don't need to go through them one by one. You can use batch photo editors to do that hard work. This post will introduce the 4 best batch photo editors to you. Just check them out!
Batch photo editor is a dispensable tool when you need to apply equal adjustments to a number of images simultaneously. Here comes the 4 best batch photo editors with batch processing capabilities to save your time. Let's explore them now.
If you want to make attractive movies from the resulting photos, you can try MiniTool MovieMaker, which is a free and easy-to-use video editor.
MiniTool MovieMakerClick to Download100%Clean & Safe
BatchPhoto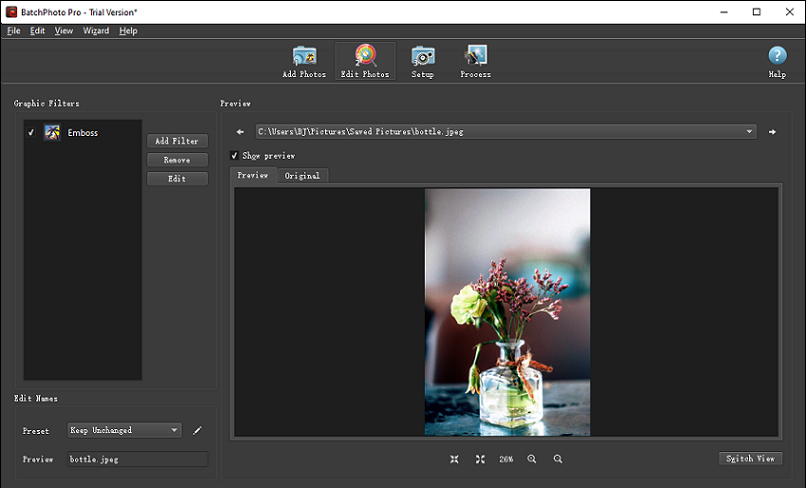 BatchPhoto is one of the best batch photo editors for Windows developed to help you improve your productivity in photo editing.
With an easy-to-use interface, you just need to add your images, edit them and choose your output format and destination folder. This batch photo editor application will apply the edits you made to all your pictures automatically. You can save the current settings as profiles and easily load them later. Then you just need to right-click on any picture and apply your predefined edits automatically.
It allows you to perform numerous photo editing operations, such as resizing, rotating, cropping, watermarkingand more. At the same time, you can enhance your photos in bulk by adjusting the contrast, brightness, or saturation, applying special effects, and decorating your photo with different borders and frames.
ImBatch
As the name suggests, ImBatch is also a great batch photo editor that enables you to apply repeatable edits to the massive photo collection. With this free batch photo editor, you can add photos from multiple folders then apply editing tasks for bulk processing.
It offers useful features to optimize your photos like resizing, cropping, rotating, flipping, or converting them in bulk. You can also improve the overall aspect by enabling the auto-enhancement filters or by manually setting the contrast, brightness, and saturation, by adjusting the color balance, and more.
After finishing editing, you can save your photo as animated GIF and PDF, upload images to FTP, or simply save them to your PC in other available formats.
PhotoScape
PhotoScape is one of the best free batch photo editors that let you add multiple photos in the batch processing queue and apply various adjustments. To achieve batch editing, you need to select the folder and add the photos to the editing queue, then you can select the editing options to apply. It lets you save batch editing configuration which enables you to apply the same configuration later to another batch of images.
As for batch editing options, you can add border, resize, and crop images. It also lets you add effects and adjust the brightness, contrast, and sharpness of all the photos in one go. More than that, you can also add objects to photos like text, shapes, and even an image over an image. The added text can be customized by changing the font, color, opacity, size, location, etc.
Fotor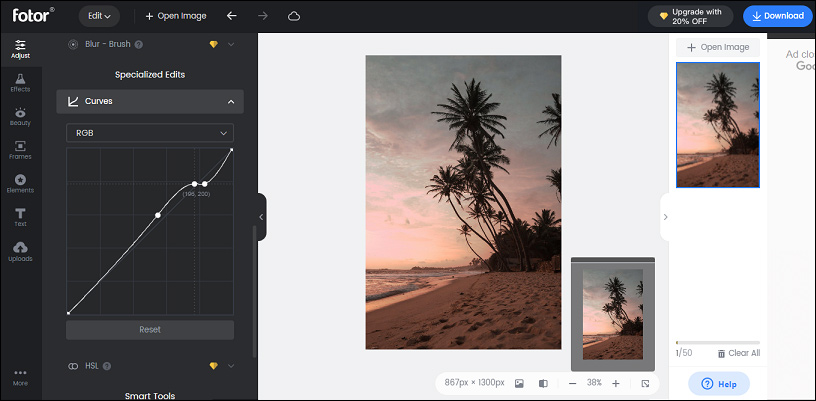 Fotor is a suite of editing tools with a batch processing feature. Amazingly, it provides an online version for you. With a modern and intuitive interface, you can be familiar with it quickly. It provides many editing tools that allow you to crop, rotate, resize or fine-tune settings like contrast, exposure, shadows, or highlights.
With it, you will have access to many impressive artistic effects and portrait retouching features that lets you fix skin blemishes, remove red eye and wrinkles, whiten your teeth, and many more. Additionally, it also has collage-making capabilities with hundreds of templates to choose from.
Conclusion
With these batch photo editors, you can save a lot of time when you deal with massive collections of photos that require repeatable adjustments.