Too many duplicate photos will waste your precious storage space and make it harder to organize your photo collections. Manually removing those duplicates may not even be an option. Fortunately, the duplicate photo finder can help you. In this post, we will share some of the best duplicate photo finders with you.
As a photography enthusiast, you may have tons of photos stored on your devices. Deleting those duplicates can help better organize photos and free up space. Here are some awesome duplicate photo finders to make your work much easier. Besides, if you want to make videos from your photos, you can try MiniTool MovieMaker.
Duplicate Photos Fixer Pro (Windows/macOS)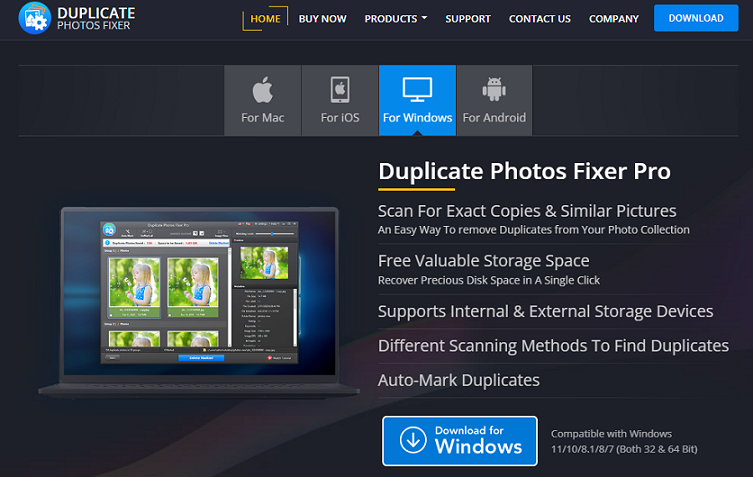 Duplicate Photos Fixer Pro is one of the best duplicate photo finders for Windows and macOS. It also provides support for mobile platforms such as Android and iOS.
To detect duplicates accurately, the program uses two comparison modes: Exact Match (quickly identify and deduplicate images) and Similar Match (easily locate and remove identical images). It also comes with customization to simplify selecting duplicate image options like matching level, bitmap size, time interval, GPS, etc.
Also read: 4 Best Apps to Geotag Photos for Android and iOS
Duplicate Photo Cleaner (Windows/macOS)
Duplicate Photo Cleaner is also a useful tool that helps you to find duplicate images in your albums quickly and accurately. It offers plentiful attractive abilities such as folder comparison mode, similarity threshold, and Lightroom scan.
You can also get an option to find and delete duplicates in photo apps like Adobe Lightroom and Picasa. This program also comes with an excellent content-based duplicate photo comparison algorithm that helps provide highly accurate scan results.
Awesome Duplicate Photo Finder (Windows)
Here is another excellent tool to find and delete similar photos with this free duplicate photo finder - Awesome Duplicate Photo Finder. With this lightweight app, you can easily clean up your photo collection from duplicates or similar images.
With this program, you can search through the following image types: JPG, BMP, GIF, PNG, TIFF, and CR2 RAW. You can add multiple folders or drives for scanning, with no limitation on the number of files. It supports working with network drives and removable devices like USB flash drives.
You may also like What Is Image Annotation & the Best Image Annotation Tools.
Duplicate Image Remover Free (Windows)
If you are looking for a duplicate photo finder that allows customizability, you may check out Duplicate Image Remover Free. There are options to customize the search. For example, you can exclude certain folders (such as system folders) and certain files (such as small files) from the search.
It supports three comparison types: Strong duplicates, Similar images, and File properties. To search for duplicate images by content, you can choose Strong duplicates. The downside of this program is that it doesn't support the mass removal of duplicates.
PictureEcho (Windows)
PictureEcho is another option among the best duplicate photo finders for Windows. This program offers a comprehensive tool for locating, storing, and deleting duplicate photos. A brilliant addition is the dedicated feature to scan Lightroom catalogs for duplicate files.
Photo scan criteria include file size, resolution, file history, and location. Plus, you can opt for a Similar Match feature where images are located based on four similarity thresholds. With this duplicate photo finder app, you can search for duplicate photos in JPG, JPEG, PNG, GIF, BMP, TIFF, and ICO formats. Furthermore, it retains a scan history so you can review past actions.
Also read: Solved – How to Convert ICO to PNG Free Online
Conclusion
That is all introduction about the 5 best duplicate photo finders. Just try one of these tools to get rid of unnecessary duplicate photos and make room for new photos!