Brightcove is a video hosting platform that focuses on enterprise video cloud solutions. However, it's hard to download Brightcove videos. Therefore, we will detail 3 practical methods to help you download videos from Brightcove. To edit the downloaded Brightcove videos, try MiniTool MovieMaker.
Brightcove is a video hosting website. How to download videos from the platform? Here, we collect some methods for you to choose from. Let's check them out. Before downloading your desired Brightcove video, it's necessary to get the video link. Follow the steps below.
Open the Brightcove video that you'd like to download.
Click the share icon located at the bottom right of the video.
Copy the video URL from the code, such as "players.brightcove.net/1160438696001/B1xrOuQICW_default/index.html?videoId=5476480570001".
Add "http:" at the beginning of the link to get the full Brightcove video URL, such as "http://players.brightcove.net/1160438696001/B1xrOuQICW_default/index.html?videoId=5476480570001".
Method 1. Download Brightcove Videos via VideoProc
VideoProc is an easy-to-use video editing program that enables you to edit, convert, resize large 4K/HDR videos, audio files, and DVDs easily at a fully accelerated speed. Besides, it allows you to download online videos, music, playlists, channels from 1000+ websites, such as Brightcove, Facebook, Dailymotion, Twitch, etc.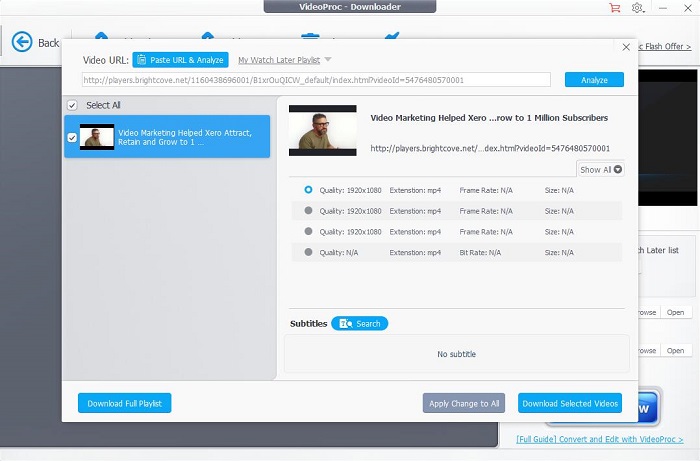 How to:
Download VideoProc from the official site.
Install and launch it on your PC.
Select the Downloader tool from the main interface.
Click the Add Video option, paste the Brightcove video link into the search box, and then click Analyze.
Choose your desired video format and quality, and then tap on Download Selected Videos.
Specify the save path and click Download now.
Method 2. Download Brightcove Videos via Video DownloadHelper
If you don't want to download third-party software for downloading Brightcove videos, maybe you can try Video DownloadHelper, an extension available on both Chrome and Firefox. It provides you with multiple video formats to save your video in. Besides, you can use it to capture any video playing on your web browser.
How to:
Search for Video DownloadHelper on the chrome web store and then click Add to Chrome > Add extension.
Once the extension is installed, you will see a new icon in your browser's toolbar.
Play the target Nicovideo video on your browser, and then you will find the Video DownloadHelper icon turns colorful.
Simply hit the icon and the video will be displayed in the pop-up window.
Choose your preferred video quality and click Install Companion App if prompted.
At last, click the extension icon and select the video to download it.
This post is demonstrated for personal fair-use only. It's illegal to download copyrighted content from distribution, and other commercial purposes.
Method 3. Download Brightcove Videos via 9XBUDDY
The last method to download Brightcove videos is to use an online Brightcove downloader named 9XBUDDY. It enables you to free download your desired Brightcove video by simply pasting its URL without user registration or software installation. Additionally, you can also grab videos from many other sites, including YouTube, Vimeo, Instagram, Twitter, Facebook, Dailymotion, and more.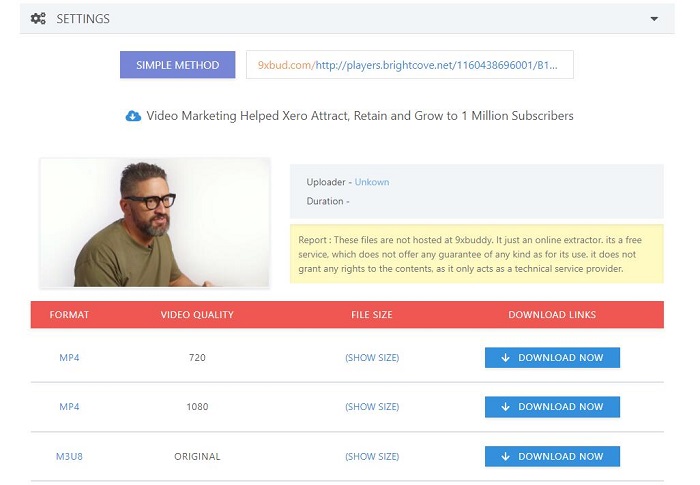 How to:
Visit 9xbuddy.org on your web browser.
Paste the Brightcove URL into the search box by pressing Ctrl + V.
Wait patiently until it fetches the Brightcove video for you.
Choose your preferred video format and quality and click DOWNLOAD NOW.
Bottom Line
Have you mastered how to download Brightcove videos after reviewing this guide? If you have any questions or suggestions about it, feel free to contact us via [email protected] or share them in the comments section below.