There is a vast library of movies and shows on Amazon Prime available for streaming. However, how to download Amazon Prime videos for offline watching? Don't worry. This post will show you the method. Want to edit the downloaded Amazon Prime videos? Try MiniTool MovieMaker.
Developed, owned, and operated by Amazon, Prime Video, also called Amazon Prime Video, is an American Internet video-on-demand service that enables users to enjoy popular movies and TV shows.
Can I Download Videos from Amazon Prime to Watch Offline
The answer is positive. To download Amazon Prime videos, you need to install the Amazon Prime Video app at first. It's free and is available for both Android and iOS. Once you're signed up, you can start your task of downloading videos from Amazon.
However, not every video labeled with Prime is available to download. Besides, video downloads are only permitted to mobile apps. Therefore, it's not an easy task to download Amazon Prime videos. Fortunately, the following will detail how to download Amazon Prime videos step by step. Let's get started.
How to Download Amazon Prime Videos
Step 1: Install the Prime Video app
First of all, you need a subscription to Amazon Prime and then download the Prime Video app, which means you need a compatible Amazon Fire tablet, Android, or iOS device. Once installed, launch the app and sign in to your Amazon Prime account.
Step 2: Select a video
Select a movie or TV show that you want to download and open the video details. Once you've chosen the one you preferred, perform as follows:
To download a movie, tap the Download.
To download a TV show, you can choose to download the entire season with the Download Season option at the top of the screen. If you want to download individual episodes, simply select the Download button next to each episode.
Step 3: Specify where to save the video
If you have an SD card in your phone, you will be asked to decide where you want to save the downloaded video. To save your phone's internal storage, installing an SD is recommended here.
Step 4: Choose a video quality
Now, choose your desired video quality (Best/Better/Good). The higher the quality, the larger the file size. Once the choice is made, the download task will begin.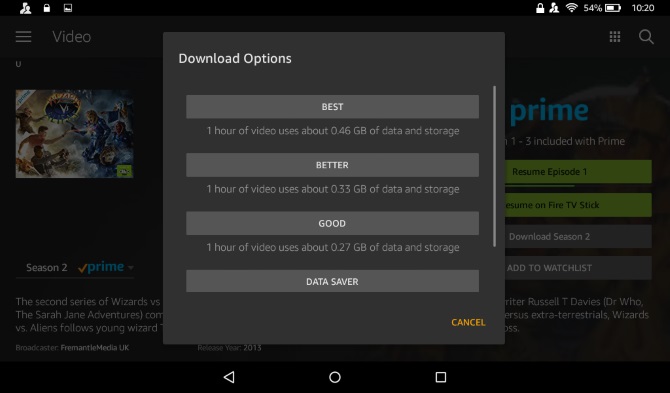 Step 5: View your downloads
To browse the video you have just downloaded, select the My Stuff button on the bottom. All videos you downloaded will appear here. Select the one you want to view, then click Watch Now.
Related article: Download Video from Website
How to Delete a Downloaded Amazon Prime Video
After watching a downloaded video, you might want to delete it from your mobile device to get the storage space back. Follow the steps below.
Step 1. Open the Prime Video app on your mobile device.
Step 2. Find out the movie or TV shows that you want to delete from your device.
Step 3. Tap on it to open the video's Details page.
To delete a movie, tap the Options button to the right of the Downloaded message and then select Delete Download.
To delete a TV show episode, tap on the checkmark that indicates it has been downloaded, and then a button marked Delete (on tablets) or Delete download (on phones) will appear. Just click it.
Bottom Line
Have you mastered how to download Amazon Prime videos and delete previously downloaded Amazon Prime videos from your device after reading this post? If you have any questions or suggestions about it, please let us know via [email protected] or share them in the comments section below.