This article abstracted by
MiniTool Software Ltd.
mainly introduces the Bing Videos search service. It elaborates on its definition, function, usage, as well as search history management. Just read below for the details!
What Is the Bing Videos?
Bing Videos, previously known as MSN Video or Live Search Video, is a video search service and part of Microsoft's Bing search engine. It makes it possible for users to search and view videos across various websites.
Bing Videos was officially launched on September 26, 2007 as Live Search Video. Later, on June 1, 2009, it was rebranded as Bing Videos. Bing Videos' previous incarnation before Live Search Video was named MSN Video and it was released in 2004 as an Internet video streaming service.
Features of Bing Videos
Bing Videos featured various content like music videos, sports videos, TV shows, recent news shorts, as well as the most-watched video content on the Web (viral videos). Besides, while searching for videos, Bing Videos features the following functions.
Smart Preview: allows users to preview a video in the search results by putting the mouse over its thumbnail.
View Selection: shifts between the grid view and list view.
Filtering: filters search results based on video duration.
Sorting: sorts results either by relevance or by date.
Related People: suggests famous people who are related to the query.
Bing Video is also integrated into other Bing services including Bing News.
How to Use Bing Video Search?
With Bing.com videos, you are able to enjoy online videos from any device that has an Internet connection. The Bing Videos search results come from a variety of media outlets.
On the one hand, you can find and watch videos by searching with keywords or categories and browse for related, popular, and recently uploaded videos.
On the other hand, you are able to share videos with your friends. Each video on Bing Videos has a separate web address. Thus, you can send a URL link to the man by email or instant message. In addition, you can embed a video on your website or blog, or post a video to social media.
How to View and Delete Bing Videos Search History?
The Bing video search history displays what you searched for, the dates of your searches, as well as sites you have visited. Besides, according to the search results you have clicked, it can help the developer to improve your www.bing.com video search experience.
How to View Bing Videos Search History?
You can see your Bing Videos search history on the search history page. Or, open bing.com, click the hamburger icon (three horizontal lines) on the top right, and select Search history.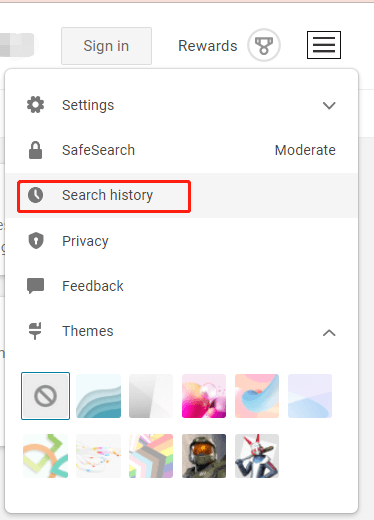 How to Turn off/on Bing Videos Search History?
Under the search history settings, you can turn off your Bing Videos history by clicking the Off option.
Tips:
If you can't see the search history settings, you need to sign into your account. If you cannot turn off the search history, just enable JavaScript and cookies in your browser, and try again.
If you want to turn on your Bing video search, just witch the option On.
How to Clear Bing Videos Search History?
If you are not signed in, to clean a single search record from the whole history, just click the X icon next to the target search. To clear all the search history records, select Clear all under the Change history settings on the search history page.
However, this only removes the Bing search history on the current device. If you want to delete the history on all your devices, you need to repeat the above process on each device one by one.
If you are signed in to a Microsoft account, on your Microsoft Privacy dashboard, choose Clear search history under the Clear search history section. then, click Clear to confirm. This gets rid of all search history associated with your Microsoft account.
If you're signed into a work or school account, on the search history page and under the Clear search history part, click Clear all > Yes. Then, all search history associated with this account will be removed.
Tips:
Some features above may not be available in your country or region.
Videos/Audio/Photos Management Tools Recommended
These applications are completely compatible with Windows 11/10/8.1/8/7.
MiniTool MovieMaker
An easy-to-use video editing software without watermarks and limits. The embedded templates enable you to quickly make personal slideshows and share them with your friends!
MiniTool MovieMakerClick to Download100%Clean & Safe
MiniTool Video Converter
Quickly convert videos and audio from one file format to another to apply to more devices. It supports 1000+ popular output formats and batch conversion. Besides, it can also record PC screens without any watermark.