When we talk about video search engines, we instantly think of YouTube. But did you know other excellent alternative video search engines? This post will detail 8 best video search engines. If you need a professional video editor, try MiniTool software.
What is a video search engine?
A video search engine is a Web-based search engine that can crawl the Web to obtain video content. Some video search engines parse externally hosted content, while others allow video content to be uploaded and hosted on their own servers.
Some engines even allow users to search by video format type and video clip length. In general, video search results are accompanied by a thumbnail view of the video.
Using a high-quality video search engine will ensure that you find the video that is difficult to find on a single video site or your favorite video sharing site. So, let's take a look at the top 8 best video search engines.
1. Google
Google search engine is the most popular search engine covering more than 90% of the global market. At the same time, its excellent features make it the biggest video search engine on the market. It has the most advanced algorithms, easy-to-use interface, and personalized user experience.
2. YouTube
YouTube is one of the most popular websites in the world. There are about 30 million visits per day. However, it doesn't mean that all these users use its search tool to find the video content they need, because most of them enter the site through a link to a certain video (usually a Google video).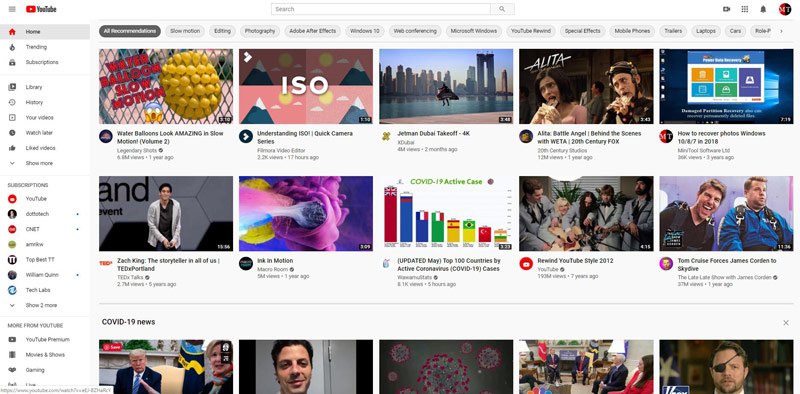 Related article: Top 15 Full Movies on YouTube Review & Download
3. Yahoo Video Search
Although some people think that Yahoo is outdated, it is still the third most popular search engine in the world. Yahoo Video Search by Yahoo is one of the best video search engines, with a clean interface and an impressive directory.
Related article: About Yahoo Video – 4 Things You Should Know
4. Bing Videos
Released on September 26, Bing Videos (previously MSN Video and Live Search Video) is a video search engine and part of Microsoft's Bing search engine. It offers a filter tool for you to quickly find out videos and then it displays the results in large thumbnails.
5. Yandex
Founded in 1997, Yandex is the most used search engine in Russia. Yandex is an easy-to-use overall search engine that is also used in Belarus, Kazakhstan, Turkey, and Ukraine. You can use Yandex to search for anything including images, videos, maps, and news.
You might be interested in: 3 Practical Methods – Download Video from Website
6. VideoSurf
VideoSurf is a video discovery company that aggregates video results from popular video sharing sites to help users find what they want to watch. It combines social insights with patented computer vision technology to discover, search, and recognize videos on any device.
7. Duckduckgo
Another outstanding video search engine is Duckduckgo. Unlike other search engines, Duckduckgo values the privacy of users as it doesn't collect or store personal search information. The search engine allows you to search for everything ranging from images, maps, and videos.
8. Baidu
Founded in 2000, Baidu is China's leading search engine and holds 70% of the Chinese Internet market. Although it is mainly used in China, it still has an intuitive interface, a large number of search options and high-quality search results.
Bottom Line
Want to find a certain video? Why not try the above 8 best video search engines? If you have any questions or suggestions about it, please let us know via [email protected] or share them in the comments section below.