There are various podcast hosting platforms, making it difficult to decide which one to use. Fortunately, whether you want to start podcasting, save money or migrate to a better hosting platform, this article will detail a few of the best podcast hosting platforms for you to choose from.
What is the best podcast hosting site?
Choosing a reliable podcasting hosting platform is crucial for your podcast because it will help you grow your audience faster while making it easier to manage your podcast files. In this article, we'll compare the best podcast hosting sites that you can use. If you need to edit your podcast before uploading it to social media, try MiniTool MovieMaker.
Here are our picks for the best podcast hosting platforms.
1. Buzzsprout
Pricing: Free | $12 – 24 per month
BuzzSprout is one of the easiest podcast hosting sites to use. Simply upload your media files and the other files will be processed automatically. It will also automatically submit your episodes to all top podcast directories to ensure that your podcasts are available on all devices and applications.
2. Captivate.fm
Pricing: $19 – 99 per month with a 7-day free trial
Captivate is among the best podcast hosting platforms with a ton of great podcasting features and pricing that fits every need. Like other podcast hosting platforms, it also allows you to import your podcasts from another host like Libsyn or Blubrry to the platform for free.
Also read: 10 Best Sites to Download Free Music for Podcasts
3. Transistor.fm
Pricing: $19 – 99 per month with a 14-day free trial
Transistor is an all-in-one podcast hosting solution for users and those interested in the easiest ways to get started with hosting. This podcast hosting platform makes all episodes of your podcasts available on Spotify, Overcast, and other popular podcast directories.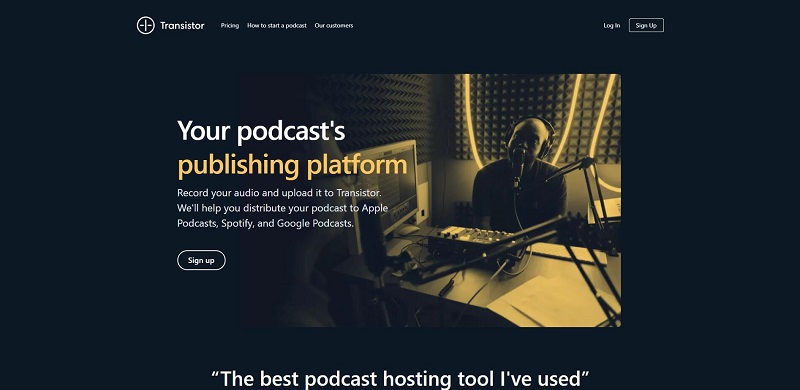 4. Castos
Pricing: $19 – 99 per month with a 14-day free trial
Castos is a premium podcast hosting service that integrates seamlessly with WordPress. With this platform, every podcast you publish gets its own responsive landing page, making it easy for your audience to subscribe, search for episodes, and connect with you on social media.
5. PodBean
Pricing: Free | $9 – 99 per month
Podbean is one of the best free podcast hosting platforms on the market due to its fantastic feature set, variety of subscription plans, and peerless customer service. It is an enterprise-grade podcast solution for large businesses and organizations.
Recommended post: Top 3 Video Hosting Sites You Need to Know
6. Simplecast
Pricing: $15 – 85 per month with a 14-day free trial
Simplecast has been around for over six years and it is one of the most powerful podcast hosting sites that comes with unlimited storage, unlimited uploads, themed websites, team support, and more. Also, it has powered podcasts from some of the most notable brands in the world.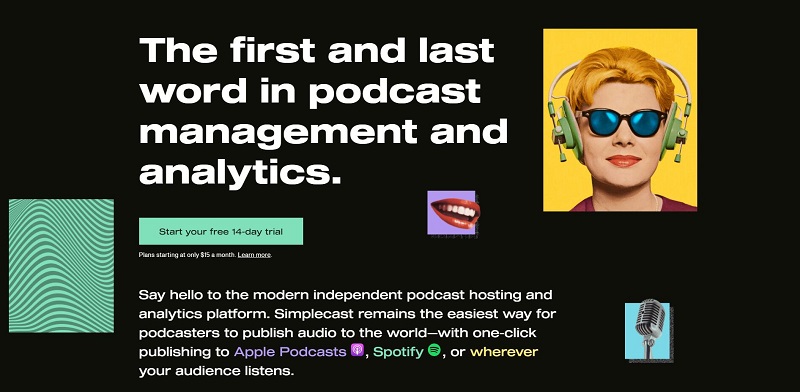 7. Blubrry
Pricing: $12 – 80 per month with a 30-day free trial
Blubrry has been a crucial part of the podcasting world, providing quality hosting to tens of thousands of users. Like Castos, it has its own WordPress integration (PowerPress) to make uploading and posting episodes quick and easy.
8. Spreaker
Pricing: Free | $7 – 50 per month
Spreaker is an affordable podcast hosting platform that contains everything you need to create, distribute, and monetize your podcast. And its primary attraction would be its chat feature, which allows you to live-chat while your podcast is playing.
Related article: Top 4 Best Podcast Recording Software
9. Anchor
Pricing: Free
Anchor is unique among many podcast hosting servers because it is completely free and unlimited. Like Spreaker, Anchor also focuses on mobile devices, allowing you to record, edit, publish, promote, and monetize its podcasts from any mobile device.
Bottom Line
Now that you have the complete list of best podcast hosting platforms, which do you prefer? If you have any questions or suggestions about it, please let us know via [email protected] or share them in the comments section below.