If you have a batch of photos that need to add the same watermark, you don't need to do that one by one. You can use tools to batch watermark photos. This post offers you 5 tools to batch watermark photos that will save a lot of time.
Adding a watermark to photos is a good way to protect our photos. If you have multiple photos and need to watermark them, you can try these tools to batch watermark photos. Let's explore these tools and pick one to start!
If you also need a free video editor to make short video from the photos, MiniTool MovieMaker is the top recommendation.
MiniTool MovieMakerClick to Download100%Clean & Safe
PhotoMarks (Windows)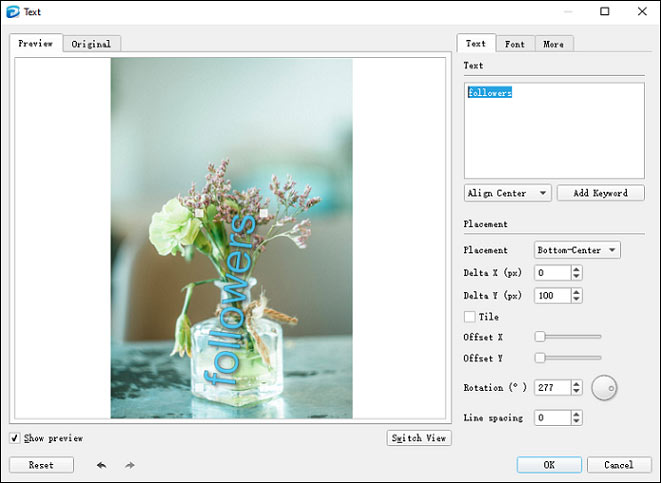 PhotoMarks is one of the best software to batch watermark photos for Windows. It is designed to deal with batch processing. With a user-friendly interface, you can batch watermark multiple photos in just a few steps: add them into the program, apply the desired edits and select your output format and folder.
It allows you to add text and logo marks to your photos and customize them. You can adjust the position, rotation and size, set the transparency, apply a tile mode, select different fonts and colors, apply special effects like stroke, shadow, bounding-box, and more. In addition, it supports over 50 image formats, including RAW files.
You may also like: How to Effectively Batch Resize Images Windows 10
iWatermark Pro (Windows)
iWatermark Pro is also a great batch watermark application that provides multiple types of watermarks to add to your photos simultaneously. You can add text, logos, vector borders, QR codes, metadata, or your own signature to your photo as you like.
It also supports a special watermark StegoMark which is invisible but can contain information like your website or email address and can be embedded into the image data itself.
Moreover, it also enables you to perform several edits to your chosen watermark. The customization possibilities include adjusting the placement, transparency, or scale, as well as applying special effects like shadow, emboss, or aqua. This app has support for popular image formats like JPEG and PNG and also for certain RAW file types.
Mass Watermark (Windows/Mac)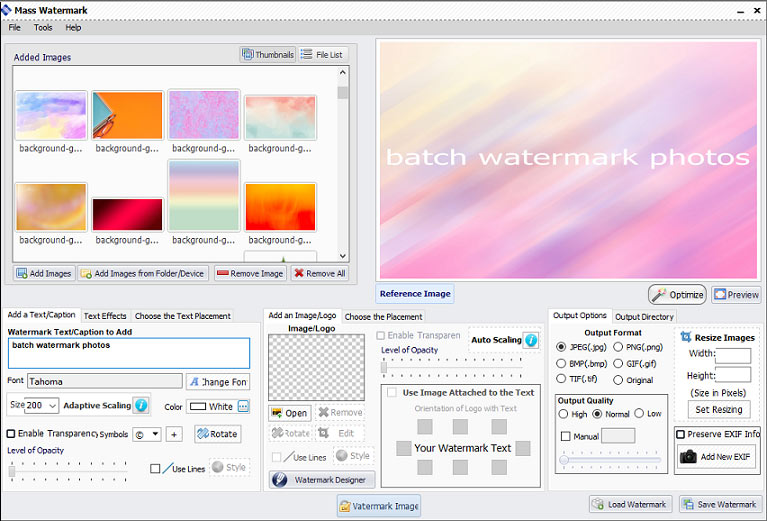 As the name suggests, Mass Watermark is designed to batch watermark photos. It comes with a simple interface, making it relatively easy to find what you need. You can add text, image, or EXIF data as watermarks and customize them concerning the position, opacity, font, color, size, or rotation.
The functionality of this program is not limited to batch watermark photos, it also lets you resize, crop, or rotate your photos and perform retouching edits to improve the overall appearance of your pictures. Adjusting the contrast and brightness, enhancing the colors, sharpening the pictures, and more are also available.
123 Watermark (Windows)
123 Watermark is also a great tool to make it both easy and quick to watermark dozens of photos simultaneously. It lets you work with multiple layers and add text, logo, QR code, borders and crosses to your photos. With it, you can adjust the chosen watermark and save your current settings for later use.
In addition to saving on a local folder on your PC, this tool allows you to directly upload the edited photos to the cloud. You can upload them to Dropbox, Google Drive, or OneDrive.
Star Watermark (Windows)
Our last proposal, Star Watermark is also among the best software to batch watermark photos. Once you've added the text or image watermark, you can begin adjusting as you like. You have the customization options like changing the size, location, transparency, font, color, and more. You can even apply various effects like 3D or gradient text.
Apart from that, this tool has a sister tool called Star PDF Watermark, which allows you to batch watermark PDF files using your name, signature, company name, or logo.
Conclusion
With these tools to batch watermark photos, you can save a lot of time. Which one do you prefer? Feel free to share your ideas in the comments area!