We're always aiming for the best quality when recording, while sometimes sound turns out to be too low or high, which leads to distortion and noise at a louder volume. As a result, we need the audio restoration software to deal with that. In this post, the top 4 audio restoration software are recommended to you.
If you need a video editor to edit the audio tracks in videos, you can try the free video editing software MiniTool MovieMaker.
MiniTool MovieMakerClick to Download100%Clean & Safe
In audio post-production, problematic audio is always a headache for audio editors, such as the recorded audio tracks come in low quality with interference. You may need the audio restoration software to fix that. Let's explore the best audio restoration software in the following content.
iZotope RX
(Windows/macOS)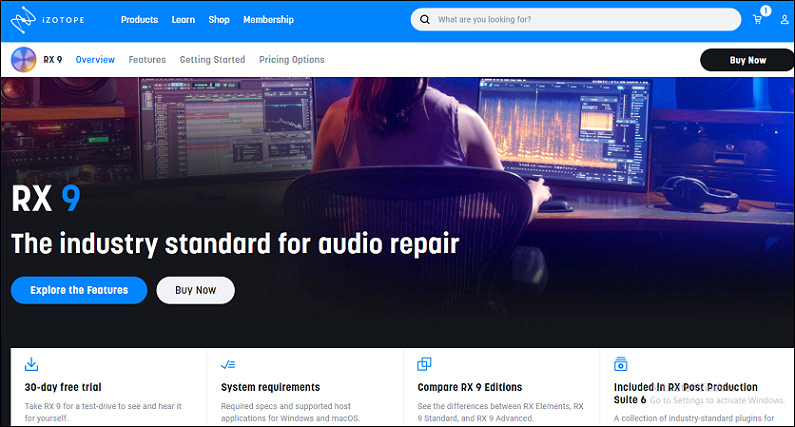 Used by the top audio professionals for records, movies, and television shows around the world, iZotope RX audio restoration software deserves a place among the best audio restoration software programs.
iZotope RX is a powerful post-production powerhouse. The Spectral Recovery can restore lost frequencies above 4 kHz, turn bandwidth-limited audio into clear, articulate recordings. The dedicated Guitar De-noise module can refine the audio by removing hums and buzzes from guitar tracks or any type of audio.
It does a great deal more than just audio restoration. In the latest version 9, new sound processing tools, capabilities of advanced noise reduction, and more powerful processors are all brought into it.
Accusonus Era (Windows/macOS)
Accusonus is a great piece of software for those who are just starting with audio restoration software. It has many features such as noise remover, reverb remover, plosive remover, and more. You can also eliminate all the sound clutter from your audio like air conditioner, electric hiss, or background noise right away.
Plus, you can use this noise remover to clear up disrupting noises and use the voice deepener to change your voice pitch, de-breath, or voice de-clicker to decorate your content out of recording flaws. The ERA voice leveler is designed to fix distracting volume differences. Smooth out uneven audio levels, such as those caused by actor or microphone movements.
Antares SoundSoap (Windows/macOS)
Antares SoundSoap is also one of the best audio restoration software for PC. It comes in three different versions, SoundSoap Solo 5, SoundSoap 5, and SoundSoap+ 5. You can make choice based on your needs and pocket.
SoundSoap Solo 5 is the simplest of the three and is meant for interviews, podcasts, iPhone or iPad videos. The second one provides the ability to reduce the background noises such as air conditioners and fans. And SoundSoap+ 5 is the one with all the bells and whistles.
They all offer great support to improve damaged recordings and turn them into clear soundtracks for everyone to enjoy. More than that, they can perform intelligent background noise removal, automatic restoration of affected recordings, electric hum adjustment, and many more.
Todd-AO Absentia DX(Windows/macOS)
Todd-AO Absentia DX audio restoration software is another great choice for you. It is an amazing processor that consciously discards unacceptable noises from dialog or vocal tracks outside changing the resonance of the voice recording. You can use it to remove hum and wave signals, wireless microphone noise, and broadband noise from any media file.
It launches a new plug-in that includes all the tools from the standalone application and a local library that makes processing faster. You can also use the standalone application to batch process the complete sound dailies folder when editing or mixing to make deeper processing to some clips.
Conclusion
With the top 4 audio restoration software, you can easily restore the audio sound and get rid of the noise. Which one will you choose? Let us know your ideas in the comments area!