You may have heard of Podcast. What is a podcast? If you are a newcomer, it is easy to understand that radio stations convert their shows into podcasts. But hold on, podcasts go way beyond radio. This post will offer the detailed information about podcast and 5 popular podcast types.
Nowadays, we are surrounded by podcasts. It can be easily found that people are regularly launching the latest podcasts, listening to podcasts, and talking about podcasts. Despite all the discussions about podcasts, you may be asking, "What is a podcast anyway?" Well, this post provides some details about podcasts.
If you want to know more about video editing, you cannot miss MiniTool MovieMaker!
What Is a Podcast
In simple words, a podcast is a collection or series of spoken words or audio episodes that often focus on a specific topic or theme. Podcasts can be accessed online from your computer, tablet, or smartphone. It can also be downloaded for offline listening. Almost all podcasts are free!
New episodes in a podcast can be automatically updated as long as you subscribe to the chosen podcast. You can listen to it at work, at home, during commuting to the office, working out, or anywhere you like using headphones or speakers.
As for the history of podcasting, Apple created the iPod in 2001, which marked the beginning of podcasting. The term podcast is a combination of iPod and Broadcast. The "pod" is reminiscent of Apple's "iPod," while "cast" is reminiscent of radio's "broadcast".
After you have known what a podcast is, you may want a new podcast show to listen to. You can try one of these following popular podcast types below.
Top 5 Popular Types of Podcasts
Interview Podcast
This type of podcast is all about one or two hosts interviewing with a person of interest on each episode. It is similar to a talk show. This is a popular podcast type because it doesn't always need much groundwork.
You may also like: 8 Best Places to Listen to Audio Drama Podcasts
Monologue Podcast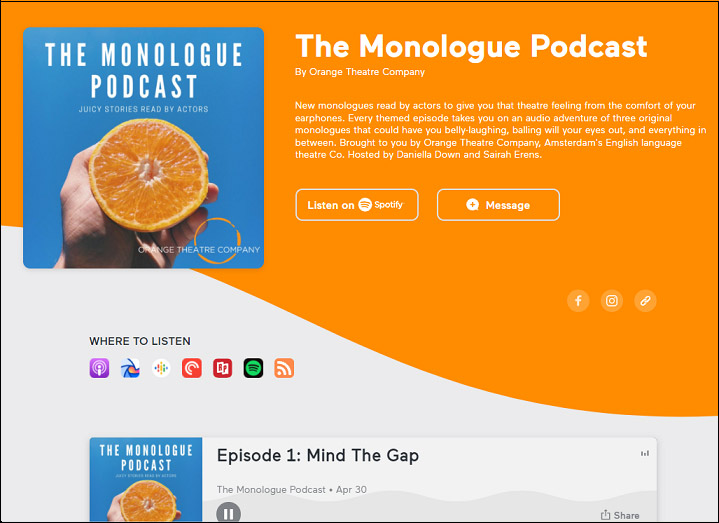 This podcast is usually presented as a monologue, with one individual running the show.
The content of the monologue podcasts can be based on opinions, news, questions, and answers, or any other style that a person can provide. The host might be an expert in a particular area with the knowledge to share or a person just talks about daily life.
Conversational Podcast
The conversational or co-hosted podcast is analogous to traditional radio shows. In this kind of podcast, two hosts will have entertaining conversations about specific themes and topics.
Generally, it offers discussions with different opinions and perspectives, which can bring you more entertainment value if you want to listen to conversations and discussions instead of just one person talking. The topics are usually trending news, stories, or insightful and humorous commentary.
Also read: Top 4 Audiobook Players for Listening to Audiobooks
Storytelling or Investigative Podcast
If you are a big fan of stories, you will find this type of podcast enjoyable. What is a podcast host in this kind of show? Both the plot writer or the plot connoisseur might be the host. True crime stories often fall into this category!
Roundtable Podcast
The roundtable podcast has been growing popular for years. It is also called panel shows. A consistent or rotating group of hosts who comment and discuss specific topics are often involved. You will see the main host in each episode in a roundtable podcast show.
Related post: Top 4 Best Podcast Recording Software
Conclusion
Based on the sharing above, you have learned what is a podcast and several popular types of podcasts. They are all free podcasts. Do you have a favored podcast type? Just listen to it now!