Snapchat is one of the most popular social media apps to help people share moments with friends and family. The success of Snapchat prompted many of its competitors to duplicate its features and develop apps like Snapchat. Thus, there're dozens of Snapchat alternatives in the market. In this post, we've picked some of the 6 best apps similar to Snapchat.
If you're looking for the best apps like Snapchat, you've come to the right place. This post has compiled a list of the 6 Snapchat alternatives for you. (Want a free video editor? MiniTool MovieMaker is recommended here.)
MiniTool MovieMakerClick to Download100%Clean & Safe
#1. Instagram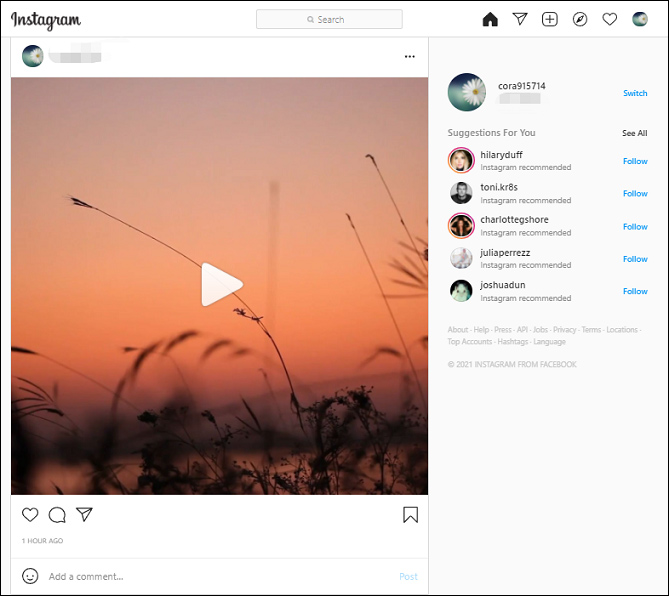 Almost everyone knows and has used Instagram to share videos and photos. Undoubtedly, it is the first choice of apps similar to Snapchat or Snapchat alternatives for filters. Instagram features Live Video, IGTV, built-in filters, Stories, etc. And it also lets users start conversations with one more friend, have video chat, send messages, watch movie scenes, sports highlights, music performances, and more.
Unlike Snapchat, Instagram is compatible with Android, iOS, Windows Phone, desktop, and web.
#2. TikTok
As one of the most popular short-form video sharing apps, TikTok is also one of the best apps similar to Snapchat. It offers several camera tools (Flip, Speed, Video Length, Timer, Flash, Zoom), lots of effects, sounds to help users create amazing short videos. And it also features Duet and Stitch feature that lets users reinterpret and add to another user's video content.
Currently, TikTok doesn't support messages, chats, and video calls. But by now, it's the favorite app for online users to watch videos and has tons of followers.
#3. Wickr Me
Wickr Me is another Snapchat alternative you can try. This app enables users to connect with one of their friends or in a group with encrypted voice calling, voice memos, messages and share images and videos. And no phone number or email address is required to use this app.
Wickr Me also provides unique video filters, stickers, and pictures. It might not be as popular as Snapchat, Instagram, TikTok, but its security feature is great.
#4. Sweet Snap
The popularity of Snapchat also gives impetus to the emergence of various face filter apps. If you need a Snapchat alternative for filters to take and edit selfies, Swap Snap is recommended here. It owns a huge collection of face filters and updates constantly.
Swap Snap also lets you add filters in real-time and it's easy and convenient to take short videos and boomerang. And you can easily share photos and videos to Instagram, Facebook, Twitter, etc.
#5. Telegram Messenger
Telegram Messenger is also one of the best apps like Snapchat to keep in contact with people. It allows users to send messages, make video and audio calls, share videos and documents. And it lets users create group chats up to 200,000 members and lets up to 1000 persons join a group video call.
And Telegram Messenger also offers secret chats. But this app has no face filters.
Also read: Solved – How to Make a Private Story on Snapchat
#6. Marco Polo
The last Snapchat alternative on the list is Marco Polo, supporting text messages, video chats, and video messages. This app has voice effects, camera filters, and emojis. It's free and offers in-app purchases, but it is ads-free.
If you want to access premium features like voice-only Polo, custom emoji reactions, you should purchase the Marco Polo Plus.
Conclusion
That's all about the 6 apps like Snapchat. If you'd like to share other Snapchat alternatives with us, just leave them in the comments area.