Your profile picture is an essential part of your profile page on TikTok. Sometimes, you can't change your TikTok profile picture. You may ask why can't I change my profile pic on TikTok or how to fix the TikTok profile picture not changing? Check this post and you'll get answers.
Why Can't I Change My Profile Pic on TikTok?
Many users experienced issues when changing their profile picture on TikTok. The common problem is that users can't change their profile pictures. Their profile picture kept displaying the default picture after uploading a new one. Some users received an error message that says profile photo/video updates are not possible at this time. Others received the no internet connection message.
Why won't TikTok let me change my profile picture? Why my TikTok no profile picture? In general, the reason for profile pictures not changing or showing on TikTok has nothing to do with users. Instead, this issue is often caused by server-related problems.
Thus, the following section covers 7 solutions to the profile picture not changing or showing on TikTok. Try MiniTool MovieMaker to make a TikTok with multiple pictures!
MiniTool MovieMakerClick to Download100%Clean & Safe
How to Fix TikTok Profile Picture Not Changing or Showing?
When you can't change your profile picture on TikTok, just follow these methods.
Fix 1. Restart the TikTok App
If you're experiencing problems with the TikTok app, you're recommended to restart this app. This general fix is useful for many issues.
Related article: Does TikTok Tell You Who Viewed Your Profile and Videos
Fix 2. Check Internet Connection
When your phone isn't connected with Wi-Fi or mobile data or it uses weak data or Wi-Fi signal, you might have trouble when changing your profile picture on TikTok. You can reconnect the network or switch from Wi-Fi to mobile data.
Fix 3. Clear App Cache
If internet connectivity has no problem, you can try to clear the TikTok app cache. Open this app, go to your profile, then click the menu icon in the top right, next click the Settings and Privacy, and click the Clear Cache.
Also read: Top 6 Apps Like TikTok for Android and iPhone
Fix 4. Try Another Profile Picture
Before uploading, you should make sure that your profile picture does not go against TikTok's community guidelines. Then you can try to upload a new one to check if the issue occurs.
Note:
Your profile picture must be at least 20x20 pixels. And when a profile video is set, the profile photo will not be visible.
Fix 5. Check for Updates  
If your TikTok no profile picture after trying the above ways, you should check for the TikTok app updates. And make sure you run the latest version of TikTok.
Just open the App Store or Play Store and go to the TikTok app page, and then click the Update.
Fix 6. Check the TikTok Server Status
To check TikTok's server status, you can use DownDetector to view its current status. Also, you can go through Twitter by checking @TikTokSupport for the reports of the latest issues. Indeed, if there's a problem with the TikTok app itself, you just wait for TikTok teams to solve it.
Related article: Solved – How to Add Your Sound to TikTok
Fix 7. Report Profile Picture Issue to TikTok Support
If you can't change your profile picture for several days, you may need to ask TikTok for help. You can report a problem in the TikTok app. Go to your profile, click the menu icon, click the Settings and Privacy, select Report a problem, choose a topic, and follow the steps to submit your problem.
How to Change Profile Picture on TikTok?
This part will show you how to change your profile picture on the TikTok app.
Open the TikTok app and tap the Profile at the bottom right.
Click the Edit profile, then tap the Change Photo to take or upload a picture.
Click the Change Video to add a 3-6 second video. Click the Save.
How to download the TikTok profile picture?
If you want to save someone else's TikTok profile picture, just open the TikTok app and go to the desired profile. Next, tap the profile picture and choose the Copy link to copy the profile link. Then open this link on a web browser on a computer.
Right-click the profile image, and click the Open image in the new tab, then right-click on the image and click the Save image as to download this TikTok profile picture.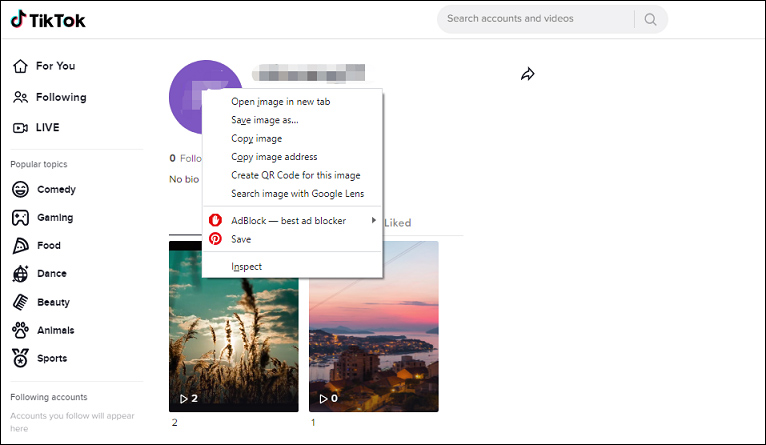 Also read: Everything You Should Know About Zoom Profile Picture
Conclusion
This post explains why can't you change profile picture on TikTok and provides 7 solutions. When you're experiencing this issue, working through these methods.