Almost everyone knows Facebook, but have you ever heard of Facebook Watch? What is Facebook Watch? Don't worry, this post will give you detailed information about what Facebook Watch is. Want a tool to create stunning Facebook slideshows or videos, MiniTool MovieMaker is the best choice.
What Is Facebook Watch?
Facebook Watch, developed by Facebook, Inc, is a video-on-demand service and it's built into Facebook. It provides you with a variety of original shows and videos in different categories and also offers some personalized recommendations for videos to watch. Also, Facebook Watch allows users to upload and share their original videos.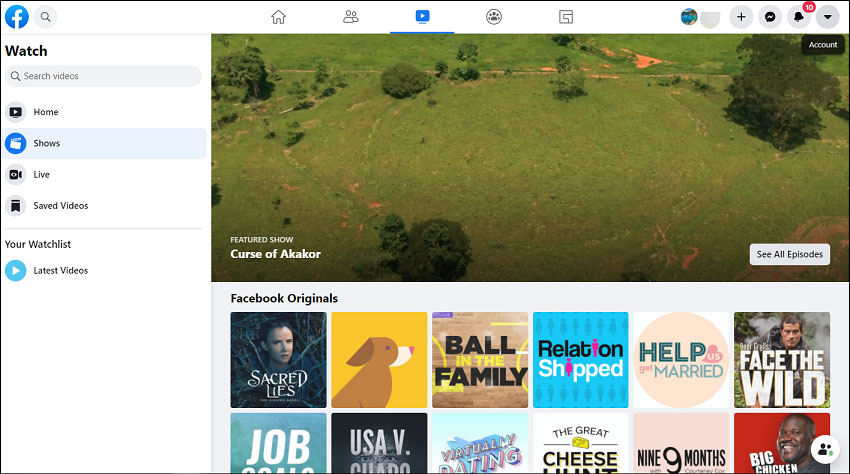 How to get Facebook Watch? Facebook Watch is a built-in service of Facebook, so it can be easily approached through the Facebook website, the Facebook application on mobile phones and other devices like Amazon Fire TV. Therefore, you don't have to install an additional app, and you can access the Facebook Watch within the main Facebook app.
After visiting the Facebook website or opening the Facebook app, you just need to click the Watch button (a TV icon) or hit the menu button and then click the Watch to get the Facebook Watch. However, Microsoft offers a Facebook Watch app, and you can click here to download Facebook Watch app for Windows. At this time, you may wonder is Facebook Watch free? Absolutely, it is a free service, but it requires a Facebook account.
Also read: How to Create an Album on Facebook
How to Use Facebook Watch to Find Videos?
When you get the Facebook Watch, you'll see several options in the left menu. Click the Search video, then enter the name of a video, and you can find a specific video. If you hot the Home, you'll see some videos. And if you want to follow a creator, click the three-dot icon and then choose Follow … to add it to Your Watchlist, and also you can select the Save Video to add this video to Saved Videos.
Select the Shows, then you can scroll to browse by category such as Facebook Originals. Tap the Live and then you can watch the live content. To enjoy recent videos or shows, click the Latest Videos. To watch the video you've saved, tap the Saved Videos.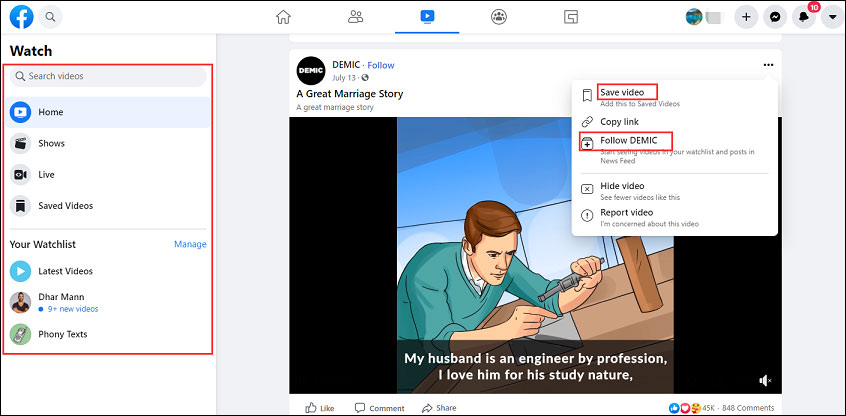 Anyone can post a video on Facebook, but how to use Facebook Watch to upload videos. To upload videos on Facebook Watch and make them appear on it, you need to create a new page. On the page of your Facebook Watch, click the Create (the + button), then select the Page, finish the page information, lastly tap the Create Page. After that, you can share videos on Facebook Watch.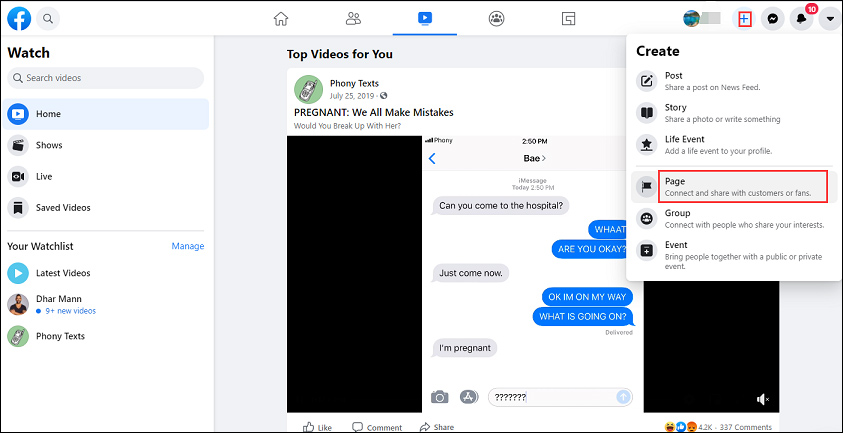 How to Watch Facebook Live?
This part shows you how to watch Facebook live on desktop and mobile.
Method 1 – How to Watch Facebook Live on Desktop?
When you access the Facebook home page, on the left side you can click the See More, then scroll to find and click the Live Videos, and these steps take you to the Live part of the Facebook Watch. Next, scroll down the page and you can discover many live videos, live news, and more. The other way is to enter the URL facebook.com/live, or directly type Facebook Watch on the web browser then open the website, and click the Live.
Method 1 – How to Watch Facebook Live on Android and iOS?
The steps to watch Facebook Live on Android are the same as on iOS. First, open the Facebook app on your phone. Second, tap on the More tab. Next, scroll down and choose the Live Videos. Finally, select the video you want to watch.
Conclusion
Now, you must understand what is Facebook Watch and learn about how to watch Facebook live. Follow the above instructions to enjoy your Facebook live content! And if you have any questions, please contact us via [email protected].