If you often listen to audio drama podcasts in your spare time, here are some websites for you to find great audio dramas. If you want to convert an audio drama to a video and upload it to YouTube, try MiniTool MovieMaker.
Audio drama remains popular in most countries. It depends on dialogue, music, and sound effects to help listeners imagine the characters and story with no visual component, according to Wikipedia.
Where to find audio drama? This post offers you the 8 best places to listen to radio dramas.
8 Best Places to Find Audio Drama Podcasts
YouTube
Apple Podcasts
Google Podcasts
Stitcher
Spotify
BBC Radio 4
Player FM
Audible
YouTube
YouTube, as the biggest online video-sharing platform, offers more than videos. Here you can also listen to music, podcasts, audio dramas, etc. YouTube is not an official podcast hosting site, but it hosts thousands of audio drama podcasts that are available for free. Plus, YouTube allows Premium subscribers to play radio dramas in the background.
To enjoy audio drama podcasts offline, you can try MiniTool Video Converter to convert YouTube videos into MP3.

Apple Podcasts
Apple Podcasts is a media player with over one million audio shows. Podcasts can browse by Arts, Business, Comedy, Education, Fiction, Leisure, Music, News, Science, Sports and many more. To find audio drama podcasts, you can choose the Fiction category and play the audio are you are interested in. Best audio dramas on Apple Podcasts include Limetown, The Black Tapes, Six Minutes, The White Vault, etc.
Also read: Solved – How to Download Podcasts to Computer
Google Podcasts
Google Podcasts is a podcast player for Android and iOS. You can use it to play all your favorite audio dramas for free and download them for offline playback. When playing audio dramas, you are able to speed up or slow down the speed of audio as needed. Another advantage of Google Podcasts is that it lets you listen to audio dramas in a web browser.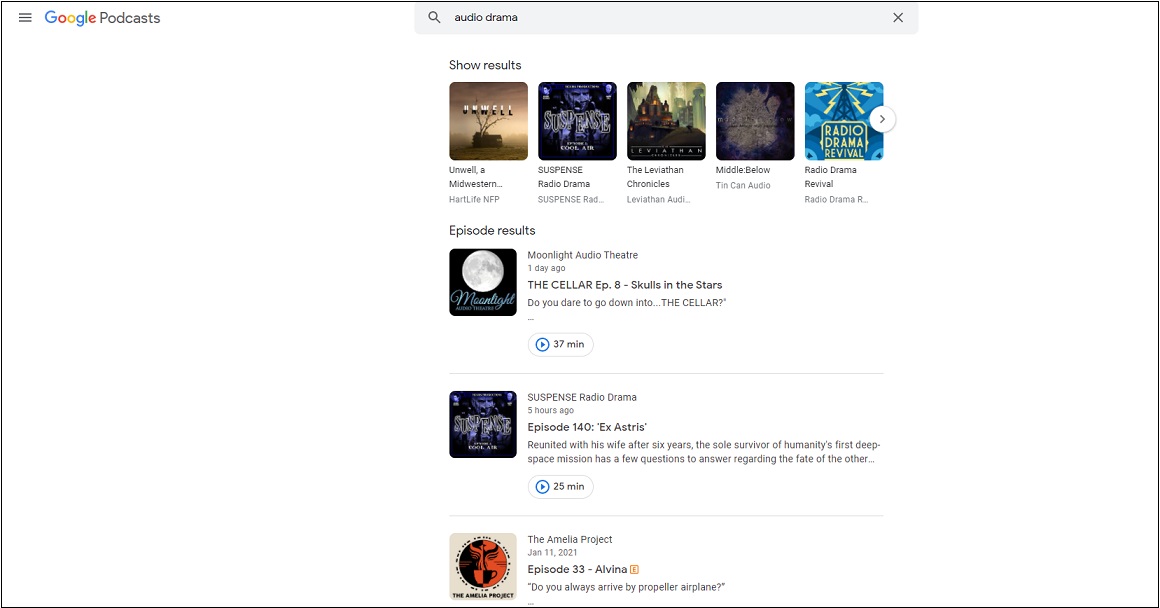 Stitcher
This podcast app is available for iOS, Android, web browsers, Alexa, and Sonos. Stitcher has many free audio dramas, such as Little Women, X-Men, The Odyssey, Cyber, Lesser Gods, The Veil, and more.
Like other podcast apps, you can change the audio playback on Stitcher as well.
Spotify
Spotify is a popular music player and podcast provider that works on most operating systems. You can stream audio dramas for free, change the playback speed, and filter out played episodes.
BBC Radio 4
BBC Radio 4 is a British national radio station offering news, drama, comedy, science, and history. This website brings you a variety of high-quality audio dramas and lets you download them freely.
Player FM
Player FM is a cross-platform podcast app. With it, you can browse podcasts on various topics such as Business, Education, Storytelling, Sports, News, Science, Lifestyle, and so on. No registration required!
Simply enter "audio drama" in the search bar and you will find all the audio dramas listed in the search results.
Audible
Another place to listen to audio drama podcasts is Audible. However, it only lets you preview the first 60 seconds of an audio drama. If you want to listen to the whole audio play, you need to purchase it.
Conclusion
Now, you've learned the 8 best places to listen to audio drama podcasts. Which one do you prefer? If you have other suggestions, please tell us in the comment section.