With so many tweets sent per day, it may be tough to keep track of the accounts you're following if you have a large number of followers. Fortunately, there's a simple way to organize your Twitter feed into targeted topics – Twitter Lists. What are Twitter lists? How do Twitter lists work? The following content will explain it to you.
As one of the most popular social platforms, Twitter offers a vast network of potential people and brands to connect with. If you want to create attractive videos and share them on Twitter, MiniTool MovieMaker is the top recommendation here.
What Are Twitter Lists?
To help you curate custom Twitter feeds, you can create Twitter lists based on your interests or topics. These collect tweets from certain Twitter accounts and present them in easy-to-access lists for you to view.
Twitter lists can be public or private. You can discover and follow public lists from other people to view these collected tweets. It helps you cut through the noise of a busy timeline by seeing only posts from the selected accounts. Private lists, on the other hand, are a way for users to read tweets in an organized way. When you create a private list, you're the only one who can see it.
Also read: How to Schedule Tweets on Twitter? Follow the Best Detailed Guide
How to Create Twitter Lists?
Setting up a Twitter list is quite easy and once you master the basics you can explore all the ways to use these lists. Follow the steps below to create Twitter lists on your own.
1. Open the Twitter website and sign in, then select Lists from the menu on the left.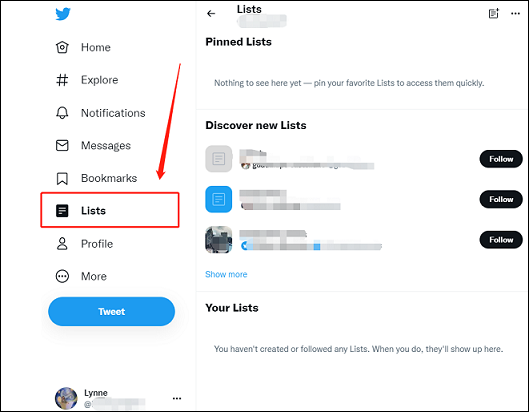 2. In the Lists menu, tap on the New List button in the top-right.

3. In the Create a new List menu, type the name and description for your list in the boxes provided. Choose whether to make Twitter private lists or public. If you select the Make Private checkbox, it's public, anyone on Twitter will be able to see and subscribe to your list. If you want it to be private, only you can see it.).
The name of your list needs to be 25 characters or less and can't begin with a numeric character. The description can be a maximum of 100 characters.
4. Select Next to proceed.
5. Now, you can land on a page that invites you to add members to your new list. When finished, select Done to create and view your new list. You have three options to add people:
Search for individual users by their username.
Head to your Following page and click the three dots icon for any user, then choose Add or remove from lists.
Go to any user's profile page, click the three dots icon, and choose Add or remove from lists.
6. Once you've created your list, you can view it by selecting Lists. The created lists will appear in the Your Lists section. If you want to manage Twitter lists to edit or delete afterward, select Your Lists, then select Edit List. You can change the list name, description, or banner image. You can also select Manage Members to add or remove members or select Delete List to delete the list entirely.
The process of creating Twitter lists on the mobile app is much similar. Just open the Twitter app on your mobile device, and tap your Profile icon. Then select the New List icon. Further steps are similar to the above method.
You may also like How to Embed a Video on Twitter on Desktop/Android/iPhone?
How to Remove Yourself from a Twitter List?
To remove yourself from a list, you can do it by blocking the creator of the list. Follow the steps below:
1. On the Lists you're on page, tap or click a list you want to remove yourself from.
2. Tap the three dots in the upper-right corner of the list page.
Select Block @creatorname.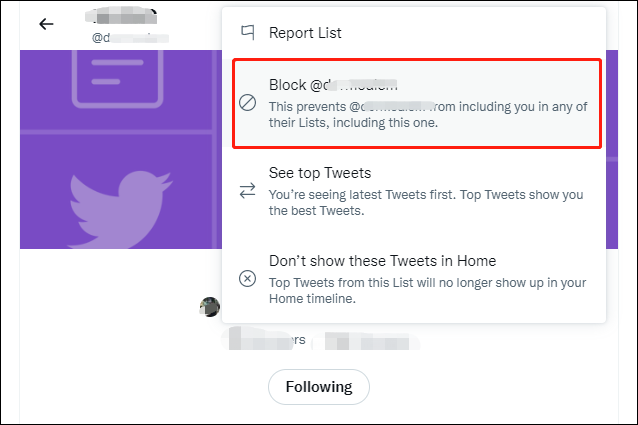 3. Tap Block to confirm. This will remove you from that list instantly.
If you want to delete all your tweets, check to Delete All Tweets: How to Delete All Tweets Immediately?
Conclusion
In conclusion, we introduced what are Twitter lists and how to create Twitter lists in this post. I do hope this post is helpful to you.