The time you publish your tweets has large influences on the audience you reach. As your followers would be active, you would probably be sleeping. You may wonder can you schedule tweets in advance? How to schedule tweets on Twitter? In this post, we will talk about the best way to schedule tweets. Just keep on reading!
By the way, if you want to make short videos and upload to Twitter, you can try the amazing movie maker – MiniTool MovieMaker.
MiniTool MovieMakerClick to Download100%Clean & Safe
Why You Should Schedule Tweets?
If you are wondering the reason why you should schedule tweets, let's figure it out at the first place. The following is about the benefits of scheduling tweets:
It saves your time.
It helps to maintain consistency on tweeting: Consistent posting is the key to building a solid following on Twitter. When schedule your tweets, you can keep tweeting regularly. Your audience will better understand when and how often they can expect the post from you.
It lets you target prime posting times to tweet: You can post tweets at the times or days that you can get the highest impressions and engagement from your audience.
Also read: Can You See Who Viewed Your Twitter Profile or Tweets?
How to Schedule Tweets on Twitter?
We will introduce the ways you schedule tweets via Twitter web and mobile device. You can follow the steps below to schedule your tweets:
On PC:
Step 1: Go to the Twitter website (https://twitter.com/home) on your browser and log in to your Twitter account.
Step 2. Head to your profile and click the big blue Tweet button at the bottom of the menu on the left side of the screen.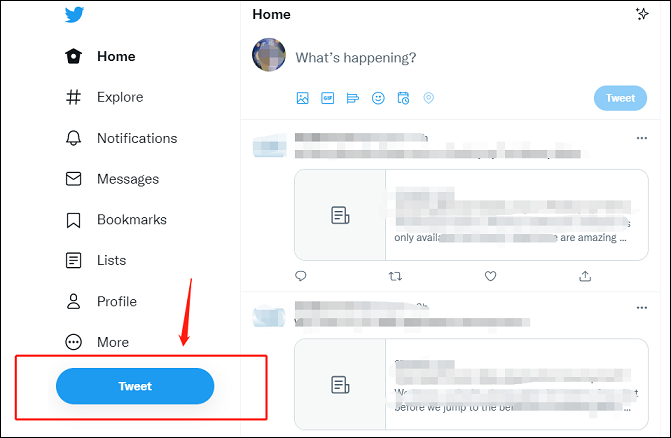 Step 3. Type in your tweet in the compose box. You can write your post including mentions, links, videos, emojis, and hashtags, or create a poll. You can also choose who will be able to respond to the tweet: everyone, only the people you follow or only the people you mentioned.
Step 4. Click the calendar/clock icon at the bottom of the content window to open scheduling options.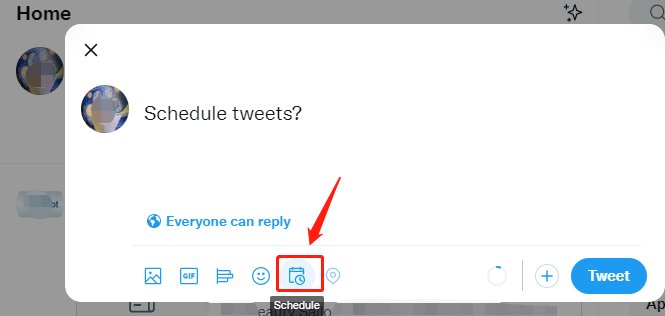 Step 5. In the popup window, set the date and time when you want your tweets to be published and time zone (it is a handy option if you need to figure out different times around the world). By default, Twitter will set a tweet for exactly five days in the future. Once you are done, click on Confirm to schedule tweets.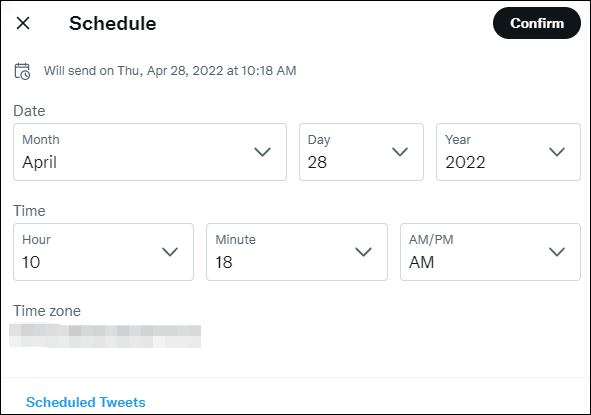 That is all set! Your tweet will publish at the time you selected.
If you want to edit a scheduled tweet, that is very easy. To do so, click on Tweet button on the Twitter website, and then tap on Unsent Tweets at the top. Go to the Scheduled section, and click on a tweet to expand and edit it. You can change the date and the time as well.
Tips:
If you want to delete a scheduled tweet, click on Edit. Next, choose the tweets you want to delete, and then click on Delete at the bottom right. In the popup, click on Delete once again to confirm.
On mobile phone:
Step 1. Open the Twitter app on your android or iOS. You can also open Twitter.com on your phone browser.
Step 2. Write your tweet and add media or create a poll, just as you would normally do.
Step 3. Hit the calendar icon to access the scheduling options.
Step 4. Choose the time you want your tweet to roll out.
Step 5. Tap Confirm at the top right, and your tweet will be scheduled. Once your set date comes, the tweet will roll out automatically.
You may also like: How to Schedule a Post on Facebook? Step-By-Step Guide Shared.
Conclusion
To sum up, we discussed the ways to schedule tweets on different platforms. You can schedule your tweets on your PC or mobile phone. Just try the steps above to auto-publish your tweets now!