Twitch banner maker plays an important role in creating Twitch banner. So, do you learn any Twitch banner maker? Don't worry, this post is going to introduce 9 Twitch banner makers and Twitter banner makers. If you want to make a Twitch banner slide show, you can try MiniTool MovieMaker.
1. Placeit
Placeit is an excellent Twitch banner maker to design creative Twitch banners quickly. It's packed with various Twitch banner templates, so every user can find the most suitable template. And it allows users to edit the banner, such as changing banner color, resetting the layout, etc.
2. Abode Spark

Abode Spark, a free Twitch banner maker, makes it easy to create Twitch banners in minutes and requires no design skills. It provides abundant banner templates. And it permits users to add text, icon, and logo to the banner. Besides, it can also work as a Twitter banner maker to design a unique Twitter banner with different customization and design options. 
3. Snappa
Snappa is also regarded as one of the best free Twitch banner makers and it's full of amazing templates, pictures, etc. What's more, it's a powerful banner customizer, so users can change background images from 1000+ photos, adjusting the size, color, and orientation. Of course, it can change image effects and color of text, overlays, graphics, etc.
Related article: 3 Best Ways to Add Background to Photo Easily
4. Canva
Canva, an online Twitch banner maker, is available to create remarkable and professional Twitch banners free of charge. It offers many editing options. For example, it gives hundreds of font types and typography, so users can add personalized titles or subtitles. And it also can change the size and background of the banner.
Also read: The Complete Guide on How to Add Fonts to Word
5. Bannersnack

Bannersnack, another free Twitch banner maker, is furnished with different banner sizes like square, large rectangle, or social media layouts for Facebook, Twitter, or Instagram, and animated banner templates. Undoubtedly, it can edit the text, headline, background of the banner, and more. Likewise, it's one of the best Twitter banner makers to create the most eye-catching Twitter banners.
6. Designhill
It's a free Twitch banner maker to generate Twitch banners. Besides, it's also a Twitter banner maker to help users to make awesome Twitter banners. It provides plentiful templates in its built-in library. To customize the Twitter banner, users are allowed to add images, icons, and text to the banner.
7. Fotor
Fotor is a powerful photo editor and is also considered one of the best Twitch banner makers, loaded with distinctive themes and templates and different options for dimensions.
8. Visme
Visme is another Twitch banner maker and has beautiful banner templates. And users are permitted to add fonts, icons, pictures, colors of the banner, and more to make the Twitter banner more noticeable.
9. Crello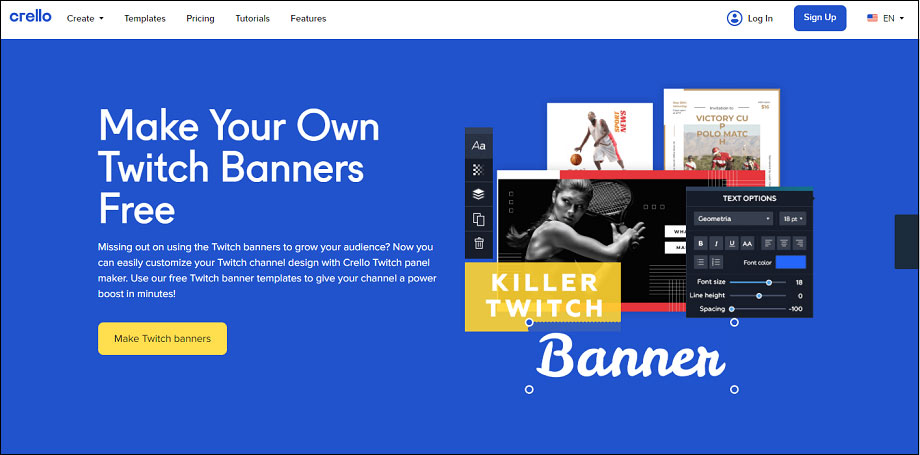 Crello is an online Twitch banner maker loaded with a variety of features. This free Twitch banner maker is equipped with 20,000+ templates and supports 11 languages. Also, it can animate, resize, rotate, and crop the banner, add filters, and customize the banner with your pictures, logs, etc.
You may also like: How to Crop Images at Ease (Windows/Mac/Online)
Bottom Line
Now, you've learned 9 Twitch banner makers and Twitter banner makers. If you want to make a Twitch banner or Twitter banner, you can choose one from these banner makers. And if you desire to share other Twitch banner makers, you can leave them in the below comments area.