Summary :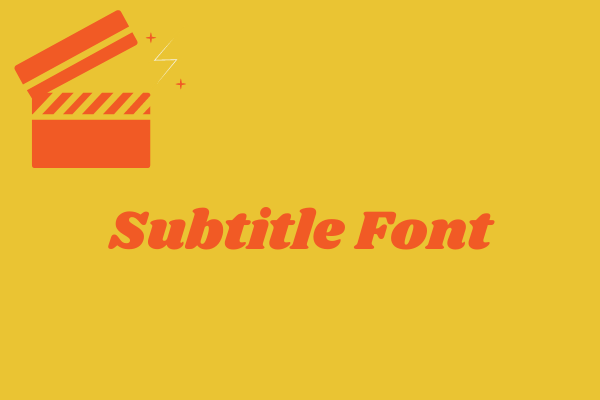 When you watch movies in a noisy place, the only thing you can do is watch subtitles. In this case, a clear and understandable subtitle font is extremely important. So, what kind of subtitle font is best? If you want to add subtitles to a video, try MiniTool software.
Before choosing a subtitle font for your video, please keep the following points in your mind to make your subtitle font clearer and easier to read, and more unified with the video.
The text should not be too long.
The text quality should support various lighting effects (bright or dark).
The text color must match the video background.
The position of the text must be prominent but not obtrusive.
Top 8 Best Subtitle Fonts
1. Arial
Arial is a very familiar font. Until 2007, it was the default font for many computer systems and Microsoft Office programs. When applied to titles and subtitles, it usually does not distract the audience. There are many different variations of this font, so you can adjust how it is displayed.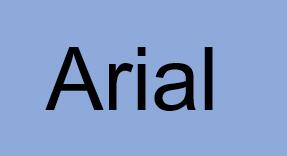 2. Tiresias
Tiresias is one of the most readable fonts. It includes two font options - the free Infofont and the premium Screenfont, the former is designed specifically for people who must read to understand what is happening on the screen. The latter has large spaces and dashes and is specially made for TV.
3. Verdana
Verdana is a popular and very modern option. Its main advantage is that it was developed specifically for video content. This typeface is designed around pixels and looks very clean on movies or videos.
4. Helvetica
Helvetica is a very basic font, widely used in daily life. This font has very obvious vertical and horizontal lines, and the spacing between the letters is very small, which gives the font a perfect appearance and makes it easy to recognize.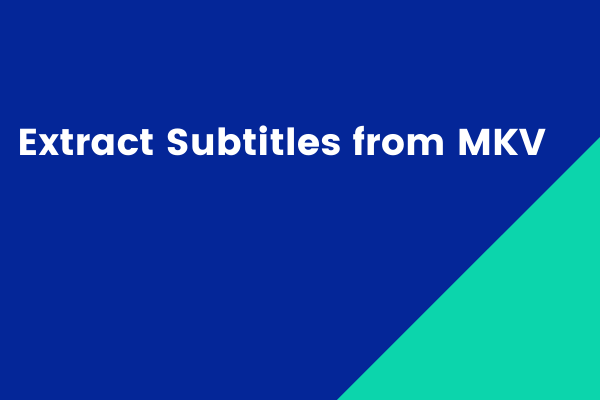 How to extract subtitles from MKV when you need the subtitles in the MKV videos for some reasons? Don't worry. Here is the answer.
5. Antique Olive
Antique olive resembles the basic shape of an olive, with many different bold formats. In addition to being unique and eye-catching, it is clean and clear enough to be very suitable for subtitles.
6. Times New Roman
Almost everyone is familiar with the Times New Roman font. It is one of the most well-known fonts in the world and is usually associated with computers and programs used by computers. There is no doubt that it is also one of the best subtitle fonts for movies.
7. Cinecav
Cinecav has equal width intervals and proportional intervals for all subtitle usages. It is specifically designed to meet the FCC requirements of closed captioning. This font also includes italics for subtitles and a character set in dozens of languages.
8. Roboto
Roboto is one of the most common fonts in modern times. Roboto is adjustable to all screen types, across different devices and is suitable for subtitles and captions. The font is fast and easy to read and this is why it is a good choice of subtitle font.
The Best Source that Provides Multiple Subtitle Fonts
Applying a suitable subtitle font type is significant while creating a music video or movie. Don't worry. You can get that assistance through MiniTool MovieMaker, which offers you multiple subtitle font styles and allows you to change sizes, colors, outlines, and alignments of your subtitles.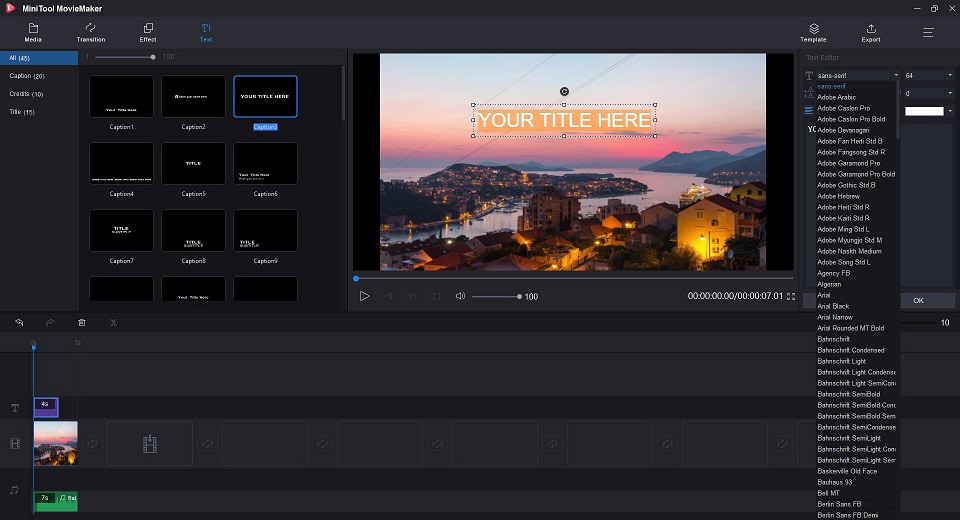 Top 3 Best Font Generators
A font generator is a tool, which is used to create free fonts used on websites or other social media. Here list 3 best font generators for you to choose from.
#Glowtxt
Glowtxt is a free online text generator for generating beautiful text. You can choose from a variety of options, such as 50 stylish fonts, 8 textures or colors, 6 text sizes, and 3 animation types, and some glow effects.
#Stylish Text Generator
If you want to create some trendy and attractive text, then Stylish Text Generator will provide the ultimate solution. It enables you to add effects to text and help you generate beautiful font options through its special language characters and symbols.
#Font Meme
Font Meme is a great font and layout resource, which enables you to stylish and craft text in a gorgeous handwriting style. After perfect the text on the website, you can download the result to your device.
You might be interested in: Download Movie Subtitles for Free
Bottom Line
The above have discussed 8 best subtitle fonts. You can try any of them in your videos. If you have any questions or suggestions about it, please let us know via [email protected] or share them in the comments section below.