As a game developer, sometimes you will need a sprite sheet to lower the memory consumption issue and improve the game performance. How to do it free? Try the following free sprite sheet makers and they will make your work much easier. (If you also need a handy video editor, MiniTool MovieMaker is highly recommended.)
To put it simply, a sprite sheet is an image file composed of a collection of multiple images. Sprite sheets have many uses, such as animation, website development, etc. Sprite sheet makers not only can do the above-mentioned things, but they also have several more applications.
All of these sprite sheet makers are easy to use. You can create sprite sheets simply. Now, let's learn something more about them!
Cyotek Spriter
Cyotek Spriter is one of the best sprite sheet makers. It is a free sprite sheet maker software for Windows for creating sprite sheets and individual sprite graphics. It supports almost all popular image formats to import such as ICO, JIF, JPG, PNG, BMP, PCX, PPM, TGA, TIFF, WBMP, GIF, and so on.
You will get customized choices there. You can arrange images across and down on a sprite sheet. Additionally, you can also change the padding in the sprite sheet.
When you turn on the Image Numbers feature, a number is displayed on each imported image. This makes it easy for you to organize imported images any way you want.
Also read: PNG to BMP – How to Convert PNG to BMP Easily and Quickly?
FlashGen.Com – Sprite Sheet Maker
FlashGen.Com is one more free and portable sprite sheet maker software to make a sprite sheet. It has an easy-to-use interface, and you will have no problem creating a sprite sheet.
This tool makes it easy to create sprite sheets from separate images that can be incorporated into the sprite animation system of your chosen game. You can add a sequence of images and combine them into a single sprite sheet (export as PNG) and have the option to delete or rearrange any images on the sheet.
Sprite Sheet Generator
Sprite Sheet Generator is another free and efficient sprite sheet maker software. It is designed to quickly produce sprite sheets out of a GIF file or a sequence of images inside a folder.
Sprite Sheet Generator is a handy and reliable program. It supports these formats like PNG, JPG, TIFF, and BMP. When you are finished, you just need to simply click on Generate button to generate a final sprite sheet that is in PNG format.
You may also be interested: How to Convert TIFF to JPG Free Online? Here're 3 Methods.
CSS Sprite Generator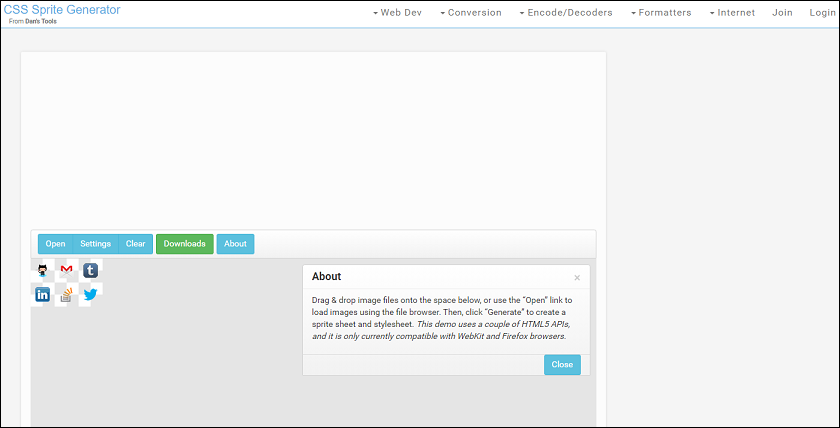 If you don't bother to download software to generate a sprite sheet, CSS Sprite Generator will be your sensible choice. It is a free online sprite sheet maker that lets you generate, edit, and code the CSS sprite sheets.
To customize your result, you can access general settings such as layout correction, CSS / LESS, padding, and style prefix. The site keeps the layout of the image compact, horizontal and vertical.
When you're done, you can save it. You have downloading option to save the file like PNG, CSS, and HTML. You can save the sprite style in TXT format as well.
You may also like: Top 6 Photo Stitchers to Stitch Photos Together
CodeShack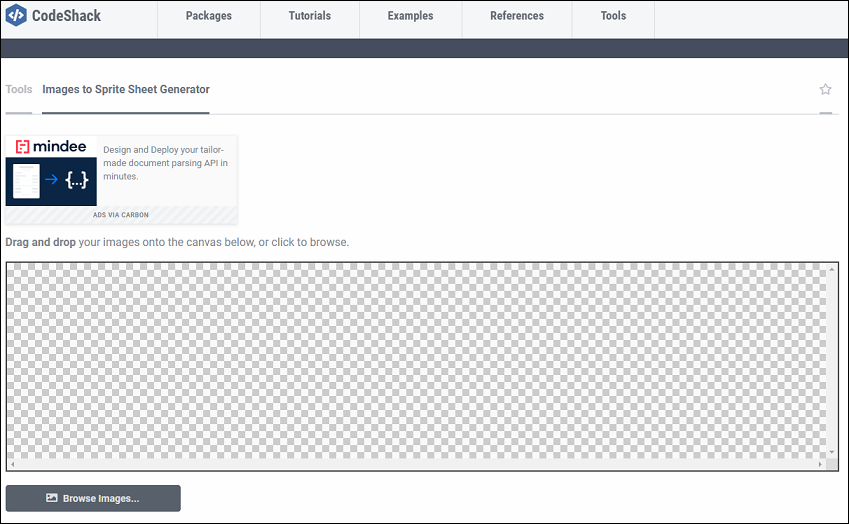 CodeShack is the easiest website to generate CSS sprites. The purpose of this tool is to save your precious time by creating sprite sheets with a collection of images. There, all you need to do is drag and drop all the images into the interface.
This sprite sheet maker enables you to combine all the images into one image easily. After you've finished adding, you can download the combined image in PNG format.
However, the output of images cannot be adjusted. But you can open a link called CSS Sprite Generator below and upload one image at a time in the interface. Then you can set options like filename, height, width, etc.
Conclusion
Based on the above discussed, I believe you already have the best sprite sheet maker in your mind. If you have any favorite ones to share that we haven't mentioned, let us know in the comments.