If you're looking for visualizers for Spotify music, you've come to the right place. This post from MiniTool collects some of the best 6 Spotify visualizers to help you generate animated imagery based on the song you listen to on Spotify.
The hidden Spotify visualizer feature is no longer accessible, but if you still want to turn your song into visual animations, you can try out the following third-party Spotify music visualizers.
Tips:
Try MiniTool MovieMaker to edit the audio in the video and add your favorite song.
MiniTool MovieMakerClick to Download100%Clean & Safe
#1. Kaleidosync
Website: https://www.kaleidosync.com/
Kaleidosync is an online Spotify visualizer. To use it, firstly, you should sign in with your Spotify account. It only works if you listen to entire songs on Spotify.
Kaleidosync offers different customizable visualizers and lets you enjoy music on full-screen. Moreover, it allows you to adjust the shape of the animation by changing brightness, sides, and more.
Note:
To use Kaleidosync, you should enable JavaScript on your browser or it can't work properly.
#2. Wavesync
Website: https://wavesync.herokuapp.com/
Wavesync is also one of the best online Spotify visualizers. After you log in to your Spotify account, it will automatically create colorful audio waveforms. When a song starts playing, it will show the track information and album artwork.
#3. ButterChurn Visualizer
Website: https://butterchurnviz.com/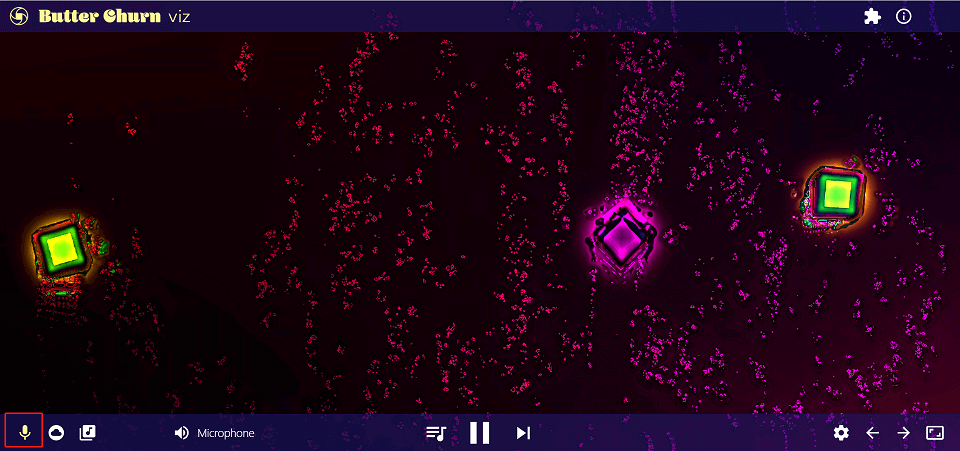 ButterChurn is another online music visualizer for Spotify. It does not require a Spotify account.
When you listen to songs on Spotify or other music sites, click the microphone icon in the bottom left corner and permit it to access your microphone, and you'll get the music visualization immediately.
Also, ButterChurn allows you to upload a downloaded song or paste a SoundCloud URL to bring music visualizations. And it has a Chrome extension you can use with any other website in Chrome.
#4. AudioVisualizer
Website: https://chrome.google.com/webstore/detail/audiovisualizer/bojhikphaecldnbdekplmadjkflgbkfh?hl=en
AudioVisualizer is a Chrome extension that works on any site in Chrome, including Spotify's web player. To use it, find it in the Chrome Web Store and click Add to Chrome and Add extension.
When you play a song on Spotify, press Ctrl + Q and it shows visualizations immediately. Press Ctrl + Q again to quit the extension.
Also read: How to Show Song Lyrics on Spotify (Desktop, Mobile and TV)
#5. Music Storm
Website: https://chrome.google.com/webstore/detail/music-storm-visualize-any/egmilngkgddnnmkpkonkpkjkipiihmkh/related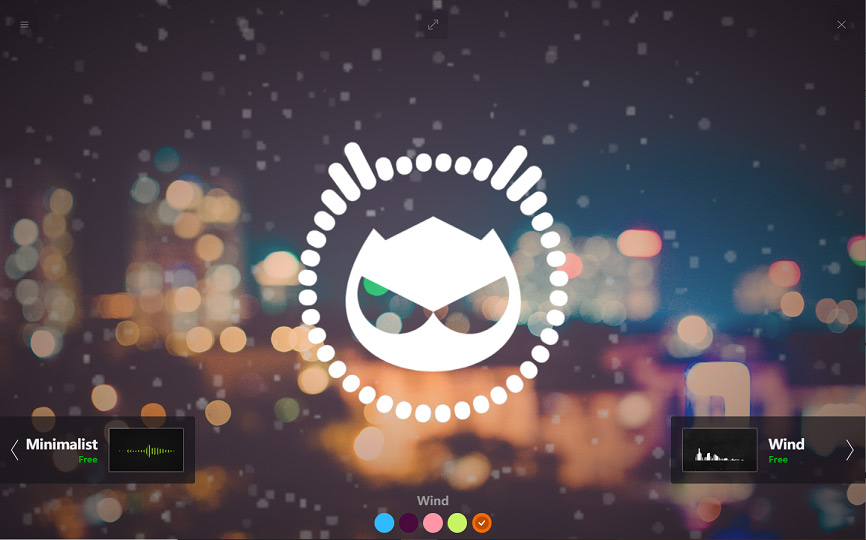 Music Storm is also a Google extension that can visualize any music tab, such as Spotify, YouTube, SoundCloud, and more.
After installing it, just click its icon when you play music and it generates visualization. Currently, Music Storm offers 5 background colors.
#6. Specterr
Website: https://specterr.com/
Specterr is also an online Spotify music visualizer. The difference is that it can't visualize the song that's playing on Spotify's web player and you need to upload the Spotify song you downloaded.
This audio visualization software can easily turn your video into a video. It offers multiple presets and supports MP3 and WAV files. It allows you to edit the visualizer's color, shape, motion, and effects.
After editing, you can export videos. In a word, Specterr creates custom music visualizers quickly and easily to help you make lyric videos and music videos.
Conclusion 
That's all about these Spotify visualizers. With them, you can visualize your favorite songs on Spotify. What's your favorite visualizer for Spotify? Share it with us n the below comments area.