If you have trouble coming up with perfect song titles, a song name generator could be helpful. Here's a list of the 7 best song title generators that inspire you with thousands of ideas for song names.
#1. Masterpiece Generator
Website: https://www.song-lyrics-generator.org.uk/name/
Masterpiece Generator is a great song name generator and song lyrics generator. It can generate a song title with lyrics based on a few keywords you type. Besides, Masterpiece Generator can generate a name for band, rapper, story, character, Instagram, gaming, cat, and many more.
Do you want to add a title and text to your music video? Try MiniTool MovieMaker. It's an easy-to-use music video maker!
#2. Song Name Greater
Website: http://www.songname.org/names.html
Song Name Greater can generate 10 song titles at a time. You can customize the song name by entering a keyword and selecting the word form from the options below: Abstract Noun, Concrete Noun, Verb, Plural, and Adjective.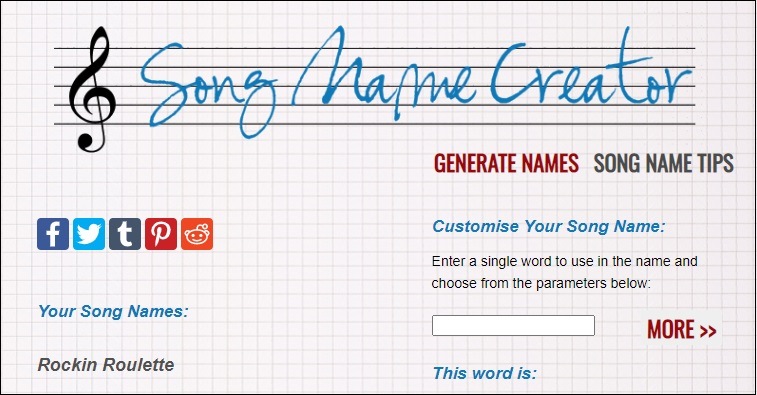 #3. Chosic
Website: https://www.chosic.com/song-name-generator-by-genre-and-mood/
Chosic is an all-in-one name generator with tools like song name generator, beat name generator, band name generator, playlist name generator, and music channel name generator. You can create song names by mood and genre. This song title generator lets you check if a song title is unique and display similar names on Spotify.
Moreover, there are tons of royalty free music available on this website, which is free to use for any purpose.
#4. Cool Generator
Website: https://www.coolgenerator.com/song-title-generator
Cool Generator can be used to generate countless song titles based on 10 song types including Hip Hop, Pop, Rock, Blues, Electronic, Country, Latin, Jazz, R&B, and Ska. Just select a song type you like and enter the value in the Quantity field. Then you find some inspiration in these generated song titles.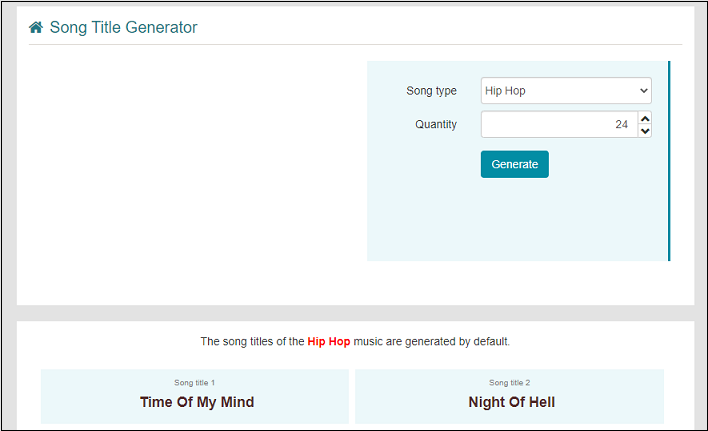 #5. Fantasy Name Generator
Website: https://www.fantasynamegenerators.com/song-title-generator.php
This is an online random song name generator. You will get 10 random song names or song names that are generated based on keyword and genre. It also creates random names for dance, lake, wine, sports team, squad, etc., and generates names in English or French.
Go to the Fantasy Name Generator website, scroll down to the song title generator and click Get names. Or check the box, enter a word and get song names that contain the keyword.
You may also like: 5 Best YouTube Name Generators
#6. Muted
Website: https://muted.io/song-title-generator/
Muted supplies you with a large collection of music tools like song title generator, piano chord finder, BPM counter, Lil beat maker, Virtual piano, and more. The song title generator is very simple to use with a clean and beautiful interface. Just hit the Enter key or tap on roll the dice, it will change the generated song name for you.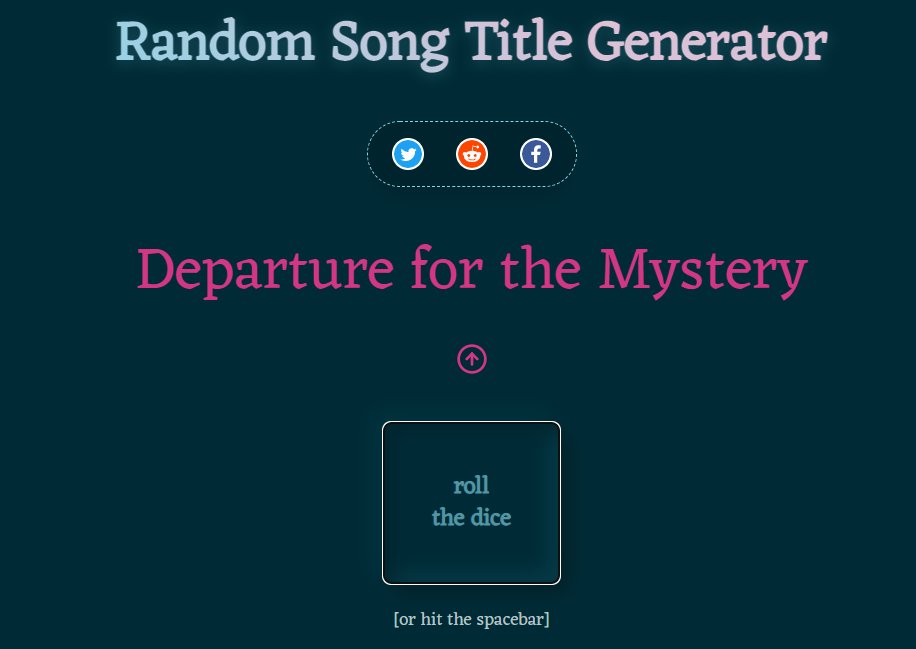 #7. The Story Shack
Website: https://thestoryshack.com/tools/song-title-generator/
To find more song title ideas, The Story Shack is a good place to go. It hosts thousands of random song titles that can be used for free. It lets you see preview results, save your favorite title ideas and export them. No registration is required!
Conclusion
This post offers you the 7 best song name generators. Try these tools and discover more creative song title ideas!