No matter you're a student, a company staff, or a freelance, you might have heard of Udemy if you want to develop skills. Udemy is one of the biggest online-learning websites, and of course, it also has many alternatives. This post has collected some of the 6 sites like Udemy for you to access more video lessons.
As one of the most desirable educational marketplaces, Udemy provides 155,000 online video courses on thousands of topics in over 65 languages. Also, it allows instructors to teach courses. This site offers both free courses and paid ones.
If you're looking for some sites like Udemy, you've come to the right place. Here're the 6 best Udemy alternatives. (Try MiniTool MovieMaker to edit your video for free.)
#1. ALISON
Cost: Free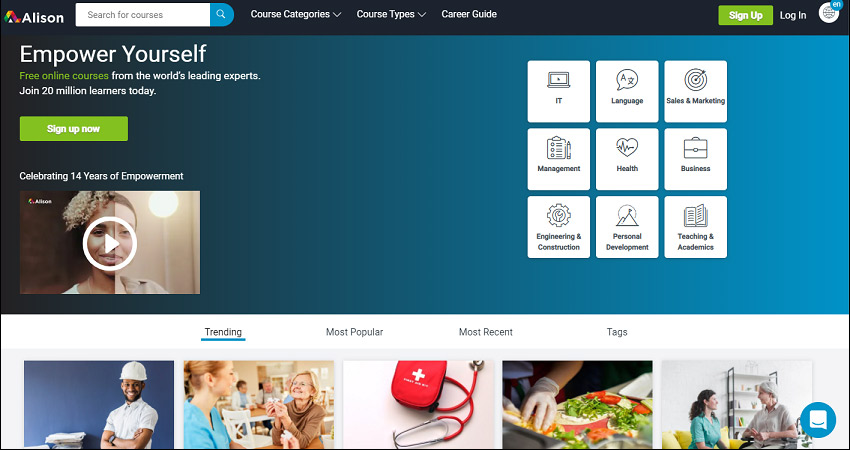 ALISON is one of the best online learning sites and covers various categories of courses, such as business, IT, language, management, sales and marketing, and more. And this site divides its lessons into 3 types: Certificate Courses, Diploma Courses, and Learning Paths, and each one takes different hours to complete. Currently, this Udemy alternative has 3,000+ courses.
Thus, if you want free websites like Udemy to improve workplace-based skills, ALISON is recommended here.
Related article: How to Download Udemy Videos – Ultimate Guide
#2. Khan Academy
Cost: Free
Khan Academy, an American non-profit educational organization, is also one of the best websites like Udemy but free. This site is aimed at creating a set of tools to help educate students from kindergarten to university, and it offers short video courses for adult learners. After signing, users can easily navigate to the desired course based on the grade and subject.
#3. Skillshare
Cost: A 7-day free trial, $99 per year for individuals, and team plans start from $139 per user per year for teams of 2-20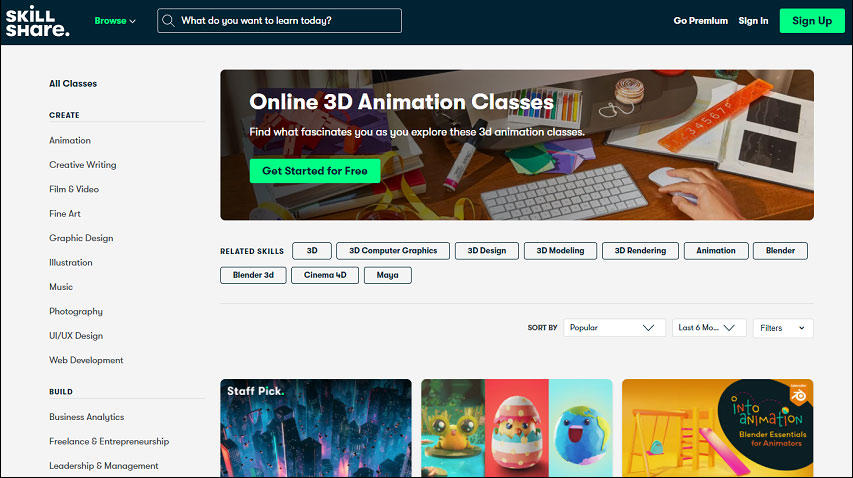 As one of the best online learning sites, Skillshare is another reliable choice of alternatives to Udemy. This site focus on educational videos on creative arts, design, business, technology, and lifestyle. According to Wikipedia, Skillshare has 27,000+ premium classes and 2,000+ free classes available as of March 2019.
Also read: 4 Free 3D Animation Software You Must Have
#4. Coursera
Cost: Free courses and paid lessons at different prices
Coursera, an American massive open online course provider, is also one of the best alternatives to Udemy. Due to the cooperation with 200+ universities and other organizations, it offers online lessons in various topics as well as certifications and degrees. And It allows an individual university or college student to access guided projects and one course for free per year.
#5. Udacity
Cost: Ranges from $35 to $2,500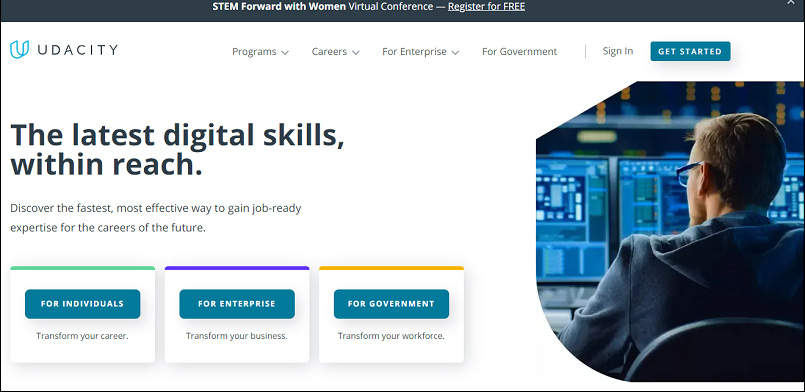 Udacity is one of the Udemy competitors and it's also one of the best websites like Udemy. This platform offers effective courses designed for individuals, enterprises, and the government. After logging in, you can filter by topic, field, difficulty level, duration, and price to find suitable video lessons. And it also has many free courses.
Udacity's main course categories include AI, digital marketing, data analyst, machine learning engineer, and more for improving digital skills. The time you need to complete an education training ranges from 5 hours to 11 months depending on the qualification.
#6. LinkedIn Learning
Cost: Free trial period. Paid plans start from $19.99 per month
LinkedIn Learning is also one of the best websites like Udemy. It has massive video lessons taught by industry experts in software, creative, and business skills to help you grow skills and advance your career.
And LinkedIn Learning offers 3 categories of courses: business, creative, and Technology, and you can browse through detailed classification like career management, personal finance, 3D modeling, image editing, video editing, cloud services, machine learning, and more to find corresponding courses.
In the addition to the 6 websites like Udemy, there're many online learning sites you can try. Here's the list.
Also read: Top 5 Best Photo Editor Apps for Android in 2021
Other 7 Alternatives to Udemy
Masterclass
Pluralsight
Codeacademy
edx 
Coggno
LearnSmart
Academic Earth
Conclusion
That's all about the 6 sites like Udemy, and most of them also have mobile apps except Udacity. Now, you can try these online learning sites to explore desired lessons to develop new skills or enhance employability.