The best way to keep your old photos forever is to digitize them. However, some old photos have been damaged and need to be restored. How to restore old photos? In this post, you will learn how to fix old photos with old photo restoration software.
You may want to restore old photos when you find they are damaged. Before repairing these old photos, you need to digitize them with a photo scanner.
When you are done, continue to read this post and learn how to restore old photos. Want to make an old photo slideshow? Try the excellent photo slideshow maker – MiniTool MovieMaker released by MiniTool.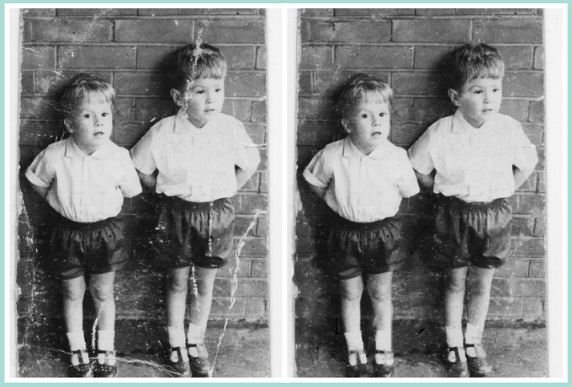 How to Restore Old Photos in Photoshop
Photoshop is the most popular graphic design software. It's very powerful. You can use it to increase resolution of image, add background to photo, resize images, and make image transparent. More importantly, it can be used as the old photo restoration software to fix old photos.
Now, let's see how to restore old photos in Photoshop.
Step 1. Launch the Photoshop app on the computer.
Step 2. Drag and drop the old photo that needs to be fixed to Photoshop or tap on File> Open… to open the desired old photo.
Step 3. Find the Patch Tool in the left panel and click on it.
Step 4. Choose the photo you imported and move the tool on the damaged area to repair the old photo. When using the Patch Tool, you'd better zoom in the photo to make the damaged area more clearly.
Step 5. After you finished the photo restoration process, you can go to File> Save for Web to save the restored photo.
How to Restore Old Photos in Pixlr
The second method to repair old photos is using Pixlr. This is an online photo editor. With it, you can restore old photos online without installing third-party software.
Here are the detailed steps on how to restore old photos in Pixlr.
Step 1. Open the Pixlr website and choose the ADVANCED PIXLR E option.
Step 2. Click on OPEN IMAGE to import the old photo you want to restore. Or paste the image URL by clicking on LOAD URL.
Step 3. Choose the Heal tool and use it to remove scratches. You can also adjust the size of the Heal tool by selecting the desired size from the Size box.
Step 4. Then you can use the Clone tool in the toolbar to make the old photo that you just restored look more natural.
Step 5. After that, click on File> Save… to save this photo.
If you accidentally delete old photos and want to restore photos, you can read this post: Free Recover Lost/Deleted Photos from Memory Card, Phone, Camera, Etc.
2 Best Old Photo Restoration Software
After learning how to repair old photos, here provide you with the other 2 best old photo restoration software.
1. Inpaint
Inpaint can not only help you restore old pictures, but also remove unnecessary objects from photos. With this photo restoration software, you can easily reconstruct the damaged area.
2. Retouch Pilot
Retouch Pilot is a great tool to repair old photos. It lets you fix scratches, dust, and spots to make these old photos look new.
Related article: 6 Best Profile Picture Makers: Make Funny and Cool Avatars.
Conclusion
It's easy to restore old photos, right? Choose the photo restoration software you like and have a try! If you like this post, don't forget to share it with your friends!