Public domain videos have no copyright restrictions, so you can use tens of thousands of free videos at will, you embed them entirely in your work without having to worry about permissions or removal notices. Before embedding, you can use MiniTool MovieMaker developed by MiniTool to edit them.
What is a public domain video?
Any video that is not subject to copyright can be considered a public domain video. This means that a content creator can use public domain videos absolutely free and without having to ask permission to use it.
Free public domain video footage can be used for different types of projects, which is a good choice if you need some extra footage to make a music video.
5 Best Websites to Download Public Domain Videos
How to find public domain videos? Currently, the number of websites that can download public domain footage has increased, making it easier for you to find and use free and unprotected public domain video clips. Here are the 5 best destinations where you can download public domain videos.
1. Prelinger Archive
Prelinger Archive was established by Rick Prelinger in 1983. The archive contains more than 17,000 items and is probably one of the largest public domain video and public domain music libraries on the Internet.
You can download public domain video clips created by educational institutions, advertising agencies, industry associations or companies from this collection. Each file has different download options, so you can choose the size of the file and the method used to download the file to your computer.
2. The Public Domain Review
The Public Domain Review is dedicated to the exploration of curious and compelling works from the history of art, literature, and ideas.
It is an excellent resource for researchers looking for essays, books, audio recordings, images or old films. The movies are divided into different categories such as Animals & Beasts, Politics, War or Sports which makes locating and downloading public domain videos faster and easier.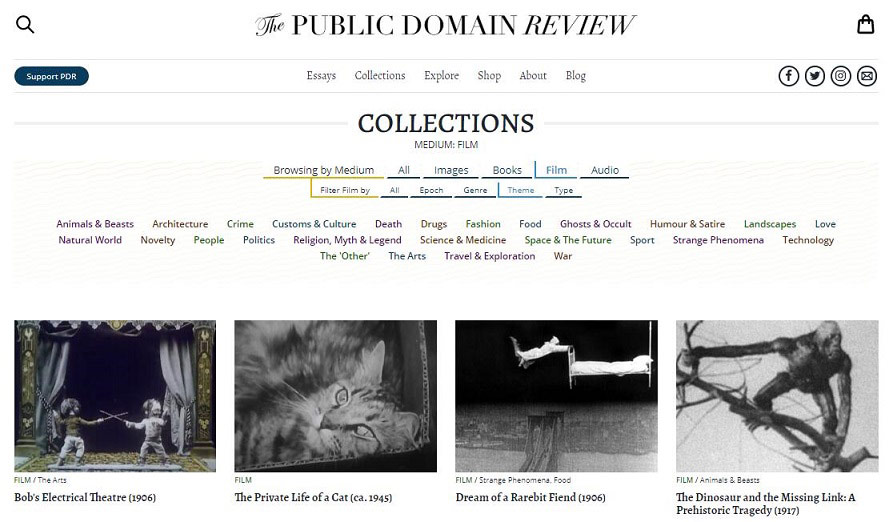 3. National Screening Room
The National Screening Room is a project created by the Library of Congress National Audio-Visual Conservation Center with the aim of making the videos from their collection available to the viewers around the world.
It is a free collection of digitized historical films, commercials, newsreels and other clips. he vast majority of the videos in the collection were filmed during the 20th century, but there are only a few videos available that are produced outside of the United States.
4. PublicDomainFootage
PublicDomainFootage is the producers' home for low-cost public domain archival footage and royalty-free footage. All content on the platform is divided into Archival Footage and Historic Newsreels sections.
You can also use PublicDomainFootage to research a particular topic and request content that is not uploaded to the website. You can download a public domain video after you pay a onetime fee that enables you to use that video as many times as you want.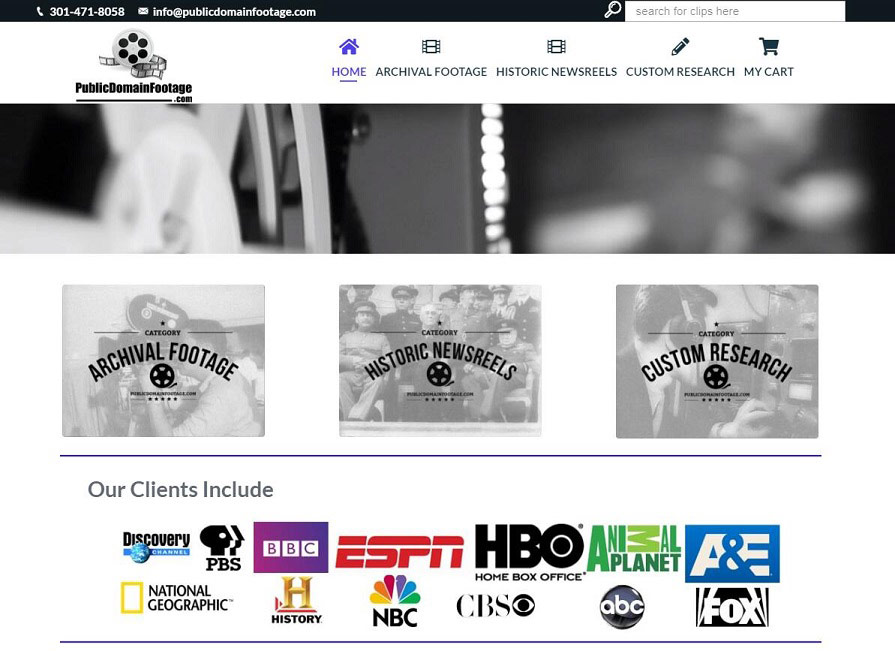 5. Pexels
Pexels offers a huge number of impressive free public domain videos, so all you have to do is enter your search terms and choose the video clip that works best for you.
However, the free public domain videos you can find on Pexels rarely exceed 30 seconds, which makes it difficult to make a complete video simply based on free public domain footage. Therefore, it is best to use Pexels as a complementary lens.
Edit Public Domain Videos with the Best Video Editor
MiniTool MovieMaker is the most recommended video editor for you to edit public domain videos in the current market. This tool is specialized in making and edit videos. Meanwhile, it supports converting popular video and audio files, such as FLAC to MP3, without any quality loss.
Download, install and launch MiniTool MovieMaker and then close the movie template window to enter the main interface.
Click on Import Media Files to import the public domain video clips and then drag and drop them to the video track.
Then you can rearrange video clips, split/trim videos, combine videos, add transitions & effects, add texts, add and merge audio clips, make color correction, etc.
Tap on Export to open the export window. Here you can give a file name, choose an output format, specify the destination folder and adjust video resolution.
Click on Export to save the edited public domain videos.
Bottom Line
After reading this article, you must already know what a public domain video is, where to download it, and how to edit it. If you know of additional collections of public domain videos, please let us know via [email protected] or share them in the comments section below.