No matter where you go, you are accustomed to taking pictures with your phone to record the good times. Sometimes, you may need to transfer these photos to PC. To make it, you can use photo transfer apps. After copying these photos to PC, if you desire to make a video from these photos, MiniTool MovieMaker should be given priority.
To transfer photos from mobile devices to PC, a photo transfer app can make you do that easily. There're many photo transfer apps for iPhone and Android. Let's check out this post.
4 Best Photo Transfer Apps for iPhone
1. Photo Transfer App – Bitwise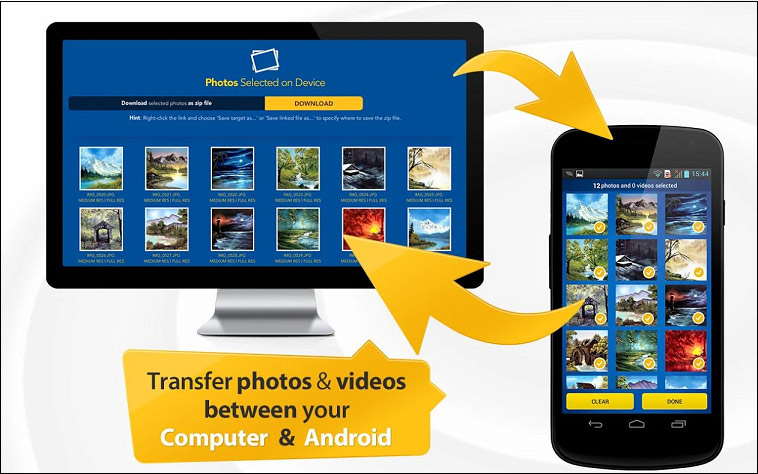 It is a free photo transfer app for iPhone and also offers in-app purchases, permitting users to transfer photos and videos between iPhone, iPad, Mac, or PC using the local WiFi network. It's available to preserve photo metadata in all transfer directions and transfer photos with full resolution, and zero quality loss. Besides, it can quickly move photos from iPhone to iPad and vice versa.
You may also like: How to Increase Resolution of Image + 5 Online Photo Enhancers
2. Dropbox
Dropbox is also an excellent cloud-based photo transfer app to enable you to transfer and share photos with ease. After copying pictures from iPhone and iPad to Dropbox, users can easily access them on PC, web, etc. Furthermore, this photo transfer app provides users with 2 GB of free cloud space.
Related article: How to Backup Files on Windows 10? Try These Top 4 Ways
3. Simple Transfer
It's also considered one of the best photo transfer apps for iPhone to transfer photos and large videos to PC using WiFi or USB. It also allows users to save photos and videos from the computer to iPhone/iPad. And it can convert HEIC photos to JPG, HEVC videos to MP4, and live photos to videos. Besides, it can work as a photo organizer to manage images.
4. AirDrop
AirDrop, another best photo transfer app for iPhone, can wirelessly transfer pictures between iPhone, iPad, and Mac. It allows users to transfer images directly with iPhone's built-in photo app, too. Also, it can quickly download iPhone photos to Mac, easily copy pictures from Mac to iPhone/iPad, and share iPhone photos to other Apple devices.
4 Best Photo Transfer Apps for Android
1. Fotolr Photo Album
It's the first recommended photo transfer app for Android. With it, users are allowed to transfer Android pictures to PC with ease and also share them to social networking sites like Facebook and Twitter. What's more, users are permitted to categorize pictures by creating different albums.
Also read: How to Restore Old Photos + 2 Old Photo Restoration Software
2. Feem
Feem, another photo transfer app for Android, can transfer pictures between phones, computers, tablets, and laptops. It's easy to use, has no complicated setup procedures, and has no limits on file size.
3. Resilio Sync
It's a powerful application to transfer files. Undoubtedly, it's also a free photo transfer app for Android without ads and in-app purchases. And it has no storage limits, so users can save as much data as they have on the hard drive or SD card.
4. AirDroid
AirDroid works as one of the most popular photo transfer apps for Android to transfer images to the PC. Excepting for transferring photos, it also enables users to send videos, music, GIFs, etc. Furthermore, it supports photo screen recording and secure screen sharing.
Bottom Line
Now, you've learned 8 photo transfer apps for iPhone and Android. Whether you're an iPhone or Android user, I hope you can find the most suitable photo transfer app.