If you are seeking a photo background changer and editor, you have come to the right place! Have you ever found the background affects your photo quality? Luckily, here is a list of the best photos background changers. (You can try MiniTool MovieMaker to edit your video works!)
Background always counts when you take photos. It can beautify or spoil the beauty at the same time. Sometimes your hard work in posing and capturing can go to waste because of the background.
Here comes the good news! You can change the background or remove unwanted stuff and make your photo attractive again by using a photo background changer and editor. The following part will offer some of the best picks. Let's get started without further delay.
Adobe Spark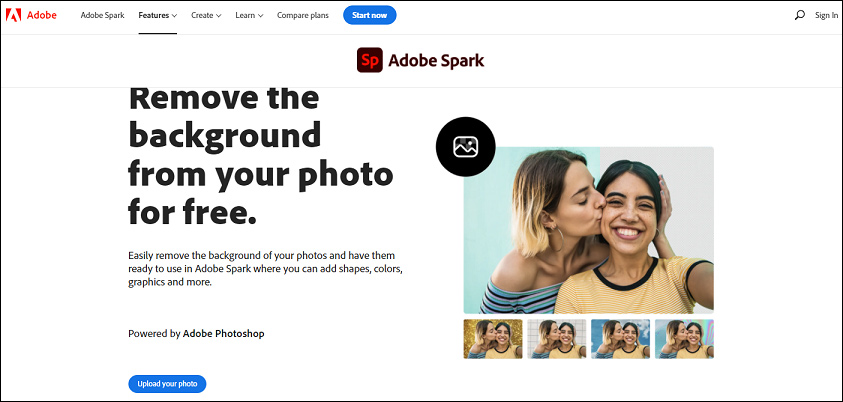 The first photo background changer and editor is Adobe Spark. Powered by professional editor Adobe Photoshop, it is a hassle-free solution to change photo background.
You can easily remove the background of your photos. And you can find it is not only an automatically perfect photo background changer but also a photo editor which enables you to add shapes, colors, graphics, and more to photos.
You can upload any JPG or PNG photo files. After that, the app will remove the background of the image and allow you to download it as a PNG file which you can save, share, or keep editing.
Remove BG
Remove BG is the next optional online photo background changer tool that is extremely easy to use. As long as your photo is uploaded, it will automatically recognize human figures and remove the background.
With Remove.BG, you can add any other background as you like: texture, bold colors, customized images, and so on.
You can download the 0.25-megapixel image for free if you wish, but you have to pay a credit per photo to download an HD image.
Also read: 3 Best Ways to Add Background to Photo Easily
Fotor Photo Background Changer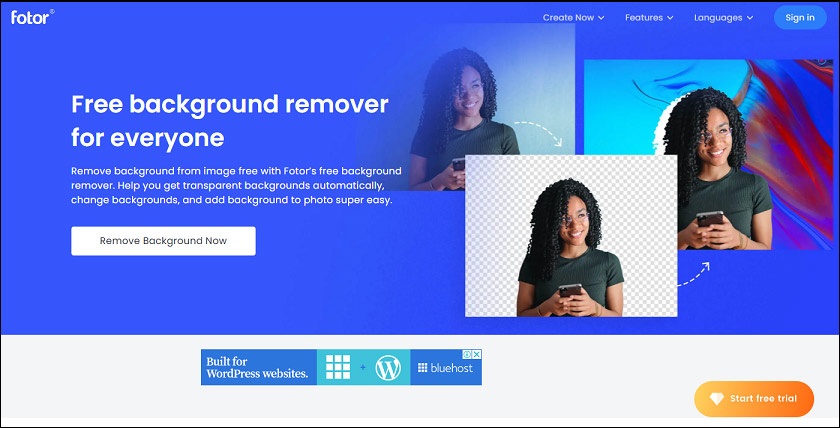 Fotor Photo Background Changer is one more online photo background changer. In any case, Fotor's powerful background remover makes it easy for everyone to get the best experience when editing pictures, and optimize their images.
On Fotor's website, you can find it provides many features associated with photo editing. It allows you to edit photos online in many ways such as cropping, resizing, and rotating.
Wondershare Fotophire
Wondershare Fotophire is not just a photos background changer, it is also an ultimate photo editing toolkit that enables you to improve image quality. Whether you are a professional photographer or just an amateur, this software can be trusted if you are using a Windows PC.
It provides several photo editing tools like change background facility, photo eraser, photo focus, and photo cutter. You can try for free or you can pay for using the full features.
Related post: Top 6 Best GIF Cutters to Cut a GIF (Computer/Phone/Online)
PhotoScissors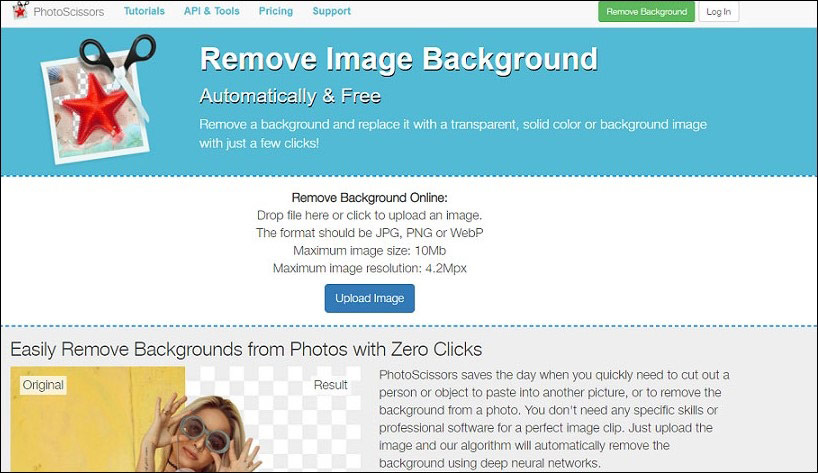 PhotoScissors is also a perfect photo background changer. It offers a smart and quick solution to change the background of an image online. As the name suggests, you can cut out objects on your photo, swap backgrounds, create collages, remove backgrounds for eBay, Etsy, or Amazon listings, and more.
It is easy to get started and no technical or designer skills are required. You can drop a file or click to upload an image on the website directly.
It supports formats like JPG, PNG, and WebP. And the maximum size of your image is 10MB.
Conclusion
By the time you finish reading this post, you must have the best photo background changer and editor in your mind. You can also share your favorite one in the comments!