Netflix is a good place for date night movies perfect for couples to watch while cuddling on the sofa. Finding the right date night movie can be surprisingly tricky. In this post, we compiled some of the best Netflix and chill movies for you to watch and spend quality time with your partner.
If you want to create romantic videos with your significant other, you can try the handy movie maker – MiniTool MovieMaker.
"Netflix and Chill" is an interesting phrase that depicts many meanings. One may think it means to watch something on Netflix and chill. While this is not completely wrong. The Netflix and chill movies refer to the movies to watch on Netflix while relaxing or cozying up with their significant others.
In this post, we have handpicked the top 7 Netflix and chill movies, so go ahead and read this post, while your partner gets some snacks to munch on during the movies!
Always Be My Maybe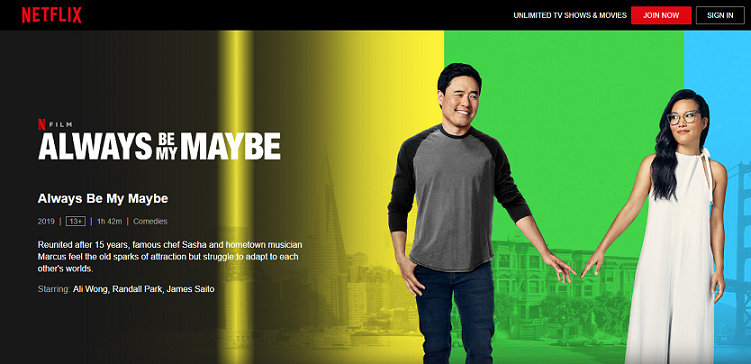 Director: Nahnatchka Khan
Cast: Ali Wong, Randall Park, James Saito, Michelle Buteau
Always Be My Maybe is a romantic comedy about two childhood friends who reunite after a teenage fling despite their lives taking very different directions. Now dealing with the rigors of adult life and trying to readjust their new relationship, the two deal with interesting situations and wedges in their lives.
Also read: Top 4 Ways to Watch Movies with Friends Online
Before Sunrise
Director: Richard Linklater
Cast: Ethan Hawke, Julie Delpy
This is the first installment of Richard Linklater's enduring love stories. Romance in its most minimalistic essence is envisioned in this movie. It follows two strangers who meet on a train and decide to spend one evening together visiting various Viennese landmarks. The emotional magnet of the film rests on how this chance encounter could happen to anyone. It was inspired by an actual experience by Linklater.
Silver Linings Playbook
Director: David O. Russell, Matthew Quick
Cast: Bradley Cooper, Jennifer Lawrence, Robert De Niro
Silver Linings Playbook tells a story that the main character Pat is released after spending eight months in a mental health facility for bipolar disorder. He wants to repair his relationship with his ex-wife but forms a tumultuous friendship with Tiffany.
Recommend post: Best Mobdro Alternatives for TV Shows and Free Movie Streams
About Time
Director: Richard Curtis
Cast: Domhnall Gleeson, Rachel McAdams, Bill Nighy
About Time tells a story that combines the fantasy of time travel with lessons about family and savoring life. It follows the protagonist Tim who discovers he possesses the ability to travel through time. He uses this newfound power to rewrite the regrets in his dating life, eventually meeting and marrying Mary.
While there are many ups and downs, laughs, and cries in this movie. Many of the sequences are so perfectly complimented by a loving score that makes it is worth watching.
Irreplaceable You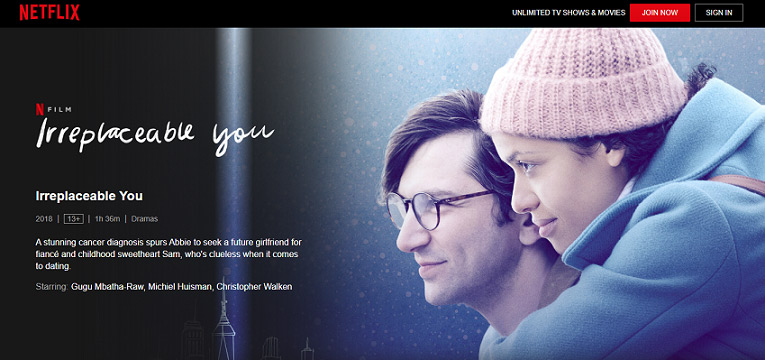 Director: Stephanie Laing
Cast: Gugu Mbatha-Raw, Michiel Huisman, Christopher Walken
Irreplaceable You centers a bittersweet story filled with tear-jerking moments and heartfelt reflections on true love. It follows Abbie and Sam, childhood sweethearts who've finally decided to get engaged. But what Abbie thought were signs of pregnancy turned out to be stage four cancer.
The heartbreaking revelation puts their whole life on hold. Abbie decides to cope by searching for a new love for Sam. However, this only pushes Sam away in the little time they have left together.
Related post: 3 Ways to Download Netflix Movies to Computer
The Lovebirds
Director: Michael Showalter
Cast: Issa Rae, Kumail Nanjiani, Paul Sparks
If you're looking for the funny Netflix and chill movies that are more lighthearted, this film stars Issa Rae and Kumail Nanjani as a couple on the brink of breaking up who gets unintentionally embroiled in a bizarre murder mystery.
The movie is filled with antics as their journey to clear their names by investigating the crime themselves while evading both the law and the killer. They must figure out how they, and their relationship, can survive the night.
Eternal Sunshine of the Spotless Mind
Director: Michel Gondry
Cast: Jim Carrey, Kate Winslet, Kirsten Dunst, Mark Ruffalo
Among the cult-favorite of the serious film crowd, Eternal Sunshine of the Spotless Mind is one of the most timeless romantic films on the big screen. The concept of memory erasure plays a huge role in this movie, and its non-linear storytelling serves to propel a riveting narrative about love and heartbreak.
It tells the main character Clementine undergoes a procedure to erase memories of her former boyfriend Joel from her mind after a painful breakup. When Joel discovers what Clementine is going to do, he decided to do the same. However, as he watches his memories of her fade away, he realizes that he still loves her, and may be too late to correct his mistake.
Conclusion
That is all for the Netflix and chill movies recommendation. Open Netflix and select a movie to enjoy quality time with your partner and chill!