Valentine's Day is coming! You might need the top 10 best romantic movies. Of course, you can try MiniTool software to create romantic movies for your lover by yourself.
Valentine's Day is coming! How to celebrate Valentine's Day? You can invite your friends to see a romantic movie or make a romantic movie for your lover.
Now, what are the best romantic movies? What is the most romantic movies all the time?
10 Best Romantic Movies
#1. The Notebook
This movie is based on a true story.
A poor country boy and a rich girl fall in love in the 1940s. However, her parents don't approve, and next the boy goes off to serve in World War II. Fortunately, they reunited. Their extraordinary love spans the decades, enduring separation, war and disease.
#2. Titanic
You must have heard of Titanic that is big-screen romance that's every bit as epic as you remember. A young couple meet by chance and fall in love. The horrible outcome of the Titanic sinking shows that in the end – both the good and the bad endings – we're all in the same boat.
Both the movie and the background music "My Heart Will Go On" in the background move beyond its seemingly plain origins.
#3. Love Story
Love Story tells us: love means never having to say you're sorry. It is a weepy romance. It is recommended to watch this movie with a big box of paper towels.
#4. A Star Is Born
A Star Is Born tells a story about people brought together by talent and torn apart by fame.
#5. Pride and Prejudice
Jane Austen thinks marriage is business, and romance seems so urgent and delightful. However, in Pride and Prejudice, we can see a young couple love each other because of romance. They care not about business, pleasure, or each other.
#6. Roman Holiday
European princess Ann (Audrey Hepburn) goes sightseeing on her own in Rome. She falls asleep on a park bench. A newspaperman finds her and takes her to his apartment for safety. But, the romance soon gets in the way. Either way, the film "Roman Holiday" is a great tour guide for your visit to Rome.
#7. all Me by Your Name
First love is often the most intense and the best love, for better or for worse. Call Me by Your Name is a coming-of-age romantic drama film that captures all of those roiling emotions. Elio Perlman spends the days with his family at their 17th-century villa in Lombardy, Italy, and falls hard for one of his dad's grad students.
#8. Carol
Carol tells the affair between two women in the 1950s. This film lets you enjoy romance, and shows the sumptuous period dresses.
#9. Dirty Dancing
Dirty Dancing is an American romantic drama dance film. Dirty Dancing tells the story of Baby and she falls in love with dance instructor, and she helps him perform the last big dance of the summer.
#10. Brokeback Mountain
Brokeback Mountain tells that two cowboys conduct an affair in secret in the wilds of Wyoming. Brokeback Mountain film is a thoughtful, lyrical, eventually frustrating examination of two men's romance over many years.
Tip:
If you want to watch these movies offline instead of YouTube, you can download them via a free YouTube converter –
MiniTool uTube Downloader
.
Create Romantic Movies
In general, with a professional movie maker, you can create a romantic movie by yourself. Want to create a romantic movie for your lover?
MiniTool MovieMaker, a free video editor without watermark, can help you create the best romantic movie easily and quickly. This free tool offers 2 ways to create movies.
MiniTool MovieMakerClick to Download100%Clean & Safe
Movie Templates
MiniTool MovieMaker offers different templates including love, wedding, etc. To create a romantic movie, choose a template, import files and save this movie.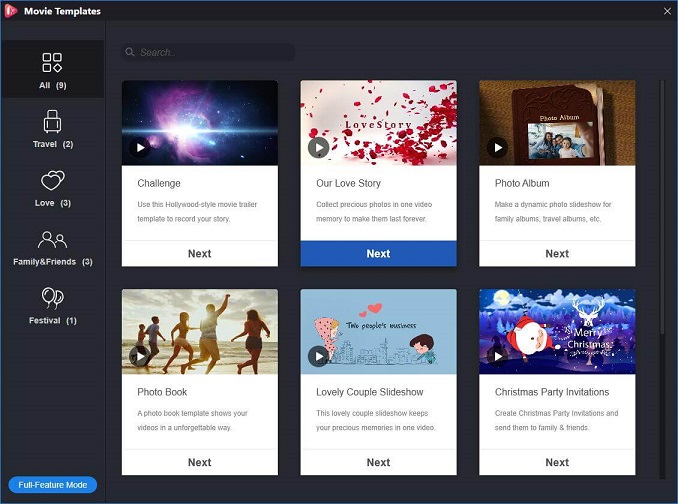 Easy of Use Timeline
This free movie maker also offers a timeline to help users create romantic movies.
Launch MiniTool MovieMaker, and import your media files.
Edit your romantic movie.
Save and share the romantic movie.
Happy valentine's day! You can watch the best romantic movies with your lover, or make a romantic movie for your lover by yourself.