A few cinemas around the world started reopening and required people to wear a mask when watching a movie. If someone had this experience before, they must know the pain. Knowing that, why not choose to watch movies with friends online without wearing a mask? To do so, check out this post!
Watching movies together online is not as difficult as you imagine. There are numerous websites, extensions, and apps that allow you to watch movies together online. Below are 8 tools that you can use to watch movies with friends online (Want to make a reaction video? You can't miss MiniTool MovieMaker).
8 best places to watch movies with friends online
Watch2Gether
myCircle.tv
Scener
Metastream
Netflix Party
Hulu Watch Party
Gaze
Kast
Now, you know 8 places to watch movies together online. In the next part, I will pick out 4 best free tools and show you how they work.
Watch2Gether
Watch2Gether is a wonderful place that lets you enjoy videos and music from YouTube, Vimeo, Dailymotion, Twitch, SoundCloud and so on. Also, you are able to shop from Amazon simultaneously with your friends and communicate with your friends in real-time. Watch2Gether is available for free and no registration required!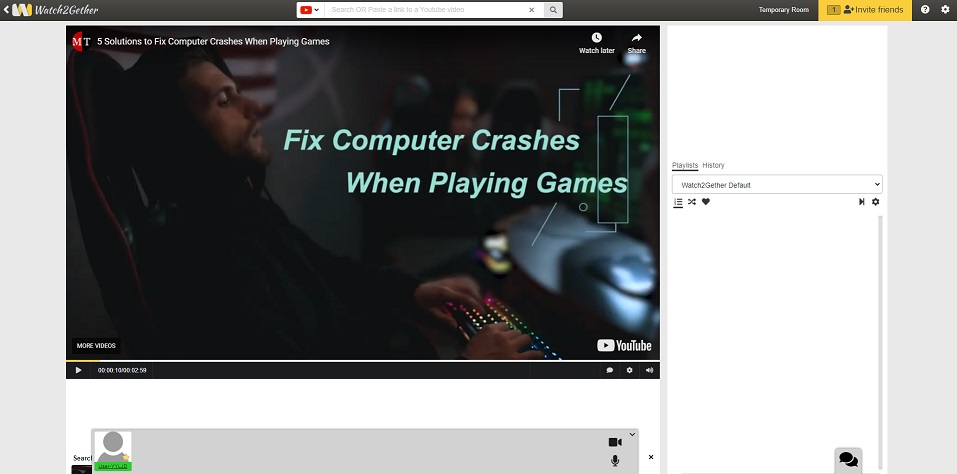 Here's how to watch movies with friends online by using Watch2Gether.
Visit the Watch2Gether website.
Click on Create your room.
In a few seconds, a room was created. Then you need to choose Invite friends to get the link and share it with your friends.
Copy and paste the URL of the movie you want to watch with friends in the search bar. Then hit the Enter
After a while, you can enjoy the same movie with friends at the same time.
If you want to watch dubbed anime online, this post might be helpful: Top 8 Places to Watch Dubbed Anime Online Free 2020
myCircle.tv
Similar to Watch2Gether, myCircle.tv is another web-based tool allowing you to watch videos together with friends. It supports Vimeo, YouTube, SoundCloud and Twitch.
Just paste the video link, the room will be created automatically. People in this room can voice chat with each other. The best part of myCircle.tv is that hosts have the ability to upload their favorite movies from Dropbox, Google Drive and myCloud.
Follow the steps to watch movies together by using myCircle.tv.
Go to the myCircle.tv website.
Copy and paste the link of the movie on YouTube or Vimeo, and press the Enter
After accessing the playback page, you need to click Invite participant below the video. Then share the room id or the link with your friends.
You may also like: How to Upload a Video to Google Drive.
Scener
Scener, a Chrome extension, also can be used to host a watch party. This platform gives you the ability to watch movies together from most video streaming services like Hulu, Netflix, HBO Max, Funimation, Disney+, etc. Users can video chat witch each other while watching movies.
Here's how:
Find Scener in Chrome web store and add it to Chrome.
Kick off a theater and send the theater code to your friends.
When they join in this theater, then you can start the watch party right now.
Looking for some great movies? You must read this post: 8 Best 2K Movies to Watch in 2020.
Metastream
Another Chrome extension you can rely on to watch movies online with friends is Metastream. It works for YouTube, Netflix, Crunchyroll, Twitch, Netflix, Disney+ and other platforms. What's more, it allows you to add the movie links to the queue.
Here's a quick guide:
Add Metastream to Chrome.
Host a session and invite your friends by sending the code to them.
Then you can watch movies together.
Want to find the name of a movie you can't remember? See this post: How to Find the Name of A Movie You Can't Remember? 4 Proven Ways
Conclusion
It's great to watch movies with friends online during the lockdown. Do you feel bored when watching movies alone? If yes, host an online watch party and invite your friends now!