Lightroom or Photoshop, which is better? This article will show in detail the main similarities and differences between the two Adobe software, as well as their respective advantages and disadvantages, to help you determine the right tool for you. Need a photo slideshow maker? Try MiniTool MovieMaker.
Adobe developed two of the most popular photo editing software: Lightroom and Photoshop. Therefore, when choosing a photo editor, most people may think "Lightroom vs Photoshop, which is better and which is more suitable for you?". Don't worry. This post will help you out,
What Is Adobe Lightroom?
Lightroom, short for Adobe Photoshop Lightroom, is a family of image organization and image manipulation software developed by Adobe Systems.
Lightroom contains many of the main image processing tools needed to process photos. Not just a photo editor. It also provides you with methods to import images, organize images, and edit images, making it an ideal all-in-one management tool for tracking photos.
Recommended post: Top 7 Best Lightroom Alternatives in 2020 [Free & Paid]
What Is Photoshop?
Adobe Photoshop is a raster graphics editor created in 1988. And it has become the most powerful and recognized editing software in the world.  
More importantly, Photoshop is a pixel-based image editor, giving you ultimate control of every single pixel that makes up your digital photograph. This means you have limitless options when it comes to manipulating your photos.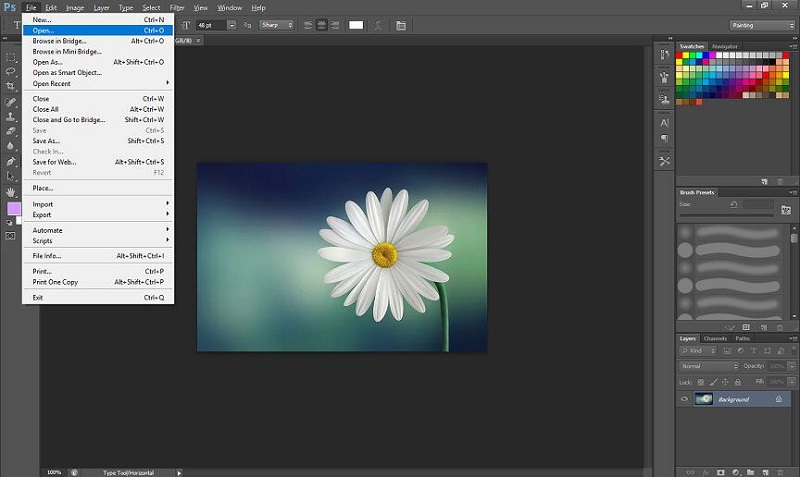 Adobe Lightroom vs Photoshop
It is necessary to find out their similarities, differences, as well as respective strengths and weaknesses, especially for those who have not yet known which software to use.
Similarities
Now, let's look at some similarities between Lightroom and Photoshop.
Use Camera RAW, the Adobe's RAW file processor, to process RAW files.
Include basic photo editing tools including a crop tool, exposure adjustment tool, filters, effects, brushes, and more.
Handle the majority of the best image formats, including JPG, PNG, TIFF, and RAW.
Related article: Top 6 Best Paid/Free RAW Photo Editors [2020]
Differences
Below are the differences between Lightroom and Photoshop.
Lightroom is an all-in-one photo program, both a picture editor and image storage and sorting program.
Lightroom operates more linearly, without layers and complicated tools, and is welcomed by beginners.
Photoshop's built-in editing and selection tools are unmatched by many other photo editing software on the market.
Photoshop does a great job in advanced photo editing tasks.
Also read: How to Remove Background from Image Photoshop
Pros & Cons
Lightroom
Pros:
It has a more basic interface.
Powerful editing function.
A powerful image management platform to help you organize your photos.
Apply preset edits to a series of photos at the same time.
Photos in RAW format can be uploaded directly to Lightroom and edited.
Create and highlight a photo database, star or tag specific images
A new file is created every time you edit a picture, which means the original will not be lost.
Cons:
Lightroom is for editing photos only, no layers.
Lightroom only supports a simple retouch.
Lightroom does not support pixel-level editing.
Lightroom does not offer a spot healing brush or clone stamp.
Photoshop
Pros:
Control over every detail of each image.
A much wider variety of tools available than in Lightroom.
Compositing, or replacing selected parts of an image with similar sections of other images.
Feature-boosting plugins.
Layer editing allows for layers of edits to affect different parts of the image.
Removing objects.
Stitch images together to create panoramic photos.
Cons:
Photoshop cannot edit original photos.
Photoshop's tools are intricate and complicated, which may be difficult for beginners to master.
Photoshop no longer releases new versions every year.
Photoshop only allows you to process a single image.
Bottom Line
Lightroom vs Photoshop, which is better?
If you are a novice and are looking for relatively intuitive photo editing software, then Lightroom is the best choice. If you need advanced photo processing techniques, Photoshop is more suitable for you.
If you have any questions or suggestions about it, please let us know via [email protected] or share them in the comments section below.